Disgraced comedian Bill Cosby says he does not expect to take the stand and testify in his own defense in his upcoming criminal trial, and suggested the allegations against him may be racially motivated.
"I just don't want to sit there and have to figure out what I believe is a truthful answer as to whether or not I'm opening a can of something that my lawyers are scrambling," the 79-year-old comedian told Michael Smerconish in an interview that aired Tuesday on SiriusXM.
Cosby declined to specifically discuss the upcoming trial at all during the interview, which was recorded Monday, saying, "No, that's not something any smart person would want to do."
The comedian said he has kept silent for two years but did this interview because "it is time for [him] to do something" for the people who still have faith in him and not in what they read in the National Enquirer.
His big hope, Cosby said, is that people are "made to give back all the things that were rescinded" from him.

"And there's an old show business saying, look, it doesn't make any difference as long as they spell your name right. Well, I want to raise my hand and say I would like to really debate that strongly," he said in response to how he has been treated in the media.
He said his wife Camille's support for him has "never, never" wavered and added that he wasn't aiming to reach jurors with this interview.
When asked if he believed that some of the accusations or his treatment had been racially motivated, Cosby said, "I truly believe that some of it may very well be that."
He declined to answer when asked whether he believes whether all the women who have come forward are lying and admonished Smerconish for asking "you know better than that."

He also said he hopes to return to performing. "I feel I have a lot more to offer," he said. "I want to get back to the laughter and the enjoyment of things that I've written and things that I perform on stage."
Cosby ended the interview saying, "I just hope I'm not in trouble now."
It was the most revealing interview given by the disgraced 79-year-old comedian since he was charged with aggravated indecent assault for allegedly drugging and sexually assaulting Andrea Constand, an employee at his alma mater, Temple University, at his home in Cheltenham, Pennsylvania, in 2004.
Three months after the alleged assault, Constand returned to her parents' home in Canada, where she told her mother what happened, according to the criminal complaint. The Constands then reported the incident to the regional police service in Jan. 2005, who ultimately informed Pennsylvania authorities.
Constand told Canadian authorities Cosby gave her three blue pills to help her relax. She told police that after taking the pills, she lost all strength in her legs, felt nauseous, and could not keep her eyes open. Despite being "paralyzed," she told investigators she was aware that Cosby was "fondling her breast, put his hands into her pants, and penetrated her vagina with his fingers."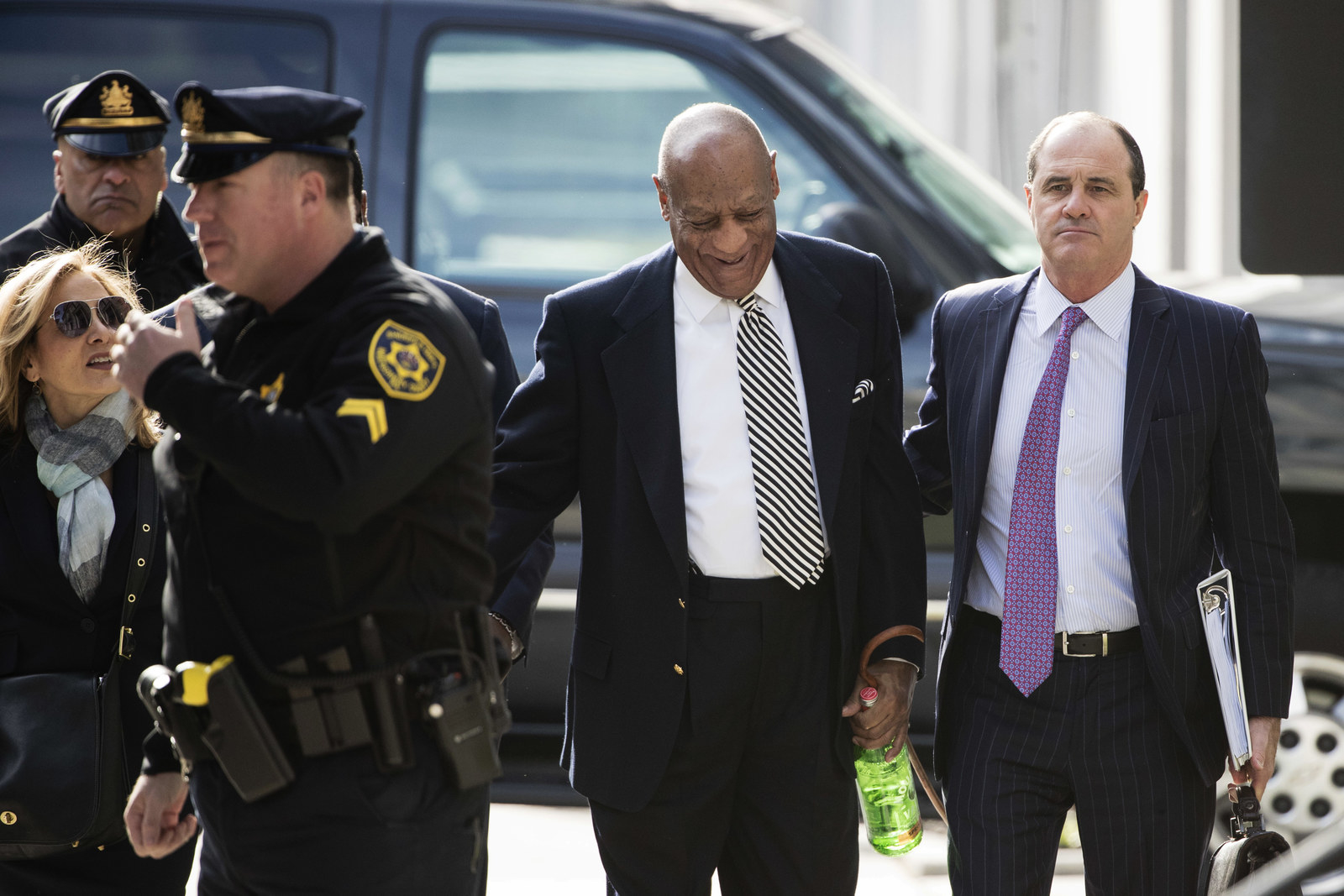 Cosby admitted to the police that the incident with Constand took place, but said it had been consensual. Cosby also told police he apologized to Constand's mother and offered to pay for Constand to attend graduate school, but they refused.
The then-Montgomery County District Attorney Bruce Castor decided in 2005 there was not enough information to criminally prosecute, but added that he would reconsider the decision should the need arise. The next month, Constand filed a civil case against Cosby for battery, sexual assault, intentional infliction of emotional distress. The case was settled July 13, 2006.
In 2015, per a request brought by the Associated Press, the judge overseeing the civil case ordered portions of Cosby's deposition in the civil case be unsealed for the first time. That release, and Cosby's testimony about using sedatives for sexual purposes, prompted the district attorney's office to reopen the criminal case on July 10, 2015.
Since details of Constand's case became public, more than 50 women have come forward with their own allegations of sexual assault.
Prosecutors had sought to introduce the testimony of 13 of those women during the upcoming trial in June. But after a hearing in December, Judge Steven T. O'Neill decided to allow the testimony of only one other woman, identified only as "Accuser Number Six."

According to documents introduced in court, Accuser Six's encounter with Cosby occurred eight years before Constand's. At the time of the alleged assault, she worked as an assistant to Cosby's personal appearance agent.
Cosby, who at the time was 58, allegedly invited her to his bungalow at the Beverly Hills Hotel and offered her wine, which she declined, according to testimony presented by Steele at the pretrial. Cosby allegedly gave her a pill to relax and went to great efforts to make sure she took the pill, even going so far as to look under her tongue, Steele said. After she became incapacitated, Cosby allegedly used her hand to masturbate.