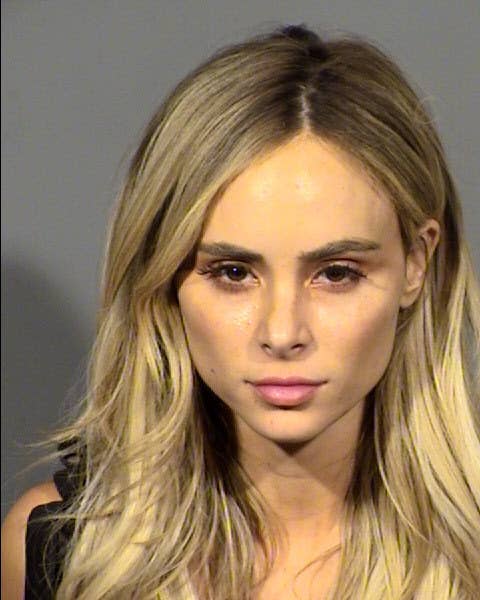 Bachelor alum Amanda Stanton said she is "embarrassed" after being arrested in Las Vegas on suspicion of domestic violence.
Stanton was in town for a friend's bachelorette party and staying at the Wynn Las Vegas Encore when police were called to the resort early Monday.
According to the Las Vegas Metropolitan Police Department, officers arrived at the hotel at 3:15 a.m. after receiving a call that Stanton had allegedly battered her boyfriend. After an investigation, police arrested Stanton on suspicion of one count of domestic violence battery.
Stanton has since apologized for the arrest.
"Amanda is embarrassed and ashamed this happened and sincerely apologizes to hotel security and the Las Vegas Police Department," her rep, Steve Honig, said in a statement. "Amanda is a gentle, respectful person who has never gotten physical with anyone under any circumstance."
That evening, Stanton "had a few drinks" at the bachelorette party, and when hotel security asked her and boyfriend Bobby Jacobs to quiet down, "she got a bit rambunctious," Honig added.
"Amanda gave Bobby what she thought was a playful shove; hotel security did their job and reported the incident to the police, who in turn did their job," Honig said. "Despite Bobby explaining this was not an ill-intended shove, the police still had to do their job, which Amanda completely respects and understands."
Stanton appeared on 20th season of The Bachelor and more recently on season 3 and 4 of Bachelor in Paradise. She met Jacobs after she said he "slid into her DMs."
Stanton had previously dated fellow Bachelor in Paradise contestant Robby Hayes and was engaged to Josh Murray after Season 3.