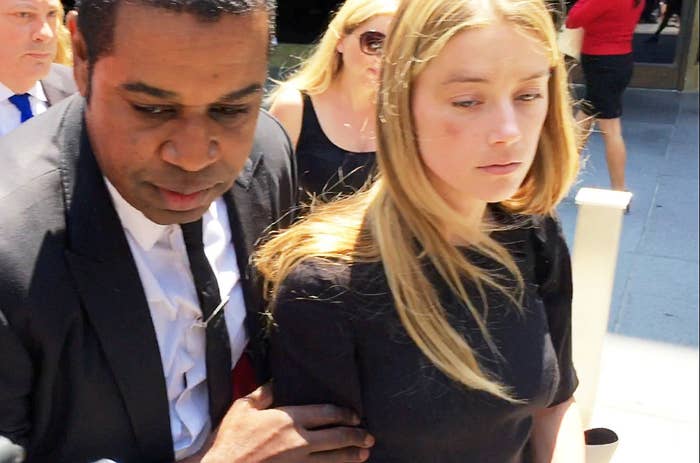 Amber Heard's close friend IO Tillet Wright wrote an impassioned op-ed explaining why he ultimately picked up the phone and called 911 on Johnny Depp to report physical abuse.
In her court petition for a restraining order, Heard detailed the night of May 21, describing Depp as "enraged" and ranting in an "aggressive and incoherent manner." Heard said that when her speaker phone call to Tillet connected, Depp "ripped the cell phone from my hand and began screaming profanities and insults at IO." She also heard IO yell at her to get out of the house. After being hit by the cell phone, Heard yelled at Tillet to "call 911."
In an op-ed posted on Refinery29, Tillet said he once regarded Depp as a brother and that he had saved his life, but could no longer stand on the sidelines as a witness to what was happening to Heard.
"When you call someone your brother, you also commit to calling them out when they are wrong," Tillet wrote. "As she, shaking and crying, described this 195-pound man throwing the full weight of his body into head-butting his 120-pound wife in the face in a fit of rage, I found that an unforgivable line in my heart had been crossed."

Tillet also said he came to realize that continued silence would just enable Depp to continue the alleged abuse.
"I wondered like so many times before if I should break the code of silence that surrounds celebrities and invite the police into the situation, and in a split second decided that, yes, I was going to," Tillet wrote. "Because I realized that as long as I was protecting the abuser from consequences, I was enabling the abuse and I could no longer partake. I had to stand up for my friend, and for what I believe in my gut to be the code of conduct by which human beings have to behave with each other."
Tillet also tweeted outrage at "trolls" who appeared to be lashing out at Heard.
Heard, who filed papers to end their 15-month marriage two days after the alleged incident, claimed that Depp, 52, is abusing drugs and alcohol, and told a judge the actor has a "short fuse" that blows any time she questions his authority. She added that Depp has been "verbally and physically abusive" during their entire relationship.
Depp's publicist did not immediately respond to BuzzFeed News' request for comment. But the actor's attorney, Laura Wasser, said in a court motion that Heard was "attempting to secure a premature financial resolution by alleging abuse" and trying to turn the tide of negative publicity surrounding her decision to file for divorce days after Depp's mother died.
Depp and Heard are expected to be in court next week over Heard's request to obtain a permanent restraining order against Depp. In the interim, Heard has been granted exclusive use of the estranged couple's three adjoining Los Angeles penthouses.