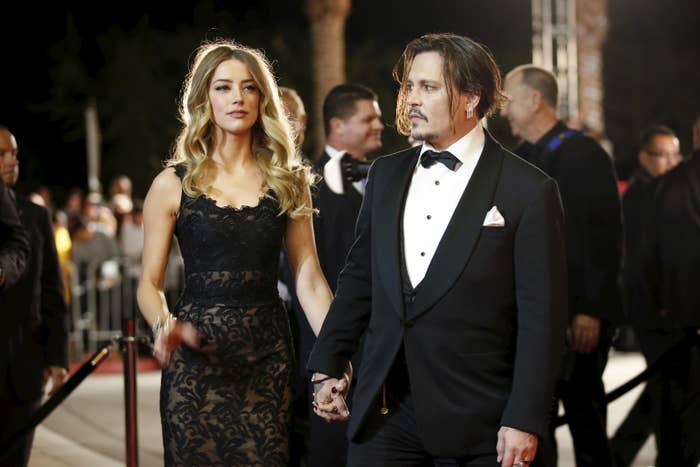 Amber Heard filed a defamation lawsuit Friday against Johnny Depp's close friend, claiming he planted a story about her to "divert attention away" from Heard's claims that Depp abused her during their marriage.
Heard filed the suit against comedian Doug Stanhope after he authored an op-ed on The Wrap titled "Johnny Depp Is Being Blackmailed By Amber Heard — Here Is How I Know."

She claims the op-ed was not only defamatory, it was a classic case of attacking the victim" in an effort to discredit her, to destroy her reputation, and to severely harm her entertainment career, according to the lawsuit filed in Arizona, where Stanhope lives.
Heard said Stanhope falsely accused her of trying to blackmail Depp even though there is no factual proof to back up his assertion. She demanded The Wrap take down the article and issue a retraction, but it was still online as of publication time Friday.
"The piece stands on its own," Thom Geier, deputy managing editor of The Wrap, told BuzzFeed News. "It's Mr. Stanhope's piece about what he experienced. We felt it was newsworthy to put up there and that is what we did."

Heard said during the course of her marriage, Depp was repeatedly physically and emotionally abusive toward her. On one occasion, she said Depp choked her to the point where she feared for her life, according to her lawsuit. Heard said Stanhope's article was part of a campaign by others whom she has not yet named. After she came forward with her abuse allegations against Depp, Heard said his camp went on "the offensive" during his latest movie publicity tour to paint her as being a manipulative blackmailer, and blaming her for the breakup of their marriage.
The actor filed and was granted a restraining order against Depp May 27, five days after she filed for divorce citing irreconcilable differences.
Charles Harder, who is representing Heard, released this statement on why his client decided to take legal action against Stanhope:
"Amber Heard filed a lawsuit today in the Arizona Superior Court for the County of Cochise. The defendant is Doug Stanhope, a resident of that county. The Complaint alleges that Stanhope is a close friend of Johnny Depp and, as part of a coordinated effort, wrote a highly defamatory article about Ms. Heard, filled with completely false, highly defamatory and very hurtful statements. Ms. Heard seeks the maximum possible jury award, and will donate 100% of the proceeds from the lawsuit to Chrysalis, a domestic violence shelter in Arizona, in an effort to counter the setback made to women by the defendants' defamatory article and related wrongful acts."
Neither Depp's rep nor Stanhope have responded to BuzzFeed News request for comment.