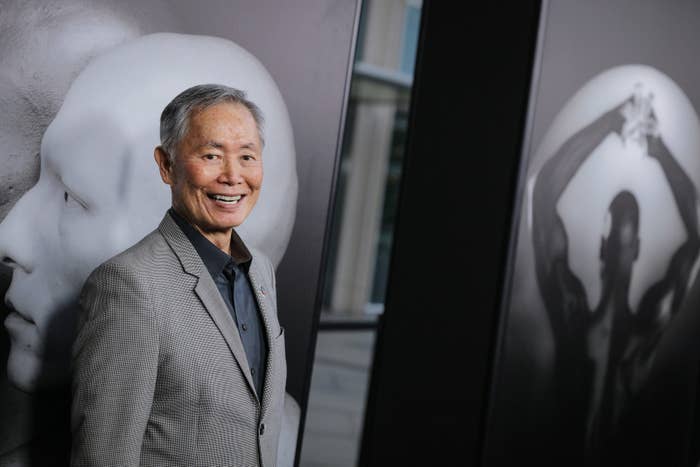 Scott Brunton had just gone through a bad breakup when actor George Takei offered to take him out on the town.
It was the summer of 1981, and Takei, then 44, was well-known for his role as Lt. Hikaru Sulu on Star Trek. The two men knew each other socially. "It was a very hard breakup for me, and he said, 'Well, let me take you out to dinner and the theater and we will talk,'" said Brunton, who was 23 at the time. "And I thought, OK, that would be nice."
The two men — who hadn't spent time together one-on-one before — spent the evening out before returning to Takei's Los Angeles condo for a cocktail, Brunton said. Takei prepared a drink in the kitchen and brought it out to Brunton, who was in the living room. Brunton recalled that Takei served it in a Star Trek glass, which he found "a bit cheesy."
"I'm pouring my heart out on my sleeve to him" talking about the breakup, Brunton said. "He is very sympathetic. And then he asked if I would like another drink and I said, 'Sure.'"
But by the second cocktail, Brunton said he felt like he was going to pass out.
"I was shaky," he told BuzzFeed News in an interview. "I said, 'I have to lie down.' He said, 'Come over here and sit.'" Brunton recalls sitting down on a yellow beanbag chair.
He doesn't know how much time passed, but the next thing he remembers is waking up, his pants down around his ankles, and Takei on top of him pushing his hand down his underwear, Brunton said.
"He's on top of me, trying with his hand down my underwear [to] pull my underwear down," said Brunton.
Brunton said he then pushed Takei off and asked what he was doing. He said Takei told him he was trying to make him comfortable.
Brunton said he told Takei he had to go home, though he was "still a little bit out of it." Takei told him that he was in no condition to drive, Brunton said, and he agreed but told the older actor he was leaving anyway.
"I got my pants up, composed myself, and I just couldn't believe this whole thing happened," Brunton told BuzzFeed News. "I went out to my car and I sat in it and that was that."
A representative for Takei denied multiple detailed requests for comment, saying the actor was traveling.
After this story was published, Takei tweeted on Saturday morning, saying the events Brunton described "simply did not occur." He also said he did not remember Brunton.
"I want to assure you all that I am as shocked and bewildered at these claims as you must feel reading them," Takei said. "The events he describes back in the 1980s simply did not occur, and I do not know why he has claimed them now. I have wracked my brain to ask if I remember Mr. Brunton, and I cannot say I do."

Takei said he took the claims very seriously and wanted to provide a thoughtful response.
"Right now it is a he said / he said situation, over alleged events nearly 40 years ago. But those that know me understand that non-consensual acts are so antithetical to my values and my practices, the very idea that someone would accuse me of this is quite personally painful," Takei said.

Five of Brunton's friends independently told BuzzFeed News that they have heard Brunton tell the story at various times over the years.
One of those friends, Jan Steward, told BuzzFeed News she recalled Brunton telling her the story at the dinner table roughly a decade ago.
"It was clearly very, very upsetting to him," she said.
Brunton first met Takei at Greg's Blue Dot, a Los Angeles gay bar, where he was introduced by his boyfriend at the time, Jay Vanulk. (Vanulk did not respond to multiple requests for comment from BuzzFeed News.) Brunton said he, Takei, and Vanulk became casual friends, seeing one another at various bars and parties. He was a waiter and aspiring actor and model at the time. But he left Los Angeles shortly after the alleged incident with Takei, disillusioned with Hollywood.

"[Takei] wasn't the total reason, but he was part of it," Brunton said.
He didn't see Takei for more than a decade, until 1994 when he attended a signing for Takei's autobiography To the Stars.
Brunton said he intended to confront the actor about the incident. He ultimately changed his mind, but not before getting his book signed. "To Scott," the inscription says, "the enterprising man who boldly goes — to the stars. Fondly, George Takei." Takei also gave him a piece of paper with his home address on it. (BuzzFeed News has reviewed both the inscription and the address.)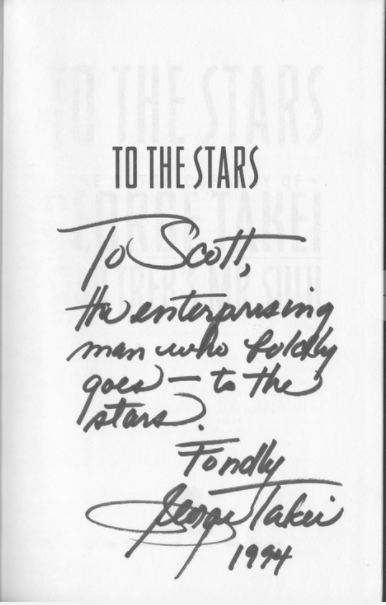 For years, Brunton — now an artist living in coastal Oregon with his partner of more than two decades — told his "Sulu sex" story at bars and parties. He said he likely would have never come forward publicly had it not been for Takei's response to sexual misconduct allegations against Kevin Spacey.
"It was really bothering me that he has put himself out there to condemn Kevin Spacey, and rightfully so, but out of all the people who should not be doing it, it is him," Brunton said. "That is my reason."
Takei, who came out as gay in 2005, has since become an activist for LGBT and progressive causes, and amassed a large social media following.
After actor Anthony Rapp told BuzzFeed News that Spacey tried to seduce him when he was 14, Takei criticized Spacey's behavior in a statement to the Hollywood Reporter.
"When power is used in a non-consensual situation, it is a wrong," Takei said. "For Anthony Rapp, he has had to live with the memory of this experience of decades ago. For Kevin Spacey, who claims not to remember the incident, he was the older, dominant one who had his way. Men who improperly harass or assault do not do so because they are gay or straight — that is a deflection. They do so because they have the power, and they chose to abuse it."
Brunton was struck by what he saw as deep hypocrisy on Takei's part.
"That to me was the last straw," he said. "That was why I had to speak."
"I've led an honest, good life. I'm not some flake that is coming out of nowhere," said Brunton. "I'm trying to expose [Takei] for the hypocrite that he is. … This is not kosher now."
UPDATE
This story has been updated with tweets from Takei denying Brunton's allegations.