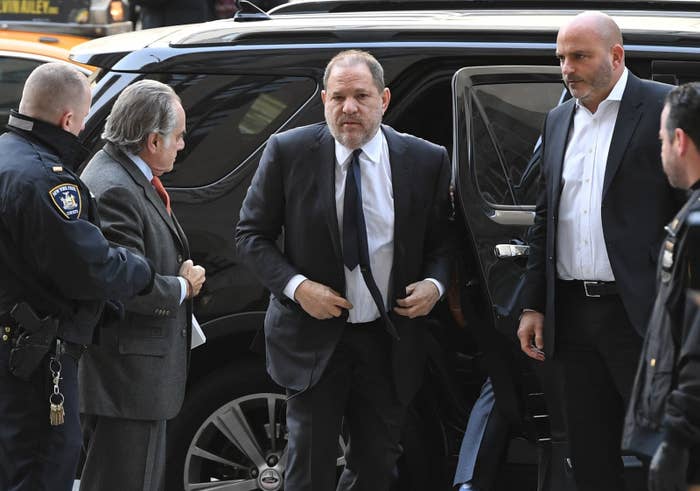 A judge in New York on Thursday did not dismiss criminal charges against Harvey Weinstein in his rape and sexual assault cases involving three women.
In addition to denying the motion to dismiss the case, Judge James Burke also denied "evidentiary hearing" requests and set a pretrial hearing for March 7.
"The court finds that the charges presented in the Grand Jury were supported by competent evidence and the proceedings were properly conducted," according to court papers.
Weinstein did not talk to reporters as he arrived at Manhattan Criminal Court on Thursday for the brief hearing. Actors Amber Tamblyn, Marisa Tomei, and Kathy Najimy attended the hearing wearing Times Up T-shirts, which they covered up in the courtroom.

Gloria Allred, who is representing one of the victims, Mimi Haleyi, said Weinstein and his lawyers were trying to avoid a criminal trial.
"It appeared to me that they did everything that they could not to have to move forward and not to have him have to stand trial. However, that didn't happen today," Allred told BuzzFeed News outside the court.
"All of the money poured into this case by the defense and time and effort, did not succeed in helping Mr Weinstein avoid facing trial, avoid facing his accusers," said Allred.
"Mr. Weinstein should have his day in court, but so should the women who are the victims," said Allred, in a press conference after the hearing.

Allred added she hopes other victims will also get the chance to testify in court as they did in the Bill Cosby rape case.

Lisa Borders, the CEO of Times Up, was also present at the courthouse and said, "Today in New York we saw the first steps towards justice ... frankly we are relieved that Mr. Weinstein failed in his efforts to avoid accountability for his actions."

Borders spoke surrounded by actors in Times Up outfits, and did not take questions.
"It's a disappointment," Weinstein's lawyer, Ben Brafman, said outside of the courthouse.
Since Weinstein's arrest six months ago, his legal team has been aggressively fighting to get the charges tossed out with multiple court motions attempting to discredit the case from New York County District Attorney Cy Vance.

Weinstein, who faces life in prison if convicted on all charges, has pleaded not guilty and his attorneys have argued that the sexual encounters were consensual. In previous court filings, Brafman said he has "thousands of emails between, from, and to virtually every woman who has a made a public claim of sexual assault" that show they maintained relationships with Weinstein before and after the date of their alleged assault.

Brafman has also accused Vance of defective grand jury proceedings, attempting to prosecute crimes that are past the statute of limitations, and overcharging his client.
Weinstein's team was successful in getting one count of a criminal sex act dismissed in October, after it came to light that the lead detective on the case failed to share information regarding a witness refuting actor Lucia Evans' testimony of being forced to give Weinstein oral sex.
Weinstein also faces allegations of assault, including rape, in Los Angeles, Canada, and France, each of which has a different statute of limitations.
Dozens of women have come forward with their own sexual assault allegations against the disgraced movie mogul, but almost all of them fall outside the local statute of limitations.
CORRECTION
Gloria Allred is representing Mimi Haleyi. An earlier version said she was representing all three victims. One actor and Times Up activist at the hearing today was Kathy Najimy. An earlier version of this post misidentified her as Nia Vardalos.