"A Dog's Purpose" Star Dennis Quaid Says "Absolutely No Dogs Were Harmed" During Filming
The actor told Today that "every precaution was taken."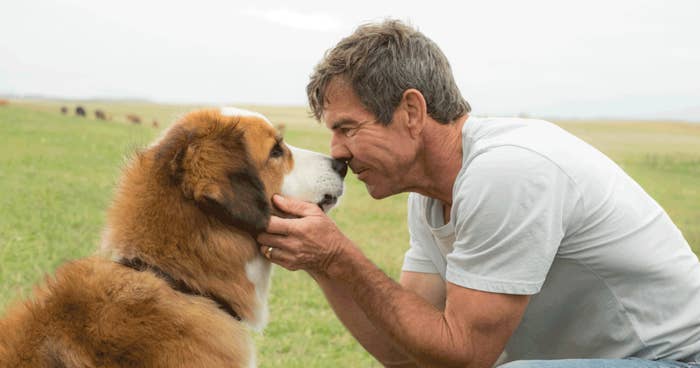 Dennis Quaid told Today hosts Matt Lauer and Natalie Morales Wednesday morning that "absolutely no dogs were harmed" during the filming of A Dog's Purpose.
A week ago, a controversial video posted on TMZ appeared to show a German shepherd being forced into water on set, spawning backlash against the movie, which is set to be released on Jan. 27. Quaid, who has been promoting the release this week, said on Today that he does not feel that there were any mistakes made on set in the way the German shepherd, Hercules, was handled. "Every precaution was taken," said Quaid, who noted the TMZ video was "spliced, edited and manipulated that to make it look as if the dog was being abused."
"The dog had been in that water happily and even afterwards too. The dog was fine," he told Today. "The dog is actually straining at the leash to get in the water because he loves it so much." Quaid's statements about the production back up what many involved in A Dog's Purpose have previously said.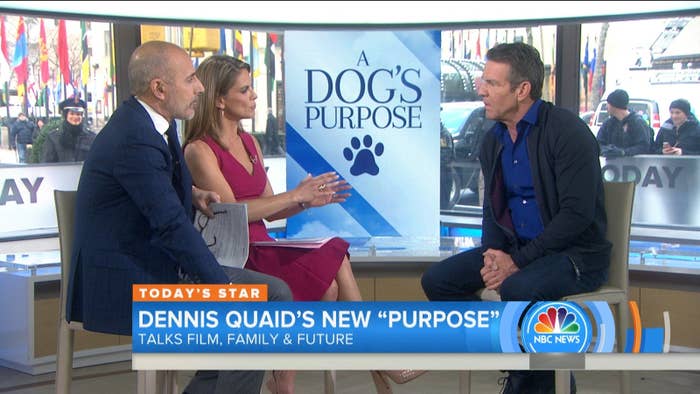 Producer Gavin Polone wrote in a column published in The Hollywood Reporter that the video was misleading, and that the dog was spooked when the crew briefly changed the jump-off point. Birds and Animals Unlimited, the company that provided the animal trainers for A Dog's Purpose, also said in a statement that the video was "falsely edited," that Hercules "was chosen for the film based on his love of the water," and they echoed that the change in entry point into the pool was what led to his reaction.
BAU also said a American Human Society (AHA) representative was constantly present, "approving and documenting every shot." The AHA, which enforces safety guidelines for animals during filming, told BuzzFeed News in a statement that it was "disturbed and concerned" by the footage.
"When the dog showed signs of resistance to jumping in the water, the scene should have been stopped," the AHA said. "We are placing the safety representative who was on the set on administrative leave immediately and are bringing in an independent third party to conduct an investigation into this matter."
PETA has called for a boycott.