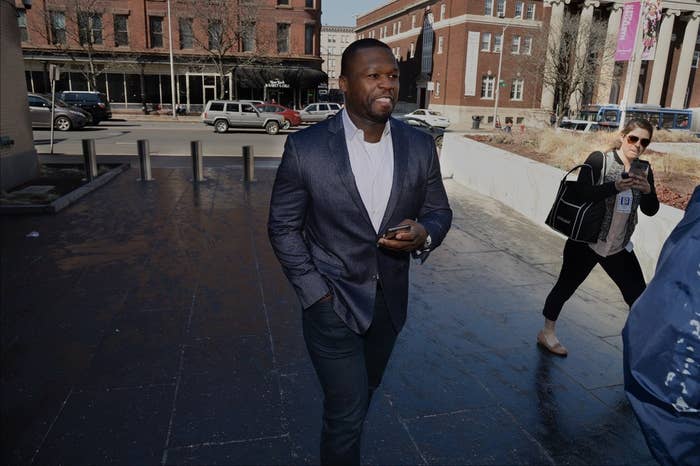 Rapper 50 Cent told a federal bankruptcy judge Wednesday he has only been posting photos of stacks of cash on social media to maintain his street cred. But not to worry: They're not real assets being kept from creditors, the money is fake.
The "Get Rich or Die Tryin'" entertainer was hauled into court to explain why, if he has declared bankruptcy in July and is working out a plan to pay off his creditors — including Lastonia Leviston, who won a $7 million jury award against him for posting a sex tape — he has been posting photos on social media surrounded with wads of what appears to be cold, hard cash. In some of the photos posted on Instagram, the stacks of bills spell out the word "broke."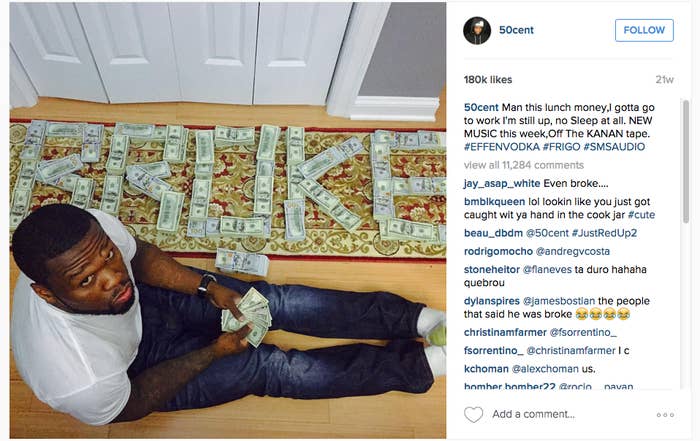 The bankruptcy trustee in the case was clearly didn't think the photos were funny. and wants the court to appoint an examiner to look into possible unaccounted for assets that 50 Cent, aka Curtis James Jackson III, may be hiding.
But according to his court declaration, 50 Cent argued that wasn't necessary because the bills were "prop money." In court papers filed Tuesday, 50 Cent said posted the photos because hip-hop culture, aspirations, and "money, jewelry, products" are the standard by which artists and fans engage.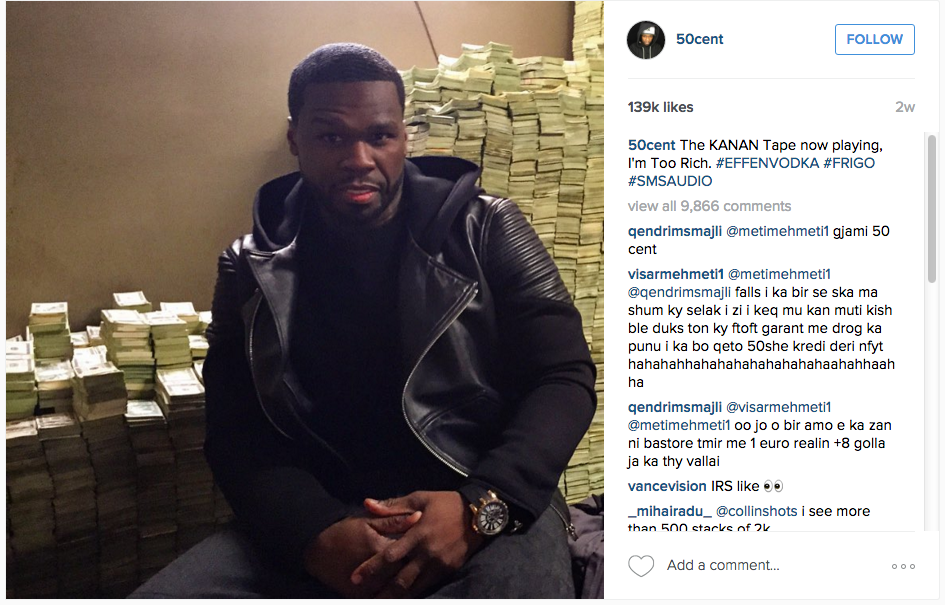 He also said promoting himself and his brand on social media with this "prop money" is merely a way for him to maintain a social media presence and make money for his creditors.
"Just because I am photographed in or next to a certain vehicle, wearing an article of clothing, holding a product, sitting next to what appears to be a large sums of money or modeling expensive pieces of jewelry does not mean that I own everything in those photos," 50 Cent stated in court documents.
He went on to say he "occasionally had to post what appeared to be outrageous things in order to move the needle," but that it should not be viewed as an insult to the bankruptcy process. What he does and says on social media has a direct impact on his music sales and viewership on his television shows, 50 Cent added. If the court were to force him into "cold-turkey withdrawal" from social media it would hurt his earning potential and his ability to pay off his creditors, he argued.
The rapper apparently felt good about the hearing,, posting this photo to Instagram:
BuzzFeedNews has reached out to his legal team for comment.