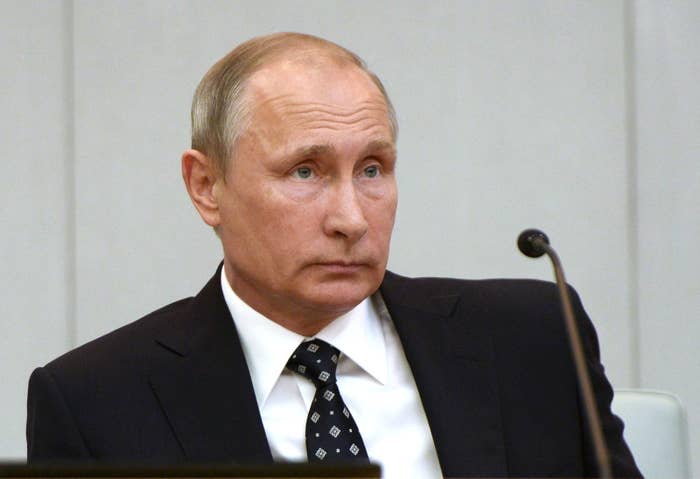 President Obama on Thursday said the US would take action in response to the Russian government's attempt to influence the presidential election by hacking Democratic officials.
"I think there is no doubt that when any foreign government tries to impact the integrity of our elections, that we need to take action and we will — at a time and place of our own choosing," Obama told NPR. "Some of it may be explicit and publicized, some of it may not be."
The Obama administration said earlier Thursday that the covert hack of Democratic Party officials' emails ahead of the presidential election must have happened with the approval of Russian President Vladimir Putin.
White House Deputy National Security Adviser Ben Rhodes told NBC's Andrea Mitchell it was a fact that Russia was behind the hack — and a targeted attack on American political organizations would only have happened with approval from the "highest level" of the Russian government.
"I don't think things happen in the Russian government of this consequence without Vladimir Putin knowing about it," Rhodes said on MSNBC. "Everything we know about how Russia operates and how Putin controls the government would suggest, again when you're talking about a significant cyberintrusion like this, we're talking about the highest levels of government."
The comments came after NBC reported on Wednesday that Putin was personally involved in the hack. A Kremlin spokesperson told the Associated Press the report was "laughable nonsense."

President-elect Donald Trump has repeatedly dismissed the concerns over Russia interference in the election, and has raised questions about the administration's handling of the matter. On Friday morning, Trump appeared to deflect concerns about Russia, by tweeting a reminder that WikiLeaks emails had revealed that Donna Brazile, the acting chair of the Democratic National Committee and former CNN commentator, sent Hillary Clinton's campaign a question in advance of a March Democratic debate in Flint, Michigan.
The Department of Homeland Security and the director of national intelligence on Oct. 7 announced that the Russian government directed the hack and release of emails from Democratic National Committee officials and Hillary Clinton's campaign director, John Podesta, ahead of the presidential election.

"These thefts and disclosures are intended to interfere with the US election process," the joint statement said. "We believe, based on the scope and sensitivity of these efforts, that only Russia's senior-most officials could have authorized these activities."
Rhodes on Thursday said the White House was considering its response, which could include sanctions as well an offensive or defensive cyber response.
"This isn't just about this election," Rhodes said. "We don't want Russia to feel like they can do this with impunity going forward in future elections or to European allies."
White House press secretary Josh Earnest confirmed on Wednesday that there would be consequences for the Russian meddling, but he declined to say what Obama had in mind or when they would be instated.
"The president believes that based on what we know about what Russia did, that it merits a proportional response," Earnest said.
Obama will hold a press conference at the White House on Friday at 2:15 p.m. ET before leaving for vacation.