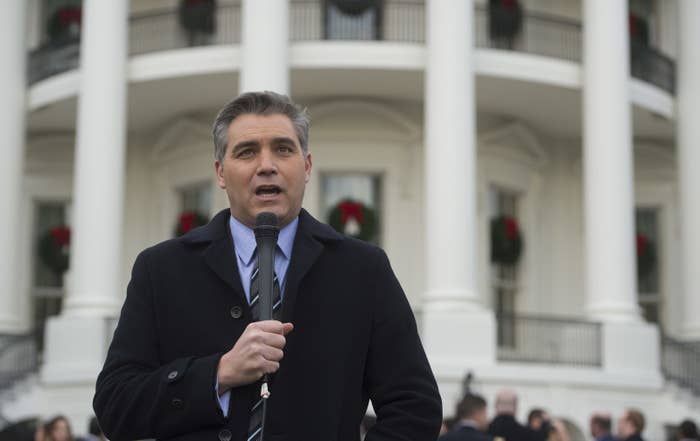 The White House on Wednesday suspended access to CNN's Jim Acosta, the network's chief White House correspondent, after he refused to give up the microphone while asking a question about the Russia investigation at a news conference with President Trump.
Video from the exchange showed a woman attempting to take the microphone from Acosta, who says, "Pardon me, ma'am," after briefly making contact with her arm. Acosta then continues to ask a question about the Russia investigation, which Trump doesn't answer.

In a statement, White House press secretary Sarah Huckabee Sanders said the decision to revoke Acosta's credentials was made because of his "placing hands on a young woman just trying to do her job as a White House intern."
Sanders also defended the Trump administration's support of a free press, adding, "President Trump has given the press more access than any president in history."
On Twitter, Acosta said Sanders' description of what happened was a lie, and in a statement, CNN agreed.
"She provided fraudulent accusations and cited an incident that never happened," CNN said. "This unprecedented decision is a threat to our democracy and the country deserves better. Jim Acosta has our full support."
Sanders later said the White House stood by its decision and believed the video supported it, tweeting a slowed-down, zoomed-in version.
Speaking to Anderson Cooper later Wednesday, Acosta added it was clear the president didn't like his questions and the White House staffer was trying to give the microphone to another reporter.
"All I can say at that point is that I was trying to hang on to the microphone so I could continue to ask the president questions," Acosta said. "Obviously, I didn't put my hands on her or touch her as they are alleging. And it's just unfortunate that the White House is saying this. You know, we all try to be professionals over there."
Acosta leads CNN's coverage of the president, and over the last two years, he's become known for his persistent questions and testy interactions with Trump and his press staff. But his questions have at times prompted Trump to account for his administration's actions.

Trump, meanwhile, has repeatedly said Acosta and CNN are "fake news," and on Wednesday, he further singled the reporter out as an "enemy of the people."
"CNN should be ashamed of itself, having you working for them," Trump said. "You are a rude, terrible person. You shouldn't be working for CNN."
Other journalists with experience covering the White House were shocked by Acosta's suspension, as well as the White House's attempt to justify it.
The White House Correspondents' Association president Olivier Knox called on the Trump administration to reverse their "weak and misguided" decision.
"The White House Correspondents' Association strongly objects to the Trump Administration's decision to use US Secret Service security credentials as a tool to punish a reporter with whom it has a difficult relationship," he said in a statement. "Revoking access to the White House complex is a reaction out of line to the purported offense and is unacceptable."
Acosta isn't the only CNN reporter to face the White House's ire. Reporter Kaitlan Collins was banned from an open press event this summer after asking what White House staff deemed to be "inappropriate" questions of Trump earlier in the day. She had shouted questions about the audio recording of Trump discussing paying former Playboy model Karen McDougal during a media scrum in the Oval Office with the president of the European Commission.
And last year, CNN was among several news organizations banned by then-press secretary Sean Spicer.
Immediately after Wednesday's press conference, CNN said in a statement that Trump's attacks on the press have gone too far, and the news organization stood behind Acosta.
"They are not only dangerous, they are disturbingly un-American," the statement said. "While President Trump has made it clear he does not respect a free press, he has a sworn obligation to protect it."