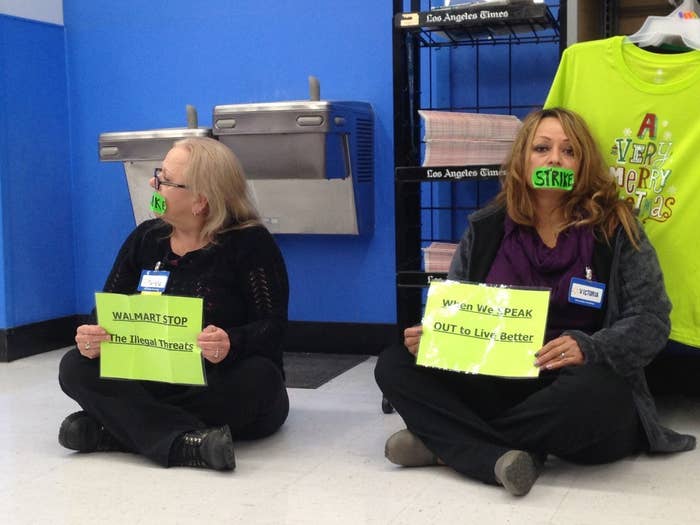 Walmart workers sat down along aisles of a Southern California store for about two hours Thursday — the first protest of its kind — to draw attention to what they've called unfair labor practices.
Organizers hoped the sit-down protest would raise the profile of their concerns about fair hours and wages in advance of Black Friday. The biggest retail day of the year has become a national day of protest among some Walmart workers, who believe the financial success of the business has not been fairly shared with its workers. The protest inside the Baldwin Hills Crenshaw store included about 25 workers with tape over their mouth, a symbol of the silence of their colleagues who are afraid of losing their jobs if they speak out. A larger protest was planned for later in the day outside the Walmart in nearby Pico Rivera.
"It's going to send a message to corporate that we are escalating, we are growing," said Martha Sellers, a 56-year-old cashier who participated in the strike.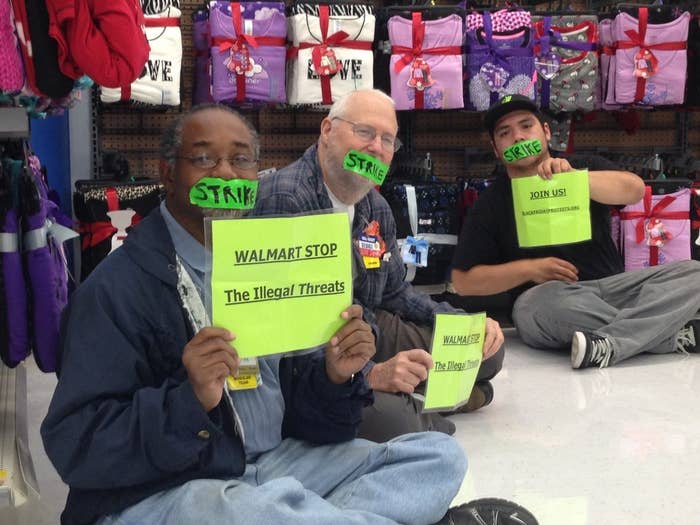 With more protests ahead, members of OUR Walmart — aka Organization United for Respect at Walmart, a nonprofit group supported by the United Food and Commercial Workers — have focused their message. They want consistent, full-time hours, with a minimum wage of $15 an hour. And they want to end retaliation against workers who speak up for better conditions. Walmart, they stress, is the largest employer in the United States. Most employees make less than $25,000 a year, while the Waltons are America's wealthiest family.
"They can afford to pay us better, to provide better health insurance," Sellers said.
Walmart spokesman Kory Lundberg said the company has a long history of an "open-door policy" with its employees and added that listening to employees is one of the reason's for the company's success.
"Associates are encouraged to share their thoughts with any member of management they can," Lundberg said.
As for the call for more hours, he said since this spring Walmart has offered an open shift program. Employees can look online to see all open shifts at their store for the upcoming three weeks and volunteer to take on more hours. The program is one of a number of benefits the company offers that go beyond what similar jobs offer, he said.
"We're proud to be a company of opportunity," he said.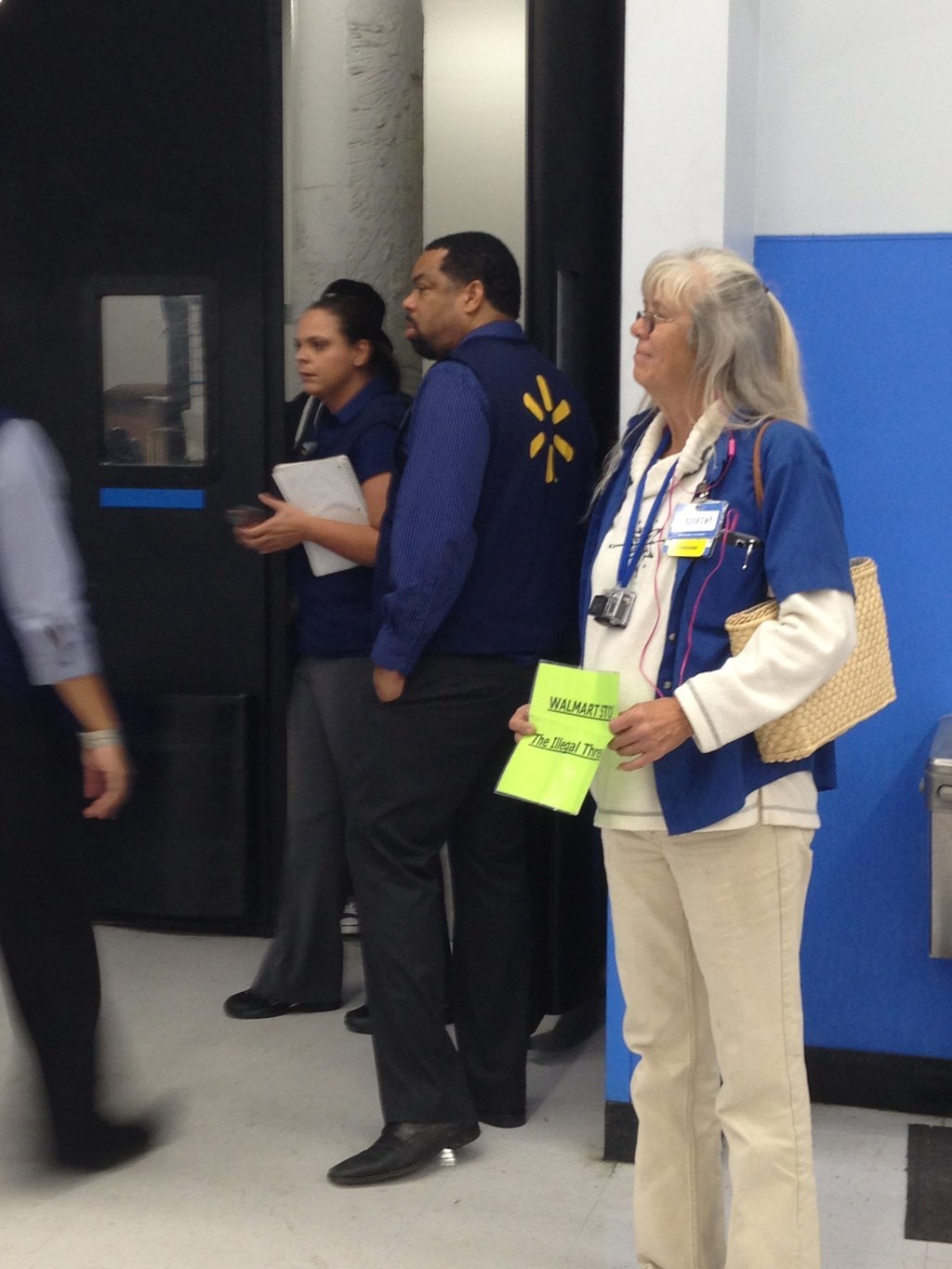 To the protesting employees, the company's statements do not match up with what they've seen and experienced. Sellers, who has been working at the Walmart in Paramount, California, for 11 years, said her lowest point with the company came several years ago. Her husband had died, and in addition to grief, his death brought financial difficulty.
"Then Walmart started cutting my hours," she said. "I was begging for more hours, and they laughed at me."
She began getting involved in efforts to organize employees to speak up to corporate leaders. New managers came into her store, and she began to work full time. Still, she said she's one of the lucky ones. Many of her coworkers, particularly those with families, have to rely on welfare programs.
"It's not fair to the economy," she said. "It's not fair to the taxpayers."
As for leaving, Sellers said with the economy as it is, she'd only find another retail job with the same issues she's had at Walmart.
"They run the industry," she said. "They set the standards, and the standards are so low."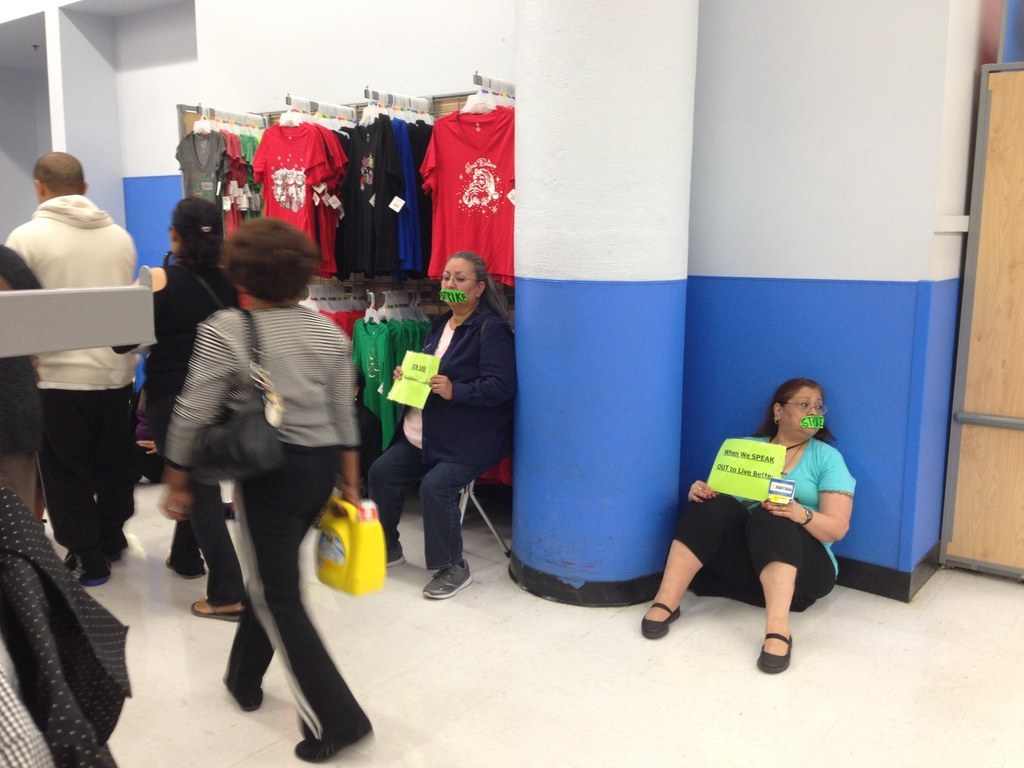 On Thursday, staff at the Baldwin Hills Crenshaw Walmart asked protesters to keep walkways clear. They acknowledged that current Walmart employees had the right to be there. Shoppers walked through the row of silent, sitting protesters. Most slowed to read the signs, and some were more outspoken.
"I support you," said one similing woman.
"Didn't think I'd ever see that," said another, shaking her head.
Just a few spoke against the protesters.
"I'm a Walmart employee, watch me cross this picket line," said one woman as she shopped.
"They've got 5,000 more to take your spot," a man said. "That's crazy."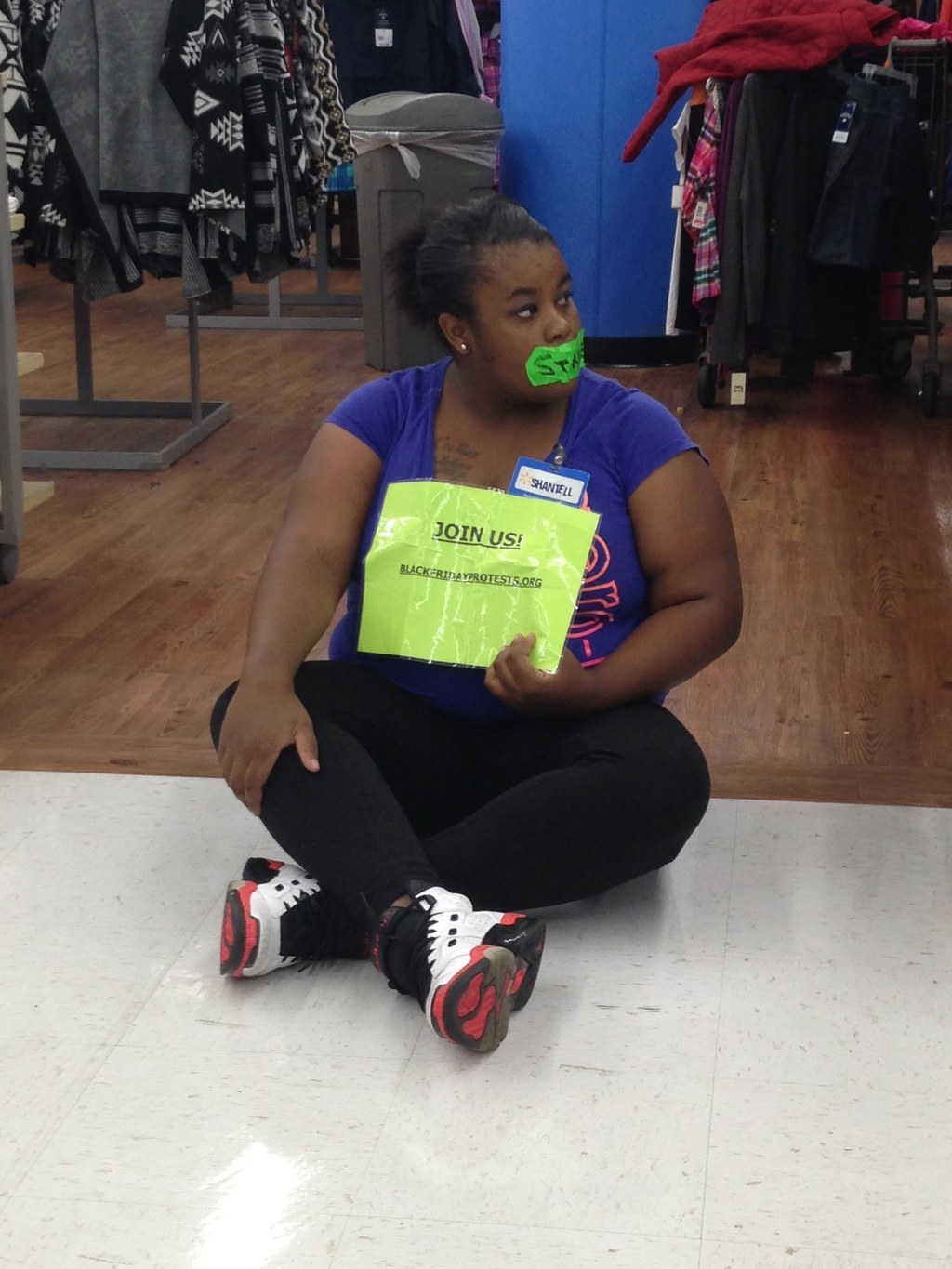 Some protesters believe there has been retaliation for their organizing. Evelin Cruz, 43, worked as a manager in her store's photo and wireless center for 10 years. She was fired last Thursday, and she was told it was related to an incorrect chemical shipment three months ago.
She said she wasn't involved in the shipment's invoice and believed her work on the upcoming protest was the real issue.
"They know when we start planning stuff," she said.
Years of low pay and few hours for her and her coworkers motivated her to start protesting three years ago.
"I'm going to continue to do this until this company is willing to listen," she said. "One person needs to stand up and make a difference."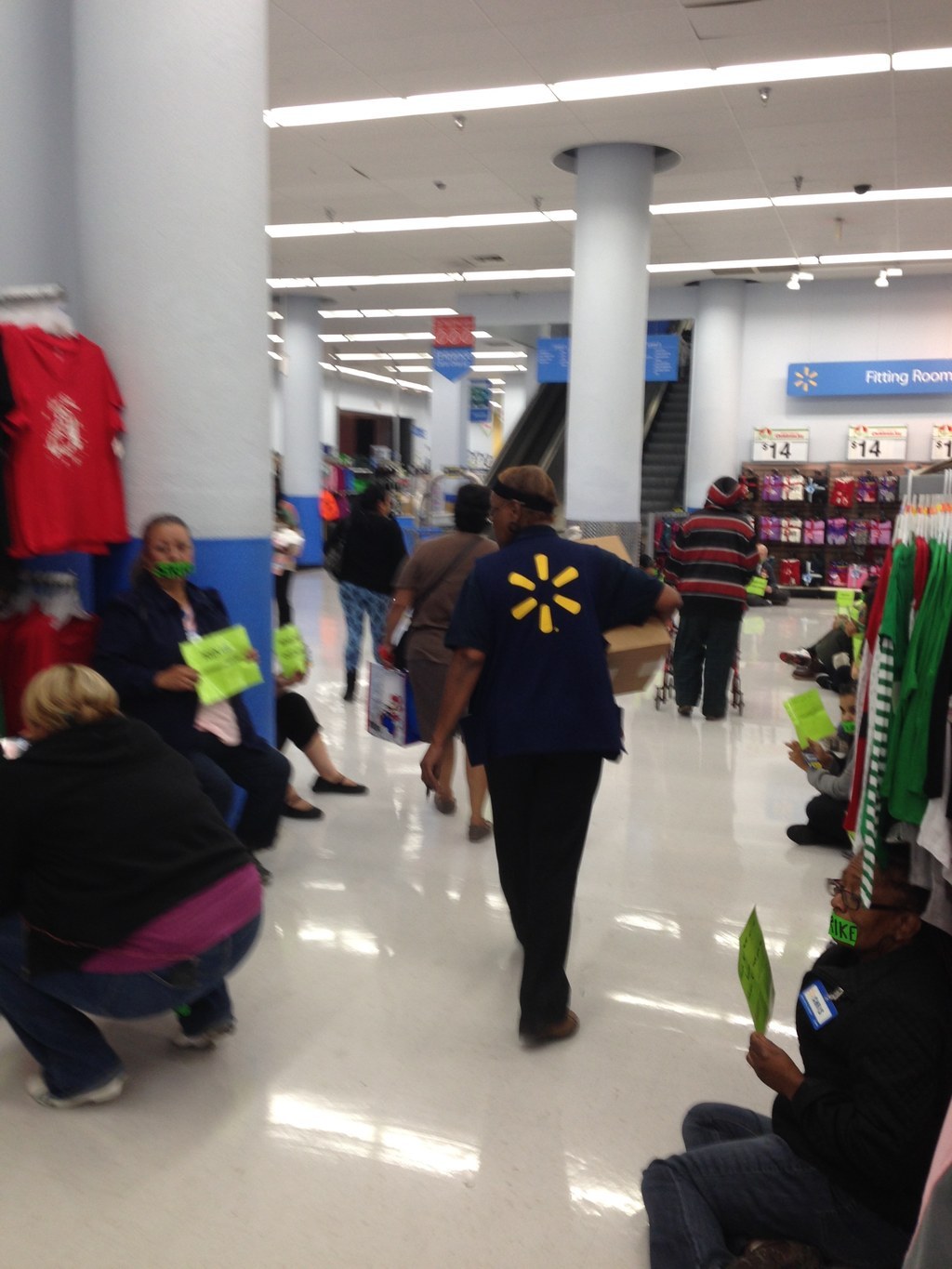 Lundberg disputed that any retaliation had taken place against associates. The protest was organized by an outside union and did not reflect the experience of Walmart associates, he said.
"Walmart has a strict anti-retaliation policy, and we don't tolerate retaliation of any kind."
If Walmart did fire anyone for protesting, however, the company would be in violation of federal labor laws.
"It's illegal to fire someone for talking union," said Dana Frank, a professor of history specializing in labor studies at the University of California Santa Cruz.
Frank, one of a few people to know about the protest in advance, said the sit-down strike has a particularly significant place in U.S. history. A similar strike in 1937 led to a victory for United Automobile Workers against General Motors. That same year, 100 young women sat down for better pay and a union contract inside a Woolworth five-and-dime store.
"Woolworth was very much the Walmart of the 1930s," Frank said.
Eighty years later, workers are again facing issues of unfair wages, and many fear to speak up though they have the right to do so, she said.
"This raises huge issues of inequality," she said. "Let's talk about this again, and really push back."