Video Shows Deputy Fatally Shooting Armed Man As He Walks, Crawls Away
A .45-caliber handgun was recovered at the scene, the Los Angeles County Sheriff's Department told BuzzFeed News. Warning: graphic video.
A video taken Saturday morning appears to show a Los Angeles County sheriff's deputy shooting a man as he walks and tries to crawl away on the ground outside of a gas station.
The man, who authorities said was armed, was pronounced dead at about 11 a.m. at the gas station in Lynwood, California. A .45-caliber handgun apparently belonging to the man was recovered from the scene, the sheriff's department told BuzzFeed News.
The department on Sunday identified the man as 28-year-old Nicholas Robertson from Lynwood.
Family members told local media that Robertson was a married father of three.
Deputies were first called to the scene after several reports of a man with a gun and the sound of gunshots, officials said. Callers told the sheriff's department the armed man was black and wearing a checkered shirt.
On Sunday, police released surveillance footage they said showed Robertson holding a weapon and behaving erratically.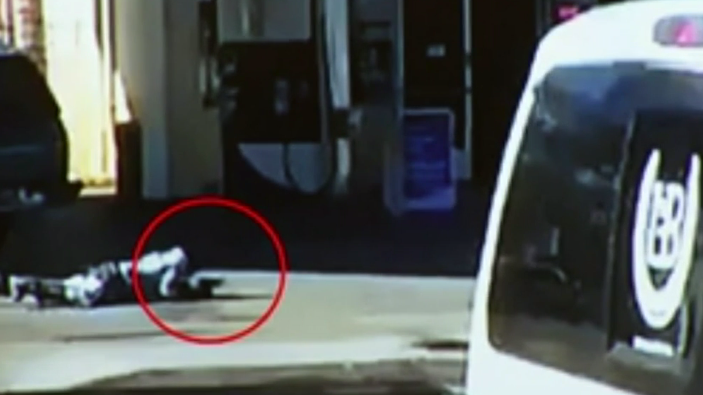 Women and children who had seen the man's weapon later told investigators they were concerned for their lives, Captain Steven Katz of the sheriff's department's homicide bureau told reporters.
Investigators ultimately found the weapon was not loaded, Katz said, but Robertson was carrying "two live rounds...in [his] grasp."
In a graphic cell phone video obtained by KTLA and ABC 7, one deputy is shown firing as Robertson walks away. The video, which was taken from across the street, then shows Robertson crawling on the ground as the sound of gunfire continues. A second deputy joins the first with his gun drawn, though it was not immediately clear if he also fired his weapon.
According to the sheriff's department, the deputies gave Robertson multiple commands to drop the gun. Witnesses said they saw Robertson point the gun at deputies, according to the sheriff's department.
Robertson was shot after not complying with the deputies' commands, the sheriff's department said.
Capt. Katz said Sunday investigators had information that a "domestic discord" between Robertson and his spouse may have caused him to become agitated. Katz said officials were awaiting a toxicology report from the coroner.
The shooting is under investigation by the Los Angeles County District Attorney as well as the sheriff's department, as is standard practice in Los Angeles. The investigation will also be reviewed by the Office of the Inspector General and the Sheriff's Executive Force Review Committee.
Acknowledging the public's response to other high-profile, officer-involved shootings in the past 18-months, Sheriff Jim McDonnell said his department was working to be as transparent as possible.
"The sentiment across America has been critical [of past officer-involved shootings]," he said. "That's why we've come out today to try to be as transparent as possible."
Protesters gathered Saturday evening near where Robertson was shot.
As they protested, sheriff's deputies stood by with helmets and tear gas.
Robertson's family member Pamela Brown told CBS Los Angeles that she didn't believe he had a gun, and questioned why he had to die.
"He left three kids behind," she told the station. "Two daughters and a son. What? They could have Tased him. Or anything."
In a statement on Saturday evening, Sheriff McDonnell said:
I want to assure the public that the Sheriff's Department takes deputy involved shootings very seriously and that this investigation will be handled with the utmost professionalism and integrity. We are working closely with our criminal justice system partners as well as members of the public to put together the most comprehensive and accurate account of exactly what occurred.

In this modern age of cell phone video and instant analysis on the internet, I would ask that we keep in mind that a thorough and comprehensive investigation is detailed and time intensive. It will involve, not just one source of information, but numerous sources, potentially including multiple videos, physical evidence and eyewitness accounts. I urge anyone who has information about this shooting incident to contact our investigators. Our number one priority is public safety.
Stephanie McNeal and David Mack contributed to this report.
CORRECTION
The deceased man's name has been reported as Nicholas Robertson. A previous version of this post misstated his surname.