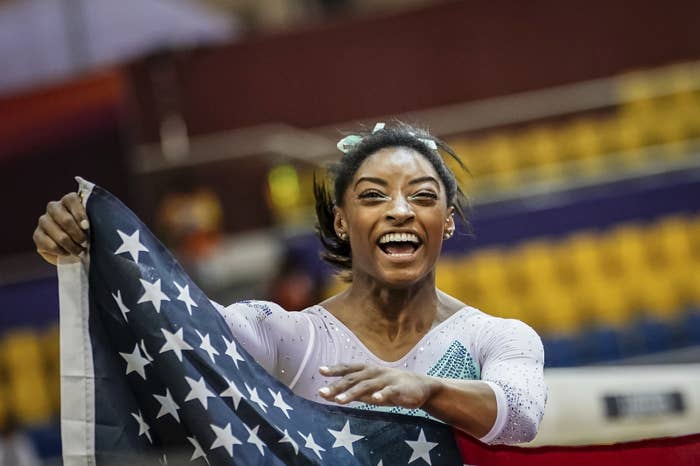 The US Olympic Committee on Monday took the first step to revoke USA Gymnastics's status as the national governing body of the sport, a shake-up of decades of leadership that critics described as complicit in the sexual abuse of hundreds of girls.
The announcement came just after the weekend's world championships in Doha, Qatar, where the US team's Simone Biles took home six medals — cementing her status as the best in the world and tying the all-time record for medals.
But when Biles and other US gymnasts go to the Summer Olympics in 2020, an entirely different organization may be responsible for running their sport. The US Olympic Committee announced Monday it had filed a complaint against USA Gymnastics after losing any hope the organization could recover from the sexual abuse of its athletes by team doctor Larry Nassar, as well as an alleged cover-up.
"You deserve better," USOC's CEO Sarah Hirshland wrote in an open letter to gymnasts.
Initially, the US Olympic Committee had called on USA Gymnastics to investigate how it handled complaints of abuse, for its board to resign, and for employees to take steps to change the organizational culture. But problems continued: Its former president is facing criminal charges of evidence tampering, his successor resigned after failing to make meaningful changes, multiple lawsuits are ongoing, and the latest interim president resigned after four controversy-filled days on the job.
Hirshland said the Olympic Committee had tried to work with USA Gymnastics, but in spite of efforts, the organization continued to struggle.
"And that's not fair to gymnasts around the country," she said. "Even weeks ago, I hoped there was a different way forward. But we now believe that is no longer possible."
Under US Olympic Committee rules, Hirshland's complaint will lead to a hearing and report. The USOC board will then vote on USA Gymnastics's fate.

Hirshland acknowledged that gymnasts — particularly those competing at the international level — would have questions. She wrote the USOC would come back with more information on what would happen in the short and long term.
"The path is not crystal clear, but our motives are," she wrote. "So, we move forward, committed to ensuring the type of organization each gymnast and the coaches, trainers and club owners who support them, deserves."
Nassar was sentenced to more than 175 years in prison after sexually abusing hundreds of girls under the guise of medical treatment. The abuse dated back to the 1990s, and several gymnasts have said they told coaches. Aly Raisman, the Olympic gymnast who has now become an advocate for abuse survivors, has called on USA Gymnastics to provide transparency to athletes about who knew about the abuse and who covered it up.

On Oct. 25, she said she didn't trust the current organization to protect athletes.
"They've failed us too many times," she wrote on Twitter. "They've shown us their lack of urgency to fix & understand this horrible problem. If changes in leadership/board don't happen I am terrified that history will repeat itself."