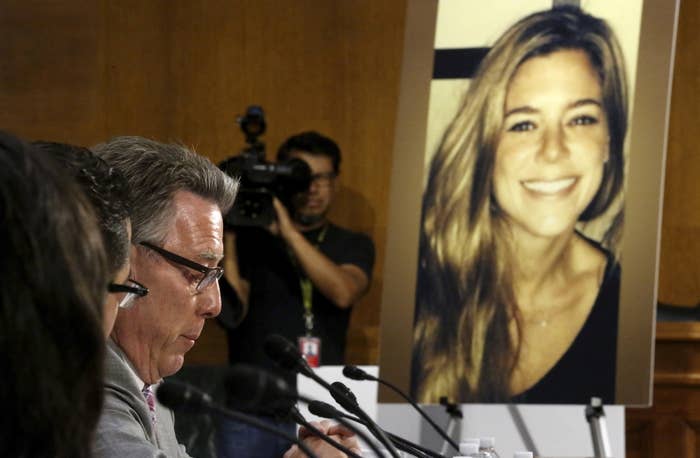 A jury on Thursday found the undocumented immigrant who shot 32-year-old Kate Steinle on a San Francisco pier in 2015 not guilty in her death, a case that sparked a fierce national debate on immigration policies.
Jose Ines Garcia Zarate, who was in the US illegally after five previous deportations, had been released from a San Francisco jail several months before the shooting — in spite of a request by federal immigration authorities that he continue to be detained. The case drew attention to San Francisco's "sanctuary city" policies, which then-candidate Donald Trump blamed for Steinle's death at the Republican National Convention.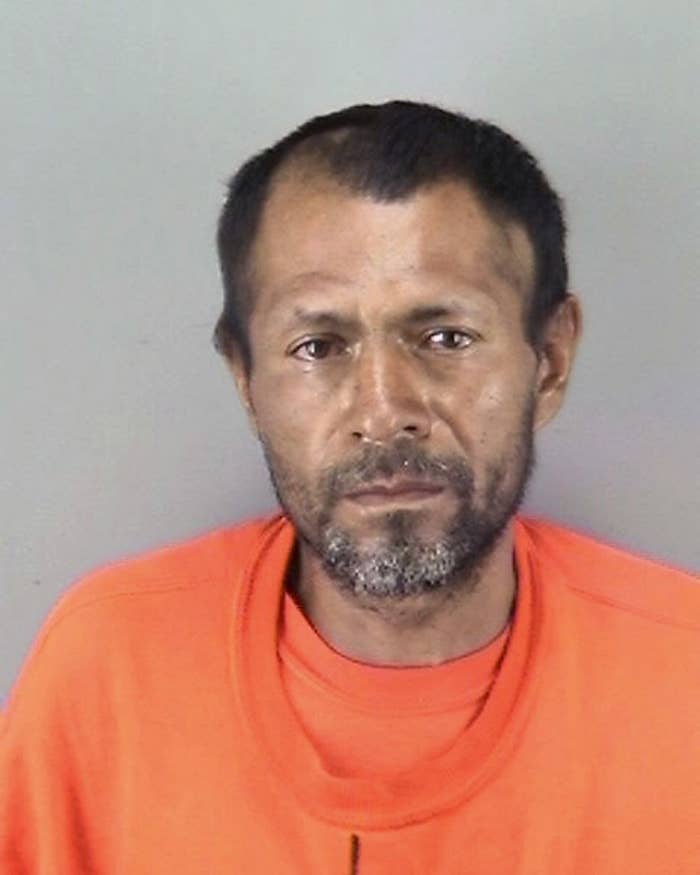 Lawyers for Garcia Zarate had argued that characterizing him as a violent immigrant didn't line up with the evidence. The bullet that killed Steinle first ricocheted off the concrete walkway, which they said showed the shooting had been an accident, the Associated Press reported. Zarate had picked up the gun while it was wrapped in clothing, his attorneys said, and didn't know what he was holding until the gun went off.
Jurors considered charges of murder and involuntary manslaughter, ultimately acquitting Garcia Zarate after six days of deliberations. He was found guilty of being a felon in possession of a firearm, which is expected to result in a sentence of 16 months to three years.

Following that, Immigration and Customs Enforcement deputy director Tom Homan said Garcia Zarate would be deported — something ICE had sought to do before the shooting.
"It is unconscionable that politicians across this country continue to endanger the lives of Americans with sanctuary policies while ignoring the harm inflicted on their constituents," Homan said in a statement. "Following the conclusion of this case, ICE will work to take custody of Mr. Garcia Zarate and ultimately remove him from the country."
In a statement Friday, White House press secretary Sarah Huckabee Sanders said the verdict underscores the danger to public safety "when our nation fails to enforce its laws."
"Kate Steinle was killed by an illegal immigrant and convicted felon who had been deported from the United States five times," she said. "He, and countless other criminal illegal immigrants like him, should never be allowed to threaten our citizens."
During the trial, prosecutors argued that Garcia Zarate brought the gun with him and pointed it at Steinle after sitting on the pier for more than 20 minutes and thinking about his actions. Jurors were instructed to consider charges against him of first- and second-degree murder, as well as involuntary manslaughter and assault with a semiautomatic firearm.
"He did kill someone. He took the life of a young, vibrant, beautiful, cherished woman by the name of Kate Steinle," San Francisco Deputy District Attorney Diana Garcia told the jury on Nov. 21, according to the AP.

Defense attorney Matt Gonzalez had on Nov. 20 told jurors that prosecutors' version of events was a "wild narrative of a desire to hurt someone he does not know."
On Thursday, he said the verdict should not be interpreted as an affront to the grief felt by Steinle's family.
"They should not interpret this verdict as diminishing their loss," Gonzalez said. "The physical evidence dictated the outcome, I'm just the lawyer who guided it along."

In an interview with the San Francisco Chronicle, Steinle's family said they looked forward to an end to their public profile — and the use of Kate's story by politicians who had not asked the family about their wishes.
The verdict left them shocked, they told the newspaper, but they said they do not feel vindictiveness toward Garcia Zarate.
"We're just shocked — saddened and shocked ... that's about it," her father, Jim Steinle, told the Chronicle. "There's no other way you can coin it. Justice was rendered, but it was not served."
In a 2015 interview with ABC 7, Garcia Zarate admitted to shooting Steinle — but he said it was an accident. He didn't realize he was holding a gun until it it went off, and he told ABC 7 he didn't realize the bullet had struck anyone until he was arrested.
The gun had belonged to a Bureau of Land Management ranger, and it had been stolen when his vehicle was broken into about a week before Steinle was shot. Who stole the gun has never been determined.
Jim Steinle had previously testified at a hearing of the Senate Judiciary Committee about his daughter's death and the need for a better system to get undocumented immigrants with felony records off of US streets — suggesting it could be called Kate's Law.

"Due to unjointed laws and basic incompetence of the government, the US has suffered a self-inflicted wound in the murder of our daughter by the hand of a person that should have never been on the streets in this country," he said.
Attorney General Jeff Sessions in a statement Thursday night blamed San Francisco's policies for Steinle's death — arguing that if the city had turned Garcia Zarate over to federal authorities for deportation as requested he would never have been on the pier.
"The Department of Justice will continue to ensure that all jurisdictions place the safety and security of their communities above the convenience of criminal aliens," Sessions said in a statement. "I urge the leaders of the nation's communities to reflect on the outcome of this case and consider carefully the harm they are doing to their citizens by refusing to cooperate with federal law enforcement officers."
Kate's Law became a rallying cause for some conservatives, particularly on then–Fox News host Bill O'Reilly's program, and a frequent campaign talking point for Trump as he advocated for building a wall at the US–Mexico border.
"This senseless and totally preventable act of violence committed by an illegal immigrant is yet another example of why we must secure our border immediately," Trump said in a statement after Steinle's death. "This is an absolutely disgraceful situation and I am the only one that can fix it. Nobody else has the guts to even talk about it. That won't happen if I become president."
He again spoke about her death at the Republican National Convention.
"My opponent wants sanctuary cities," Trump said. "But where was the sanctuary for Kate Steinle?"

Trump on Thursday called the verdict "disgraceful."
"A disgraceful verdict in the Kate Steinle case!" he tweeted. "No wonder the people of our Country are so angry with illegal immigration."
On Friday morning, Trump used the verdict as fodder for his wall, tweeting, "The Kate Steinle killer came back and back over the weakly protected Obama border, always committing crimes and being violent, and yet this info was not used in court. His exoneration is a complete travesty of justice. BUILD THE WALL!"
He followed up by saying that the Democrats are weak on crime and that a jury was not made aware that Garcia Zarate was a seven-time felon.
In her statement Friday, Press Secretary Sanders said, "It's more important now than ever for Congress to secure our borders and provide the resources, including more ICE officers, needed to deport criminal illegal aliens and to finally stop sanctuary city policies that cause needless loss of innocent life. Politicians who fail to address these needs share responsibility for preventable crimes committed against innocent Americans."
"Had San Francisco enforced our Nation's immigration laws, the Steinle family would be celebrating this holiday with all of their loved ones," the statement concluded.
Kate's Law was passed by the House of Representatives in June 2017, stripped of language that would have required mandatory minimum prison sentences for deported felons who reenter the US. It has not yet been voted on in the Senate.

Her brother Brad Steinle has also accused Trump of sensationalizing her death, adding he doesn't believe the construction of a border wall shows common sense.
"Donald Trump talks about Kate Steinle like he knows her," he told CNN in 2015. "I've never heard a word from his campaign manager, I've never heard a word from him … I don't want to be affiliated with someone who doesn't have the common courtesy to reach out and ask about Kate, and our political views, and what we want."
In the interview with the Chronicle, Steinle's family said they understand how sanctuary city policies can be useful — to encourage undocumented victims of crimes to cooperate with police, for example. But, they added, Kate's death showed clear policy failures by San Francisco and federal immigration officials that still need to be corrected.
"This trial, for me, is kind of the least important part of the puzzle," Brad Steinle told the Chronicle. "The sequence of events that led up to this — and the fact that nothing has changed — is the most disheartening thing. It's like Siegfried and Roy: You stick your head in a tiger's mouth and you're probably going to get bit at some point."