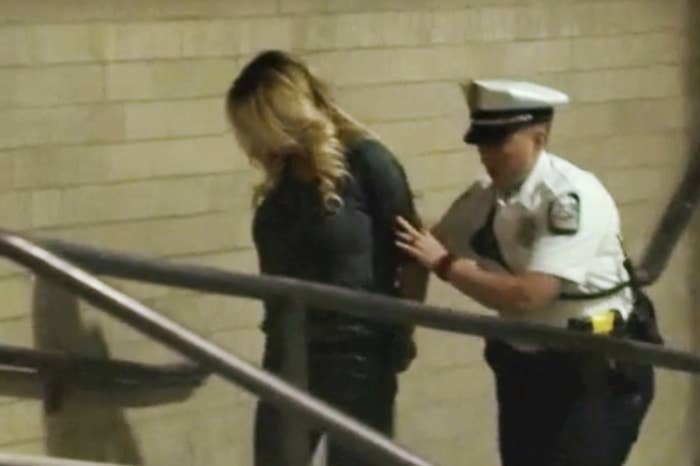 Undercover police officers targeted Stormy Daniels when she performed at a Columbus, Ohio, strip club earlier this month, according to leaked emails obtained by the Fayette Advocate.
The newly published emails contradict the Columbus Division of Police's initial statement that Daniels had been mistakenly caught up in a long-term investigation of human trafficking and prostitution at the club. Daniels appeared at Sirens Columbus on July 12, one stop of a tour she's undertaken since her alleged affair with President Trump and a subsequent payout of hush money became a national scandal.
Daniels, whose real name is Stephanie Clifford, was arrested along with two other women after police said she sexually touched three undercover police officers. She was charged with illegal sexually oriented activity in a sexually oriented business, but the charges were quickly dropped.
"A mistake was made, and I accept full responsibility," Columbus Police Chief Kim Jacobs said in a statement.
At that time, Jacobs said she would also review the motivations of the undercover officers in arresting Daniels.
Based on the leaked emails, it appears Daniels' ongoing dispute with President Trump played a role.
In the emails, a vice officer sent herself research on Daniels two days before the porn star appeared at the Columbus club, reviewing news articles on Daniels as well as a photo showing her with Trump.
In the early hours of July 12, the officer sent another message.
"I got the elements," she wrote, referring to the criteria of arresting a person for a crime. "We arrested Stormy this morning, she is in jail."
The whistleblower told the Fayette Advocate that they believed the emails showed that police had lied about the circumstances surrounding Daniels' arrest. A Columbus police spokesperson said the department could not comment because of the ongoing internal investigation.
Daniels' attorney Michael Avenatti said on Twitter he found the emails disturbing.
"I intend on getting to the truth and the bottom of who ordered Stormy Daniels arrested and why," he wrote. "It appears that I was correct when I stated it was politically motivated."