The professor killed in a murder-suicide at University of California, Los Angeles was officially identified as William Klug on Thursday, his killer as Mainak Sarkar.
Los Angeles police also said Klug, a professor of mechanical and aerospace engineering, was among two other names on a "kill list" left by Sarkar — Ashley Hasti, the woman he was married to and who was reportedly found dead in Minnesota, and a second UCLA professor who was unharmed.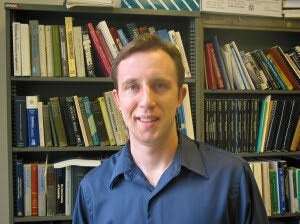 A marriage license obtained by CBS Minnesota shows that Sarkar and Hasti were married in 2011, however, it was not immediately clear if the two were still together at the time of the shooting.
Los Angeles Police Chief Charlie Beck told KTLA that Sarkar drove from Minnesota to UCLA, where an official said he had ties to the university.
CBS News reported that he used a 9mm semi-automatic handgun in the attack.
Klug, 39, headed the Klug Research Group on campus, which studied "problems at the interface of mechanics and biology," the group's website says. His office was in the Engineering IV building, where he was shot and killed.
Klug attended Westmont College for his undergraduate degree, and got his Ph.D. at California Institute of Technology in 2003. He is the author of dozens of scholarly essays on biomechanics and genetics and numerous scientific books and textbooks on similar subjects, such as Concepts of Genetics.
Westmont College described Klug in a statement as a "gentle, kind person without a trace of arrogance."
And in a statement issued Thursday, his wife, Mary Elise Klug, referred to his death as an "indescribable" loss:
During this extremely difficult time for our family, we are grateful for the tremendous outpouring of support. This is an indescribable loss. Bill was so much more than my soulmate.

I will miss him every day for the rest of my life. Knowing that so many others share our family's sorrow has provided a measure of comfort.
The suspected murder-suicide prompted a campus-wide lockdown and massive law enforcement response.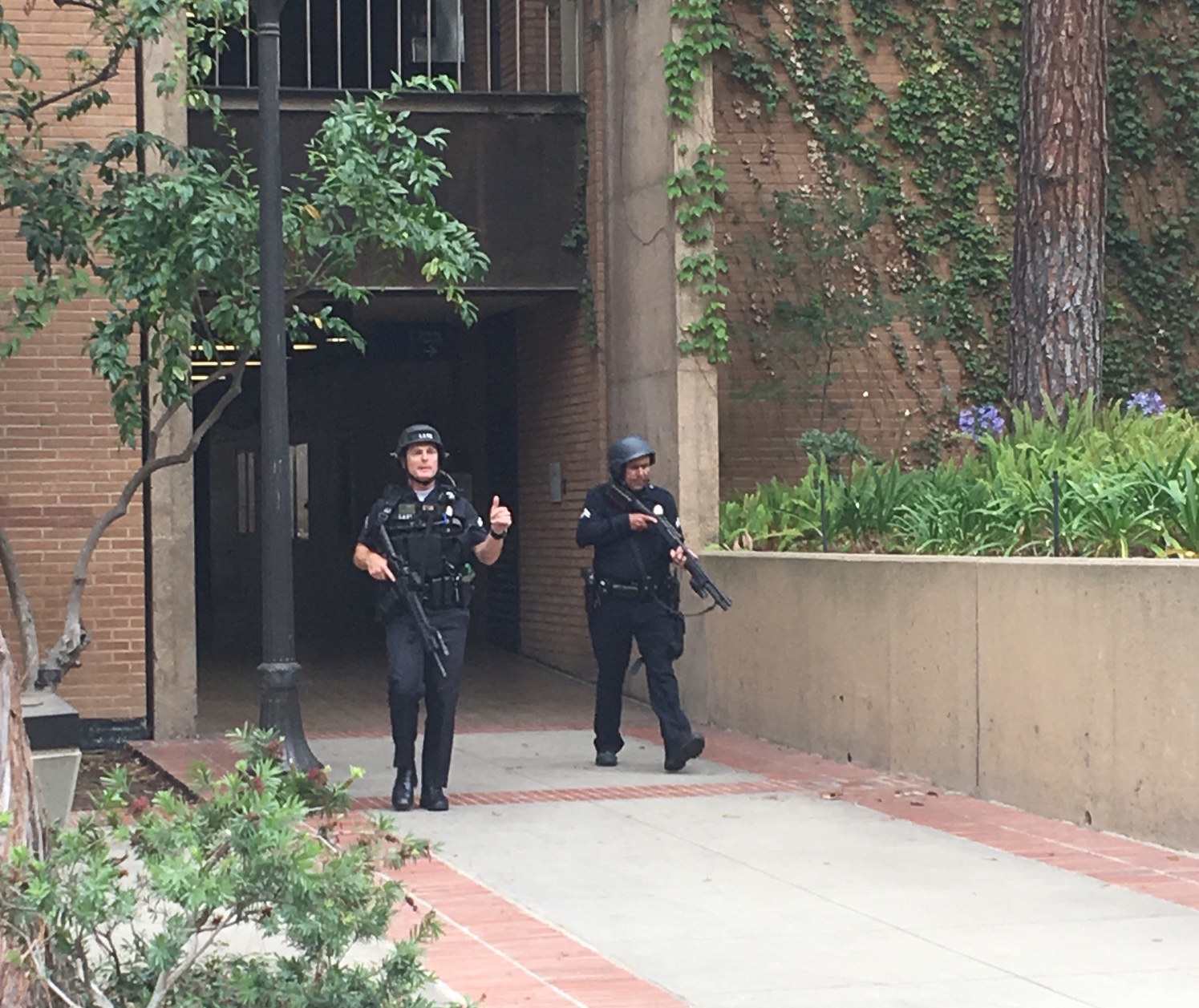 Roughly two hours after the shooting, Beck said the campus was "safe."
The initial report of three gunshots was made around 10 a.m., Beck said. A gun was recovered at the scene of the shooting and the gunman was confirmed dead inside a small office in an engineering building.
"We believe the campus is absolutely safe now," Beck said.
L.A. City Councilman Paul Koretz, whose district includes UCLA, told BuzzFeed News that law enforcement immediately responded to the building looking for the shooter, but he had already committed suicide when officers arrived.
"They discovered the two bodies and assumed it was an active shooter," he said.
While police searched the campus for any other threats, students were told to lock themselves in a "secure space" and deny entry to others.
LAPD Capt. Andy Neiman told BuzzFeed News the shooting happened away from classrooms, in a small office. Though officers at first feared a gunman could be loose on campus, a search and investigation ultimately revealed the only shooter had killed himself.
Marco Reyes, a 21-year-old materials engineering exchange student from Mexico, told BuzzFeed News he was relieved the shooter was no longer a threat, but the situation was still scary.
"We also have a lot of violence in Mexico, but nothing like this," he said.
Luis Rodriguez, a 23-year-old exchange student from Mexico studying chemical engineering, said he had heard about other shootings at universities, but it was still hard to believe what happened at UCLA.
"You don't imagine it can happen at your school," he said.
Though police said the threat was over early Wednesday afternoon, officers remained on campus to provide a reassuring presence, Neiman told BuzzFeed News.
"We want to make sure they are reassured the campus is safe," he said.
While classes were scheduled to resume Thursday, the engineering school would remain closed for the week as students and staff plan a vigil, UCLA Vice Chancellor and Provost Scott Waugh said.
"I am heartbroken by the sight of SWAT teams running down campus avenues normally filled with students, and angered by the fear that one person with a firearm can inflict on a community," Los Angeles Mayor Eric Garcetti said in a statement.
During the lockdown, students were stopped and searched as officers cleared them from the building.
Dan Ngo, a sociology senior, was in the gym when people began to hear about the shootings. As the facility went into lockdown, everyone sheltered on a basketball court.
"We were just sitting there with our water bottles and phones," he told BuzzFeed News.
Ngo remembered an attempted suicide at UCLA a few years ago.
"It's a pretty serious issue on campus," he said.
And it's tough to think about returning to class tomorrow, Ngo added.
"I feel scared," he said. "I'm graduating in a couple weeks, but campus will never be the same again."
CCTV cameras also captured officers sweeping campus buildings from inside and evacuating students to safety in small groups.
The UCLA security system had sent out text messages and alert emails to everyone on campus informing them of the lockdown.
Many of the around-43,200 undergraduate students enrolled in the school were still on campus studying for finals.
Gagan Deep, a 26-year-old dentistry student, told BuzzFeed News she saw helicopters as she was arriving to the campus, but didn't think anything of it — there's always something going on in the area.
Then she heard about the shootings.
"It's crazy, scary," she said.
The campus layout would make it easy for someone to move unnoticed or hide, she added.
"All the buildings are connected from inside, so anyone can go anywhere," she said.
As the lockdown wore on, students posted photos on social media of them barricading their rooms.
Despite the cancellations on Wednesday, finals week is set to begin Monday as scheduled, as the university seeks to return to normal operations as seamlessly as possible, Waugh said.
The FBI and the Bureau of Alcohol, Tobacco, Firearms and Explosives responded along with dozens of teams from other local law enforcement agencies.
Brianna Sacks, Salvador Hernandez, Ellie Hall, and Claudia Rosenbaum contributed to this report.