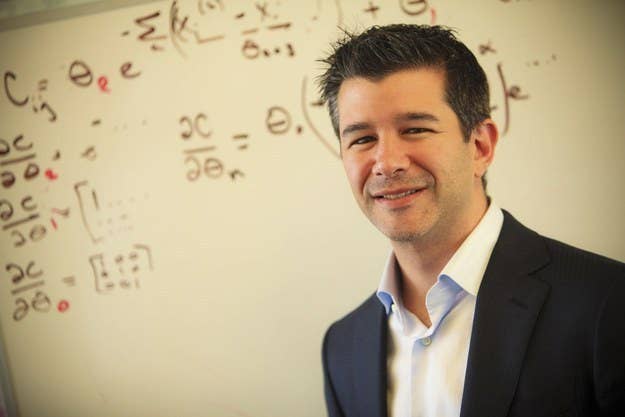 LAS VEGAS — Uber CEO Travis Kalanick suggested Wednesday that the company's fast growth is responsible for a series of mistakes that have left it reeling in a PR crisis.
Kalanick gave the keynote speech at a private technology conference in Las Vegas thrown by Goldman Sachs. In a conversation with Goldman's chair of telecom, media, and technology, he pointed out that in a year, Uber has grown from 400 employees to 1,900 as well as expanded from about 50 cities to 230 around the world.
"When you push that hard you have to be very, very precise. And you have to be very disciplined, you have to do things really well," Kalanick said to a room of investors and entrepreneurs. "But you also have to teach a lot of people, not just drivers […] you also have to teach our people internally what Uber is and how to communicate that."
The communication errors of Uber's leadership made headlines this week. BuzzFeed News reported on senior executive Emil Michael's suggestion that the company dig up dirt on the personal lives of journalists, potentially through logs of their Uber travel kept by the company. He later apologized. A BuzzFeed News reporter also twice experienced New York's top Uber exec looking up her travel information without permission. Josh Mohrer, New York's general manager, is being investigated by the company for violations of its privacy policy. Minnesota Sen. Al Franken on Wednesday sent a letter to the company about his concerns over its privacy policies.
At the Goldman Sachs conference in Las Vegas, a city where Uber is involved in a court case regarding whether it may legally operate, few people were willing to speak about the company and its potential privacy issues.
The report on Michael's comments was an unfortunate incident, and likely served as a reminder to startups at the conference to tread delicately, said Jamie Viggiano, vice president of marketing at TaskRabbit.
"You always need to be cognizant that people will take whatever you say publicly," she said, "and use it for whatever purposes they're trying to convey."
Viggiano's company, which connects users with "Taskers" who do chores or run errands, strives for consistency and openness in its public communications. "Being clear, being transparent and staying on message with what we want to communicate is something we try really hard to do," she said.
The idea of building trust between businesses and their customers was a theme of the conference, according to several attendees.
"People realize the value of these businesses is the trust in the brand and customer delight," said Ben Sun, a partner with High Peaks Venture Partners.
For investors, a critical piece of data is a company's net promoter score, or how likely a customer is to recommend the business to their friends. Good companies are constantly regulating themselves and adjusting to meet the desires of customers, Sun said: "They're ultimately the final arbiters."
Jeremy Kranz, another investor, agreed that how consumers view a company's practices can make or break a business.
"If your users are unhappy about how privacy is being treated or anything else, they go away," he said. "You break down on trust, and a lot of problems happen very quickly."
In his work, he said he looks for businesses with long-term staying power. Looking ahead, he said young people favor transparency over privacy.
"They're willing to go both ways with it," Kranz said. "They'll give all their information as long as they understand how it's going to be used." As technology changes rapidly, so is business and the public's understanding of which privacy issues matter most, he added.
"The rule of the game has to be, if you're transparent about that, maybe it's OK," Kranz said.
And so, transparency can help build trust. "I think [in] every presentation I heard the word trust somewhere," he said. "If you don't have that, you're done."