A 22-year-old man and his 17-year-old brother have been arrested on suspicion of killing their parents, San Jose police said Thursday.
Golam Rabbi, 59, and his wife, 57-year-old Shamima Rabbi, were found dead inside their San Jose home on Sunday, police said. Each of them had been shot at least once, and for days, police had no information on a suspect or potential motive.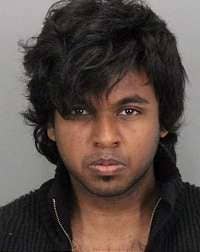 A chilling note had been left at the scene, the Mercury News reported. It had apparently been written in ink on a hardwood floor and read, "Sorry, my first kill was clumsy."

Police on Wednesday said they believed someone "familiar" to the couple was responsible. On Thursday, they announced their sons, 22-year-old Hasib Bin Golamrabbi and a 17-year-old whose name has not been released, had been arrested.
Golamrabbi had been unaccounted for following the killings but was arrested Wednesday in Tracy, California. His brother was arrested in San Jose and booked into juvenile hall.
"There are no outstanding suspects," police said.
The Rabbis, who were originally from Bangladesh, had lived in the U.S. for decades, friends told ABC 7. He was an engineer, and she was an accountant.
They worshipped and volunteered at the Evergreen Islamic Center, where leaders described their deaths as heartbreaking for the community.
"We would like to ask the entire community to pray for the deceased and and may Allah (SWT) give their family strength to comprehend these troubling days," the board of directors wrote on Tuesday.