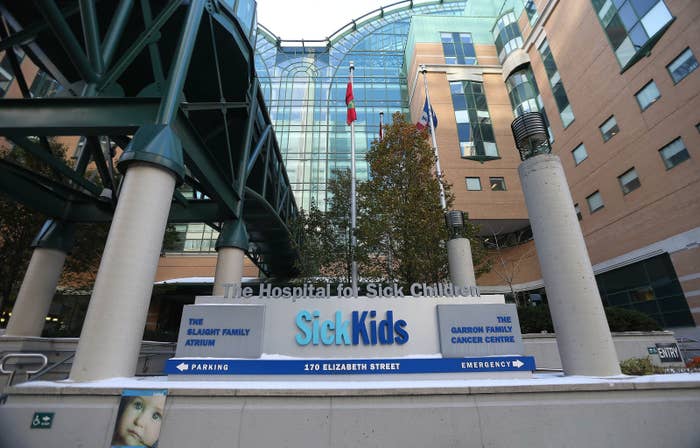 After multiple reports that President Trump's ban on travel into the US from seven Muslim-majority countries was keeping children in need of surgeries and other critical medical treatment from getting to hospitals, Ontario's health minister said Friday he would get them care in Canada.
Stories have emerged from around the country of families who had sought treatment for their children at US hospitals, only to be blocked by President Trump's executive order. More than three dozen patients — critically ill children and adults — scheduled for treatment have been blocked from traveling, STAT News reported.
"These children are being turned away solely because of where they were born," Ontario health minister Dr. Eric Hoskins said in a statement Friday. "As Ontarians, we have an obligation to respond when we know we have the ability to help."
Hoskins said his staff was working with the Hospital for Sick Children in Toronto as well as other Canadian officials to arrange travel and treatment for children in need of life-saving care.
"Given that this is a critical time for these ill children, our ministry and Ontario's specialized children's hospitals, which provide best-in-the-world care feel the responsibility to act quickly," he said.
US hospitals have for decades provided treatment for children from parts of the world that cannot support specialized care. Cases range from injuries suffered in war zones to uncommon birth defects, and often financial and travel arrangements are supported by nonprofit groups.
A representative for Shriners Hospitals for Children, which specializes in orthopedic conditions, spinal cord injuries, burns, and cleft lip and palate, told BuzzFeed News that since 1922, its facilities have treated 34,000 international patients. Of those, 111 have been from the specific countries where travel is now banned.
"Our commitment to transform the lives of children worldwide remains unchanged," the hospital group said in a statement. "Our hospitals in Mexico and Canada are ready to help as needed."
In Oregon, the uncle of a 4-month-old Iranian girl was helping her parents make travel plans for her to obtain open-heart surgery in Portland. Samad Taghizadeh, a US citizen, told the Oregonian his relatives were planning to travel from Iran to Dubai, where they would seek a visa to enter the US. But with the travel ban, their appointment at the US Embassy in Dubai was canceled and the trip to seek treatment for baby Fatemah was called off, he told the Oregonian.

"My father was so excited to see his granddaughter for the first time," Taghizadeh said. "Our whole family is in a depression."
Sham Aldaher, a 1 1/2-year-old Syrian girl, was scheduled to receive an eye prosthesis on Wednesday in Spain, the New York Times reported. Her family, who had fled Syria for Egypt, then hoped to resettle in the US where she would have access to follow-up care for the facial disfigurements she was born with.

The family had cleared security checks to enter the US and were ready to travel, Jayne Fleming of law firm Reed Smith told the Times.
"They're distressed over not knowing what the future holds for them," she said.
In Boston, an Iraqi toddler named Dilbreen has been receiving treatment for severe burns he received in a refugee camp, CBS Boston reported. After one surgery, his father returned to Iraq, where his wife was about to give birth to their second child.
They named their infant son Trump, a sign of hope for what the then-Republican candidate would do for Yazidi people in Iraq, the Haym Salomon Center said. Then came the travel ban, leaving them unable to be reunited with their injured son in Boston, CBS Boston reported.
"So they are stranded in Iraq," said Carrie Schuchardt of House of Peace, a group that has provided the family with housing in Boston. "The child is here. The need for surgery is pressing."