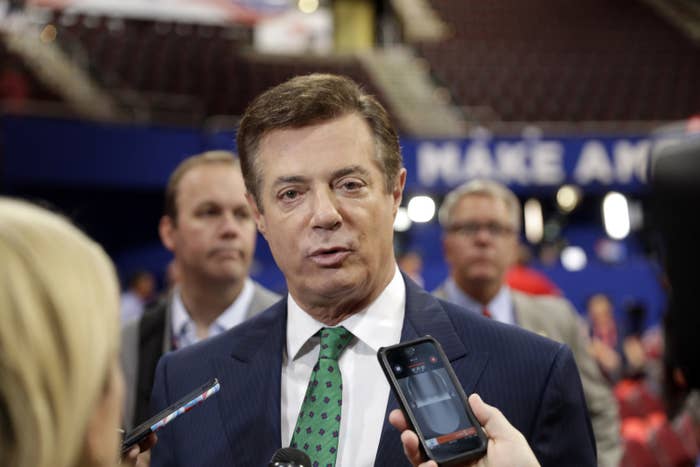 US investigators wiretapped former Trump campaign manager Paul Manafort under secret court orders before and after the election as part of an FBI probe that has grown to include Russia's meddling in the election, CNN reported on Monday.
Manafort, who resigned from the Trump campaign in August 2016, has been known to be under investigation by the FBI — who notably searched his home in a raid this summer. The investigation is examining Manafort's business dealings with pro-Russia leaders in Ukraine as well as whether he or the Trump campaign colluded with Russia in swaying the results of the 2016 election, the New York Times has reported.
But Monday's CNN report shows that the FBI investigation has gone further than previously known. Intelligence gained from the wiretapping has led to some evidence — though possibly inconclusive — that Manafort may have encouraged Russians to help with Trump's campaign, the network reported.
Details from the wiretapping have been provided to special counsel Robert Mueller, who is leading the investigation into Russia's meddling in the election, CNN reported. The wiretapping came under the authority of two secret Foreign Intelligence Surveillance Act court orders: following the beginning of the FBI's investigation into Manafort in 2014, then another that allowed the wiretapping to continue until early 2017, CNN reported.
A spokesperson for Mueller did not immediately respond to a BuzzFeed News request for comment.
The news comes as the New York Times reported on Monday that Mueller's prosecutors have told Manafort he will be indicted. In the raid of Manafort's home, agents sought evidence that he had set up offshore bank accounts, the Times reported. The investigation is also considering whether Manafort was involved in money laundering, violating tax laws, or improperly lobbying, it said.
Whether Manafort is charged with any crime — or if it implicates the larger Trump campaign in wrongdoing — remains to be seen. But President Trump earlier this year was critical of wiretapping of his campaign and personally accused President Obama of tapping Trump Tower.
"Terrible! Just found out that Obama had my 'wires tapped' in Trump Tower just before the victory. Nothing found. This is McCarthyism!" Trump tweeted on March 4.
"How low has President Obama gone to tapp my phones during the very sacred election process. This is Nixon/Watergate. Bad (or sick) guy," he continued.
Monday's reports, however, did not state that Trump or his New York home had been wiretapped.