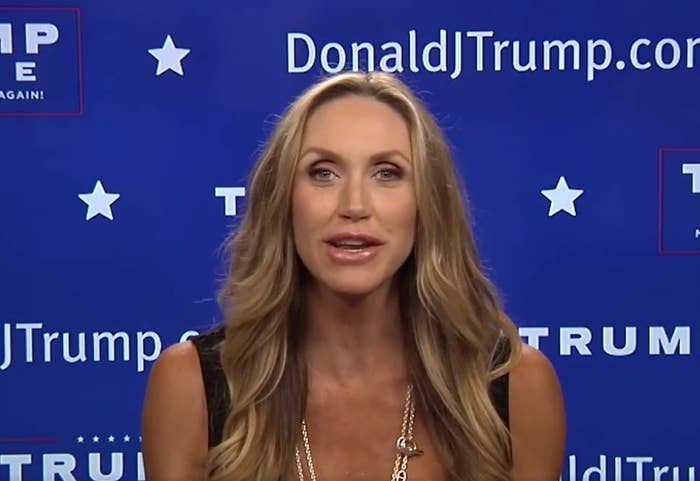 After months of denigrating the media as fake news, President Trump has launched a news program of his own on Facebook featuring his daughter-in-law.
"Watch here for REAL news!" a post on the president's Facebook page said Sunday.
Lara Trump, who is married to the president's son Eric, appeared as the video's host in front of a Trump campaign background. Speaking to the camera like a TV news anchor, she offered updates on news favorable to her father-in-law.
"I bet you haven't heard about all the accomplishments the president had this week because there's so much fake news out there," she said.
A Google search shows mainstream media outlets did cover the stories she recounted, such as Trump donating his salary, a new Foxconn manufacturing plant in Wisconsin, and economic growth. But they also reported on the turmoil within the White House, the failure of his party to repeal and replace Obamacare, and the president's tweets saying that he wanted to ban transgender people from serving in the military.
Trump's abrupt reversal of Department of Defense policy was a dominant news story in the mainstream media last week. BuzzFeed News reported that the White House did not have a plan for its implementation, how the news seemed to stun military leaders, and how the news was received by trans veterans.
Those stories were not included in Lara Trump's news update.
"The president also met with some incredible veterans this week in Ohio, giving his thanks to them for their service to our country. Likewise, the vice president visited Walter Reed hospital, where he sat down and talked to so many wounded soldiers who have put their lives on the line for all of us."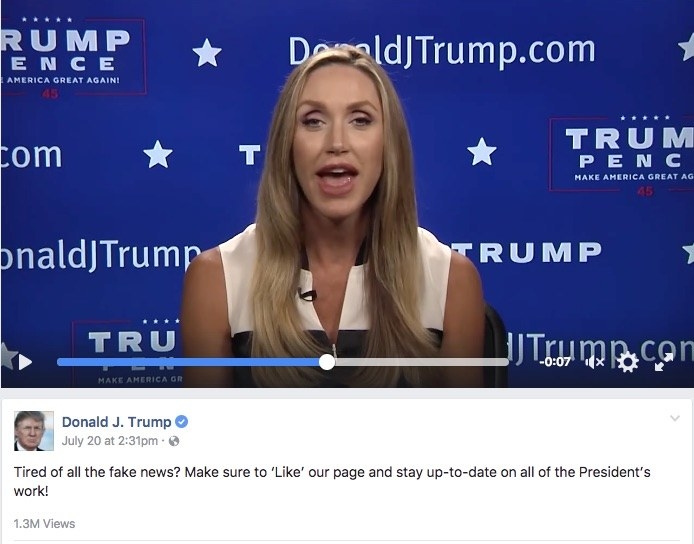 The White House did not immediately respond to questions about how the video came to be produced and if Lara Trump should be considered part of the president's communications team. She previously worked as a producer for Inside Edition and has frequently made appearances in support of the Trump campaign.
She first promoted what will apparently be a series two weeks ago, encouraging the president's 23 million followers on Facebook to tune in every week.
"We're going to bring you nothing but the facts — stay tuned," she said.
Since the campaign and as recently as Tuesday, Trump has bragged that he doesn't need the mainstream media to reach his supporters given his large audiences on social media. The creation of some form of Trump TV was long rumored, and his Facebook page already streams many of his public appearances.
With her video update, Lara Trump offered one more way the president's supporters could avoid news reporting on the issues surrounding the White House.
"Thanks for joining us, everybody. I'm Lara Trump, and that is the real news," she signed off.
Outside Your Bubble is a BuzzFeed News effort to bring you a diversity of thought and opinion from around the internet. If you don't see your viewpoint represented, contact the curator at bubble@buzzfeed.com. Click here for more on Outside Your Bubble.