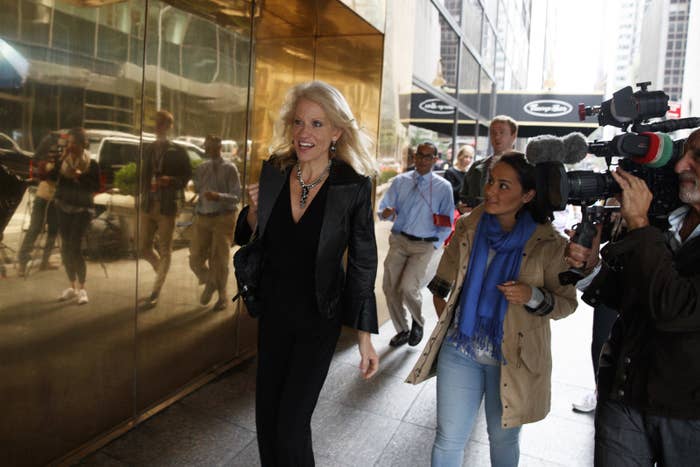 Donald Trump's campaign manager said some members of Congress who refused to support the Republican candidate after the release of a tape of him making lewd statements about women have sexually harassed women themselves.
Kellyanne Conway spoke with MSNBC's Chris Matthews following Sunday's presidential debate. In the debate, Trump said he had never grabbed women by the "pussy" — a claim he made in 2005 to Access Hollywood's Billy Bush. Trump on Sunday characterized the comment as "locker room talk."
Following the release of the tape, a laundry list of Republicans rebuked Trump or announced they were formally revoking their support. On Sunday night, Conway reiterated that Trump respected woman — and added that those who were criticizing him were hypocrites.
"I would talk to some of the members of Congress out there," Conway said. "When I was younger and prettier, them rubbing up against girls, sticking their tongues down women's throats uninvited who didn't like it."
"Some of them them, by the way, are on the list of people who won't support Donald Trump, because they all ride around on their high horse," she continued.
Matthews pressed her about the 2005 Trump tape and asked if Trump had ever grabbed a woman as he had described. Conway said the tape was just talk.
"I've asked him if he was talking about his own personal experience, and he said no," she said.
Conway added she was committed to sticking with the campaign to the end, offering a caveat of "unless" and trailing off. She later told Rachel Maddow that she would stay with the campaign unless something changed within her family or personal life that would keep her from her duties.