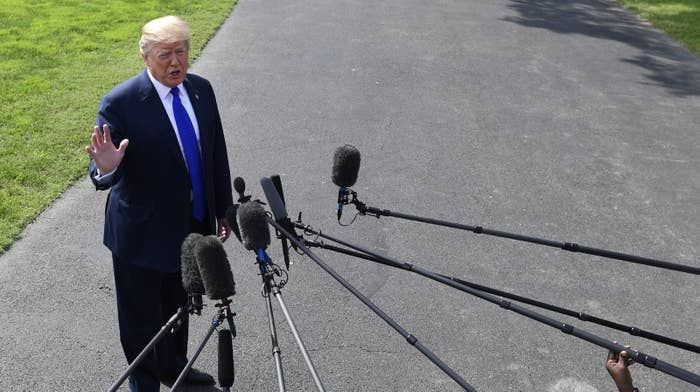 Authorities are reviewing a New York Times investigative report that found Donald Trump and his family engaged in fraud and other schemes to avoid paying hundreds of millions of dollars in taxes.
The Times on Tuesday published documents and a detailed report on Trump's efforts in the 1990s to avoid paying millions in gift and estate taxes. Trump received at least $413 million from his father Fred Trump's real estate empire, much of which went untaxed, the Times reported.
A spokesperson for New York's Department of Taxation and Finance told BuzzFeed News that officials were reviewing the newly revealed information on Trump's finances.
"The Tax Department is reviewing the allegations in the NYT article and is vigorously pursuing all appropriate avenues of investigation," spokesperson James Gazzale said.

Mayor Bill de Blasio added he had directed the city's finance department to work with state officials to determine if appropriate taxes had been paid.
"The City of New York is looking to recoup any money that Donald Trump owes the people of New York City, period," de Blasio said in a statement. "And we will work with the State to look under every stone because... that's money that could be going to veterans, could be going to seniors, and could be going to kids that he should've paid in taxes and didn't. We're going to go pursue that with vigor."
The IRS declined to comment on the New York Times report, citing its policy of not confirming or commenting on individual taxpayers' cases.

On Wednesday, Sen. Ron Wyden — the ranking Democrat on the Senate Finance Committee — asked the IRS to investigate if Trump had committed fraud.
"These media reports represent serious and credible allegations of potentially illegal tax fraud, based on extensive documentation," Wyden wrote.
According to the Times, the statute of limitations on some of the alleged criminal behavior it uncovered has run out. But, if tax fraud is proven, civil fines could still be imposed.
The Times investigation focused on the period before Fred Trump's death, when he sought to transfer properties and cash to his children without paying gift or estate taxes. Donald Trump took a leading role in those efforts, the Times reported.
More recent tax practices by the president are unknown. Breaking with tradition of decades of presidents and political candidates, he has not released his tax returns. Trump previously said he'd release the returns once the IRS completed an audit.
White House press secretary Sarah Sanders responded Tuesday night by denying Trump or his father had run afoul of the IRS.
"Fred Trump has been gone for nearly twenty years and it's sad to witness this misleading attack against the Trump family by the failing New York Times," Sanders said in a statement. "Many decades ago the IRS reviewed and signed off on these transactions."
Sanders did not refute anything in the 14,000-word report, but she accused the newspaper of being overly negative about the president.
"The New York Times' and other media outlets' credibility with the American people is at an all time low because they are consumed with attacking the president and his family 24/7 instead of reporting the news. The truth is the market is at an all-time high, unemployment is at a fifty year low, taxes for families and businesses have been cut, wages are up, farmers and workers are empowered from better trade deals, and America's military is stronger than ever, yet the New York Times can rarely find anything positive about the President and his tremendous record of success to report."
She went on to repeat a lie: that the New York Times had apologized to its readers after the election.
"Perhaps another apology from the New York Times, like the one they had to issue after they got the 2016 election so embarrassingly wrong, is in order," Sanders said.
The Times did not apologize.