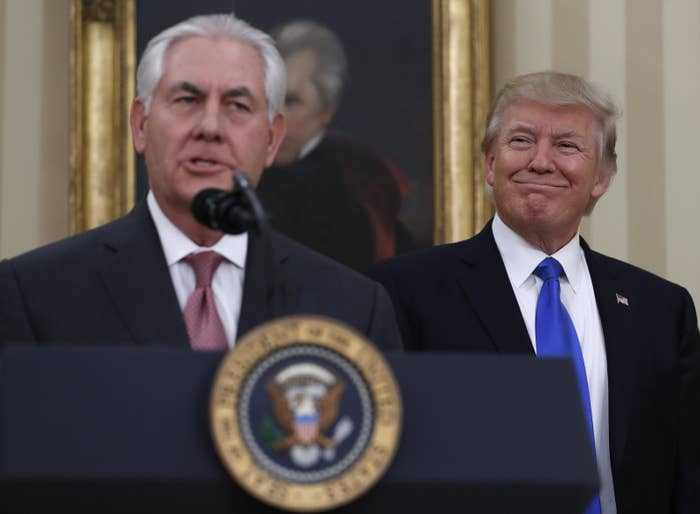 President Trump on Monday took credit for an ExxonMobil plan to build and expand oil and natural gas plants on the Texas and Louisiana coasts, but those investments began years ago before he ran for the White House.
Trump met Monday with Secretary of State Rex Tillerson, who until January was Exxon's CEO, then hours later tweeted his praise of the oil giant's plan, released a video about it, as well as a press release.
"This is something that was done to a large extent because of our policies and the policies of this new administration having to do with regulation and so many other things," Trump said in a video address. "I said we would bring back jobs. This is one example of it."
Exxon earlier on Monday announced its Growing the Gulf program, a $20 billion investment over 10 years that would bring 45,000 jobs to region. But that investment didn't begin Monday — it started in 2013.
"45,000 construction & manufacturing jobs in the U.S. Gulf Coast region. $20 billion investment. We are already winning again, America!" Trump tweeted Monday afternoon.
Trump then repeated that — but instead giving all credit to ExxonMobil — late Monday.
Most of the jobs associated with the projects are related to construction. The program will result in 12,000 full-time manufacturing jobs.
Portions of the Exxon plan had been previously announced. A project in Beaumont, Texas, was announced in November. A 2015 story by the Houston Chronicle looked at expansion at Exxon's Baytown facility as part of a report on growth in the petrochemical industry in the region.
Vice President Mike Pence also joined in heralding the Exxon investment as proof of Trump keeping his campaign promises.

Monday's Exxon announcement apparently had such an impact on the White House that staff copied and pasted the oil company's language. A paragraph in the ExxonMobil press release about the investment was included verbatim in the White House press release.
Trump's secretary of state was a lifelong employee of ExxonMobil and served as its chairman and CEO until he retired in January. Before Tillerson's confirmation, he announced he would be selling off millions of dollars of Exxon stock to avoid a potential conflict of interest. The hundreds of millions of stock still due to him would be placed in a trust, CNN reported.
Two months later, it was unclear if that sale had taken place. BuzzFeed News did not immediately receive a response from Exxon or the State Department about whether Tillerson's stock had been handled as planned.