Donald Trump on Tuesday defended the actions of his campaign manager, who was charged hours earlier with battery for allegedly grabbing a reporter's arm, claiming the journalist could have been carrying a "little bomb."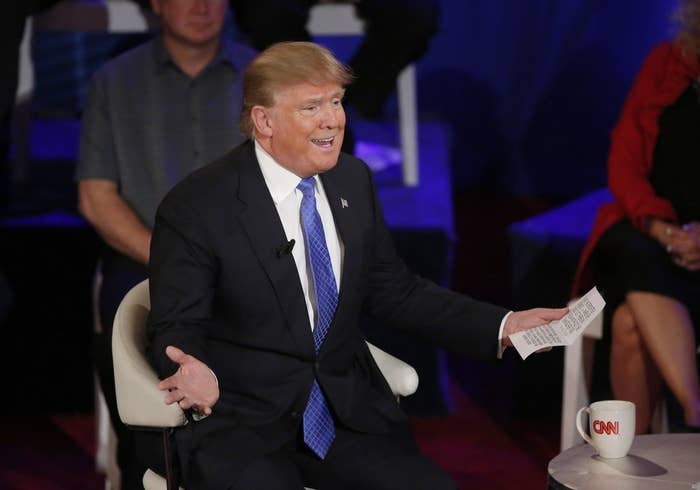 Michelle Fields, a former Breitbart reporter, said earlier this month she was manhandled by Trump campaign manager Corey Lewandowski as she attempted to ask the candidate a question at an event in Florida. Lewandowski was charged Tuesday with simple battery after Jupiter, Florida, police released surveillance video showing the encounter.
During a televised town hall on Tuesday night, Trump challenged Fields' statements to CNN's Anderson Cooper, accusing her of changing her story after the video was released — an assertion Cooper said was untrue.
While Trump's campaign initially said Lewandowski did not touch Fields, much less grab her, it later acknowledged he had attempted to block Fields from asking the candidate a question. But the video, Trump said on Tuesday, exonerated the campaign manager of any criminal wrongdoing.
"Touch, I don't know what 'touch' means," he said.
The Republican frontrunner added he would stand by Lewandowski, who will remain his campaign manager. Trump insisted Fields was "off base" for asking him a question as he was leaving the event.
"She had a pen in her hand, which Secret Service is not liking because they don't know what it is," he said. "It could be a little bomb."
Trump continued to say that even if it were only a pen, it was still dangerous.
"She had a pen in her hand," he said. "It could've been a knife. It could've been just a pen, which is very dangerous."
He again questioned whether he should press charges against Fields.
"She shouldn't have been touching me," Trump said. "She was grabbing me twice."
The comments came after Trump tweeted a picture of his encounter with Fields, claiming she touched him and questioning what was in her hand.