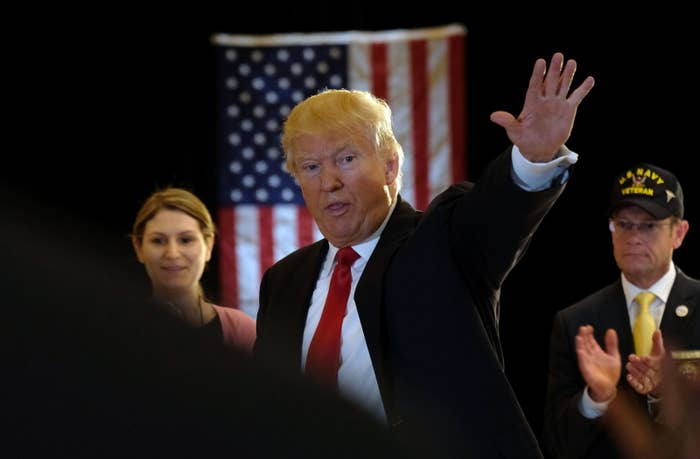 After days of attacking a federal judge overseeing a lawsuit against his defunct namesake business school, Donald Trump on Thursday said the judge was incapable of being fair because of his "Mexican heritage."
Trump spoke in an interview to the Wall Street Journal, doubling down on previous statements that U.S. District Judge Gonzalo Curiel was "negative." Curiel, a judge in the Southern District of California, is presiding over a case alleging that Trump University exploited elderly and uneducated students with fraudulent claims the expensive courses would lead them to quick profits.
The Trump campaign has denied the complaints have any merit, and Trump personally has railed against Curiel.

On Thursday, Trump told the Journal the judge's "Mexican heritage" and membership in Latino lawyers associations presented an "absolute conflict" in the case.

"I'm building a wall. It's an inherent conflict of interest," Trump was quoted as saying.

The presumptive Republican nominee has called for the deportation of millions of undocumented immigrants living inside the U.S. and building a wall along the U.S.-Mexico border.
Curiel, the son of immigrants, was born in Indiana in 1953. He served as a federal prosecutor from 1989 to 2006, when he became a judge in San Diego. He was nominated as a federal judge along with three others by President Obama in 2011.

"These individuals have demonstrated the talent, expertise, and fair-mindedness Americans expect and deserve from their judicial system," Obama said in a statement at the time.
Lorella Praeli, the director of Latino Outreach for Hillary Clinton, released a statement in response to Trump's remarks on Friday.
"Judge Curiel and his family epitomize the American Dream. His parents worked hard to give their U.S.-born children a better life. He and his brother became successful lawyers. His other brother served in Vietnam. The fact that Donald Trump doesn't see Judge Curiel and his family as Americans makes him unfit to be president of this great nation, a nation of immigrants. In Trump's version of America, this Latino family isn't really American. But they are America. And Hillary Clinton will fight for ALL Americans."
The independence of judges is a cornerstone of the American legal system, and judges are guided by a strict code of conduct. Curiel declined to comment to the Wall Street Journal and others based on that code of conduct.
Trump said earlier Thursday he plans to reopen Trump University after the case.
Courts have ruled that judges should not be considered biased based on their race or ethnicity.
"It is intolerable for a litigant, without any factual basis, to suggest that a judge cannot be impartial because of his or her race and political background," an opinion of the federal Second Circuit said in 1998.