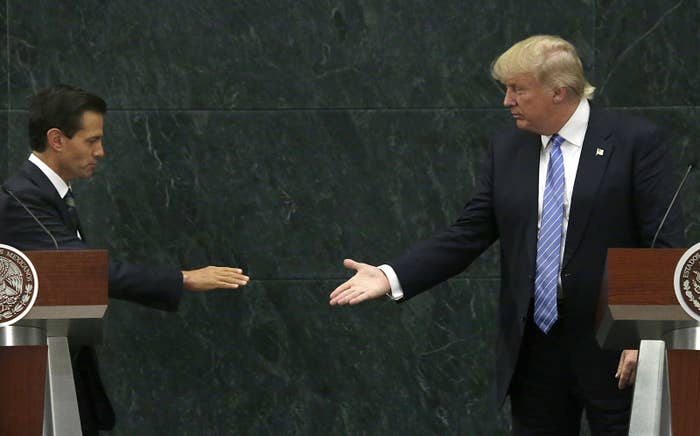 President Trump threatened to send US troops into Mexico to take care of "bad hombres" in a phone call with Mexican President Enrique Peña Nieto, according to the Associated Press and a Mexican reporter.

The two leaders spoke by phone on Friday after Peña Nieto canceled an in-person meeting. In a statement following the call, the White House said the leaders had a productive discussion about topics including trade, the border wall, and the need to combat drug trafficking and arms sales.

But on Wednesday, Dolia Estevez, a senior Mexico correspondent in Washington, DC, who writes for Forbes, reported that Trump "humiliated" Peña Nieto during the phone call.
The White House did not immediately respond to a request for comment, and Mexican authorities described the report as a falsehood.
A White House official told CNN that "reports that the President threatened to invade Mexico are false. Even the Mexican government is disputing these reports."
Estevez said she spoke to sources on both sides of the border to corroborate her report and added that Peña Nieto stammered during the call.
"We don't need Mexico," Trump said.
The Associated Press also reviewed an excerpt of the call.
"You have a bunch of bad hombres down there," Trump told Peña Nieto, according to the AP. "You aren't doing enough to stop them. I think your military is scared. Our military isn't, so I just might send them down to take care of it."
CNN later Wednesday reported it had reviewed a transcript of the call that characterized Trump's statements as an offer of help, not a threat.
In a letter to Estevez, the Mexican Foreign Ministry said the report "is based on absolute falsehoods" and is "ill-intentioned." Senior officials texted the letter to journalists on WhatsApp.
"The affirmations about the call you make do not correspond to the reality of the call," the letter continued. "This is a moment where Mexico needs real, and above all, well-founded information."
The Foreign Ministry later tweeted an additional statement that the AP report was also false, and the two presidents had reached an agreement on how their teams could work together going forward.
US officials also told the Washington Post that Trump vented anger and bragged about his election win to Peña Nieto, and that he spoke similarly to Australian Prime Minister Malcolm Turnbull before hanging up on him. The Trump White House has been considered especially prone to leaks, for reasons that are not yet clear.
The call between Peña Nieto and Trump followed an increasingly tense exchange between the two leaders, which began with Trump's executive order to build a border wall and ended with Peña Nieto canceling a scheduled meeting between them.

After the call on Friday, the offices of both presidents sent out nearly identical statements, saying that Trump and Peña Nieto had agreed to work out their differences regarding payment for the wall. The Mexican statement added a line that did not appear in the US statement — that the two had agreed to no longer speak about the matter publicly.

Putting his foot down with Trump brought Peña Nieto a brief respite from the intense criticism he's been facing at home. A long list of corruption scandals, the disappearance of 43 students, and other major crimes, as well as a recent rise in gasoline prices, have sent his approval ratings tumbling.

With the relationship between the US and Mexico reaching its lowest point in decades under Trump, who has accused Mexicans of sending "rapists" and criminals across the border, leaders across Latin America and Spain have chimed in, urging Peña Nieto to change a decades-long paradigm and start looking south for new trade opportunities.