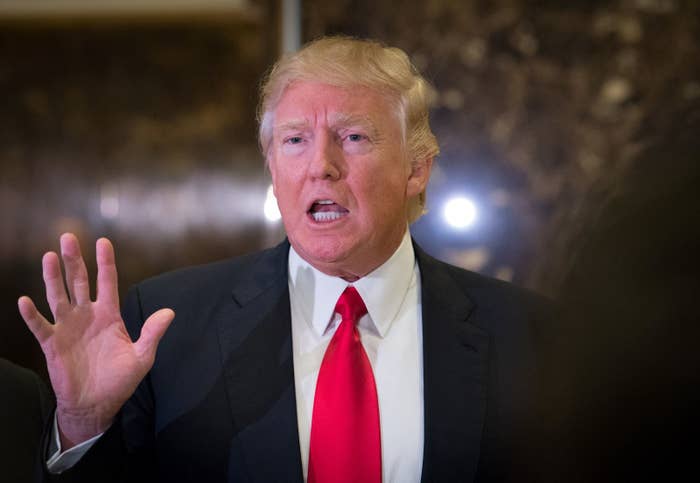 A Kremlin spokesman has said the Russian government agrees with Donald Trump's comments that NATO is "obsolete," which the president-elect made during his first major interview with two European newspapers, published over the weekend.

In his discussion with UK's The Times and Germany's Bild, Trump also criticized German Chancellor Angela Merkel and the European Union, but praised Brexit and predicted more countries would follow the UK in leaving the EU.
On Monday, the Kremlin reacted warmly to Trump's NATO criticism, with spokesman Dmitry Peskov declaring that "confrontation is the systemic goal of this organization."
The military alliance of 28 countries, created after World War II, has been credited with maintaining international stability — particularly during the Cold War.
Russia is not a member of NATO, and its military has been at odds with alliance members over the conflict in Ukraine. Russia's annexation of Crimea in 2014 sparked sanctions from the US and its allies.
"It's obsolete because it wasn't taking care of terror," Trump told former UK cabinet minister Michael Gove, and former German newspaper chief editor Kai Diekmann during a sit-down interview that took place last week.
Russian news agency TASS quoted Peskov as saying, "NATO is, indeed, a vestige [of the past] and we also agree with that."
"Considering that it [the organization] is focused on confrontation and its entire structure is devoted to the ideals of confrontation, then, of course, this can hardly be called a modern structure meeting the ideas of stability, sustainable development and security," he continued.
Trump also said part of the problem with NATO was that countries were not "paying what they're supposed to pay."
In July 2016, the then–presidential candidate was heavily criticized after he suggested to the New York Times that America would not necessarily defend its NATO allies, should they have failed to financially contribute, under his presidency.
Trump, speaking in his latest interview, tempered his criticism somewhat, by stating it was "very important to me" and that he felt "very strongly" towards Europe.
However, he moved on to accuse Germany of dominating the EU, and described Merkel's decision to admit more than 1 million migrants and refugees as "a catastrophic mistake."
Responding to the criticism during a joint press conference with New Zealand's PM Monday, Merkel noted, "I think we Europeans have our fate in our own hands."
The UK has accepted far fewer refugees than many of its EU neighbors, and even before Brexit, the UK government was able to opt out of a plan to resettle refugees within Europe.

"I think it's very tough," Trump said, as reported by the Sunday Times. "People, countries want their own identity and the UK wanted its own identity."
European anger over the migration crisis would prompt more countries to leave the EU, he said.
European Economic Affairs Commissioner Pierre Moscovici played down Trump's fears. The cost of Brexit would be "considerable", he said, and to suggest other countries would leave as a result was a "fantasy."
"I'm not worried, I think this idea that Brexit is going to be contagious is a fantasy, a bad fantasy," he told reporters in Paris, according to Reuters.
While Trump had "great respect" for German leader Merkel, he thought "she made one very catastrophic mistake and that was taking all of these illegals."
Merkel has repeatedly defended her "open door" policy of welcoming refugees in the past year. Germany accepted 260,000 asylum-seekers last year, and in December she reiterated her aim that Germany would not "place a cap" on numbers.
Sigmar Gabriel, Germany's deputy chancellor and minister for the economy, hit back by suggesting there were links between the refugee crisis in Europe, and its knock-on effect in Germany, and America's "flawed interventionist policy."
"That's why my advice would be that we shouldn't tell each other what we have done right or wrong, but that we look into establishing peace in that region and do everything to make sure people can find a home there again", Gabriel told Bild in a video interview Monday.
Responding to the president-elect's comments about introducing a 35% import tax on foreign manufactured car parts, Gabriel said it would trigger a "bad awakening" in the industry. "I believe it would make the US car industry weaker, worse, and above all more expensive," he told the newspaper.
Gabriel's advice for Trump to increase US-manufactured car sales in Germany? "Build better cars."
Speaking at a press conference with New Zealand's prime minister later on Monday, Merkel declined to comment on Trump's personal criticism of her refugee policy. Instead, she said, she would wait until his inauguration and then "we will work with him on all levels."
In the interview, Trump also suggested he would consider lifting sanctions against Russia. "Let's see if we can make some good deals with Russia," Trump said. "For one thing, I think nuclear weapons should be way down and reduced very substantially, that's part of it."
Trump said he was just as likely to trust Russian President Vladimir Putin as Merkel and would deal with both as he entered office. But, he said, we'll "see how long that lasts."