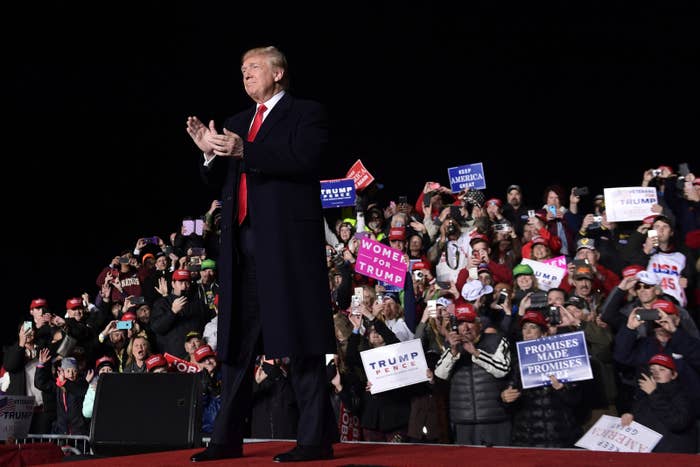 President Trump continued to blame the media on Thursday after pipe bombs were sent to multiple prominent Democrats and CNN, saying the "mainstream media" is responsible for "a very big part of the anger we see today."

In a tweet, the president said the anger was caused in large part by "purposely false and inaccurate reporting" or "fake news."

His tweet followed his comments at a rally on Wednesday, where he said there is no place for political violence or threats in the US but also made digs at Democrats, liberal protesters, and the media.
"By the way, do you see how nice I'm behaving tonight?" Trump asked the crowd at a campaign rally in Wisconsin after encouraging boos for Democrats' tax policy. "Have you ever seen this? We're all behaving very well, and hopefully we can keep it that way."
Before Trump took the stage, the crowd also booed at the media and chanted "lock her up" when a speaker mentioned Hillary Clinton. Suspicious packages were mailed to Clinton's New York home, as well as to former president Barack Obama, Democratic US Rep. Maxine Waters, former CIA director John Brennan via CNN's New York City offices, and others. No one was harmed by the devices as of Wednesday night.
"The federal government is conducting an aggressive investigation, and we will find those responsible, and we will bring them to justice, hopefully very quickly," Trump said at the rally. "Any acts or threats of political violence are an attack on our democracy itself. No nation can succeed that tolerates violence or the threat of violence."
Trump also called for "all sides" to come together, but he specifically called out liberal protesters.
"We should not mob people in public spaces or destroy public property," he said to more cheers from the crowd.
He added that politicians shouldn't be talked about in terms of morality or compared to historical figures, possibly referring to a Dallas-area campaign mailer that compared Trump to Hitler.
And though CNN was targeted by the would-be bomber, Trump doubled down on his frequent refrain that the media is spreading fake news in an attempt to discredit him. "CNN sucks" is a common chant at Trump rallies, and the president used the opportunity on Wednesday to scold the media.
"The media also has a responsibility to set a civil tone and to stop the endless hostility and constant negative and oftentimes false attacks and stories," he said. "Have to do it. Have to do it. They've got to stop."