President Trump lied about how he responded to last week's white supremacist event in Charlottesville and blamed the media for the rise of racists and neo-Nazis in a rambling, nearly 90-minute speech Tuesday in Phoenix.
After paying lip service to unity and insisting he loved all Americans, Trump accused members of the media of not liking the US. He blamed the media — singling out the New York Times, the Washington Post, and CNN — for divisions within the US and accused them of giving a platform to hate groups.
"It is time to expose the crooked media deceptions and to challenge the media for their role in fomenting divisions," Trump said, as the crowd at the Phoenix Convention Center cheered. "And yes, by the way, they are trying to take away our history and heritage. You see that."
Accusations that a shadowy media elite are trying to chip away at "heritage" are a common complaint among neo-Nazis, who falsely insist the media is controlled by an anti-white Jewish conspiracy. But even as Trump repeated a white supremacist talking point, he said the rise of hate groups was the responsibility of the media.
"They're bad people, and I really think they don't like our country. I really believe that," Trump said. "The only people giving a platform to these hate groups is the media itself and the fake news."
Trump continued the sentiment in a tweet Wednesday morning. "Last night in Phoenix I read the things from my statements on Charlottesville that the Fake News Media didn't cover fairly. People got it!," he tweeted.
Trump began the rally Tuesday by saying that the pain of any one American should be felt by all, but he quickly pivoted away from a message of inclusivity to pick apart news media coverage of his responses to the Unite the Right rally in Charlottesville and to insist he is not personally racist.
"The words were perfect," Trump said.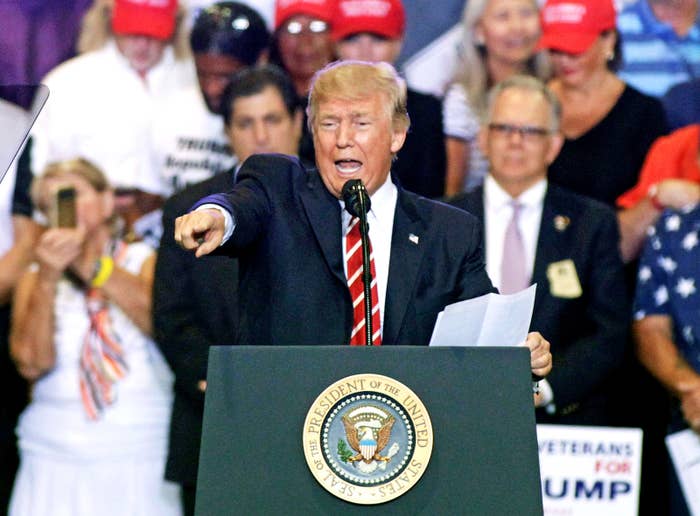 He then repeated his initial statement on the Charlottesville rally, which resulted in the death of an anti-racist protester. But he left out the part of the statement that drew widespread criticism — that violence came from people on "many sides." In reality, it was mainly instigated by supporters of hate groups who came looking for a fight.
Trump in a later statement denounced the racist groups who instigated violence by name. But at Tuesday's rally, he bristled at media reports that — correctly — pointed out his denouncement came days after the violence took place.
"I hit them with neo-Nazis. I hit them with everything. I got the white supremacists, the neo-Nazis, I got them all in there. KKK, we have KKK. I got them all," Trump rattled off.
As Trump's tirade continued, he said cameras at the rally were being turned off by media members who couldn't handle his criticism. But that was not quite true either: The rally continued to be aired on live TV by the mainstream media.
"That's the one thing, they're very nervous to have me on live television because this can't happen," Trump said. "You know what, I'm a person that wants to tell the truth, I'm an honest person, and what I'm saying you know is exactly right."
For Trump supporters in the crowd, the president's message was true.
"I like it because 90% [of the media] are trash," said Joseph Aubuchon, 19. Tuesday's rally was his third time seeing Trump, and Aubuchon said he believed it was fair for the president to spend time defending himself against portrayals in the media.
Derrick Fuhrmann, a Phoenix resident, also agreed with the message; he spent part of the rally yelling at the press box and calling reporters liars. But he added that he thought the president spent too much time on that issue.
"He's here among people who actually support him. If we listened to the media, we wouldn't be here," he said.
James Bamford, a 22-year-old from Tempe, Arizona, said that the media is "not what he should be focusing on, but he's right to call it out." He went on to say, "I feel bad for the media, but they should be telling the full truth."
Another Trump rally-goer wasn't too happy with the president's speech. "I don't like when he mouths off like this," Joe Gabbert said. "Being here tonight shows all we are getting done is just arguing."
Brianna Sacks contributed reporting from Phoenix.