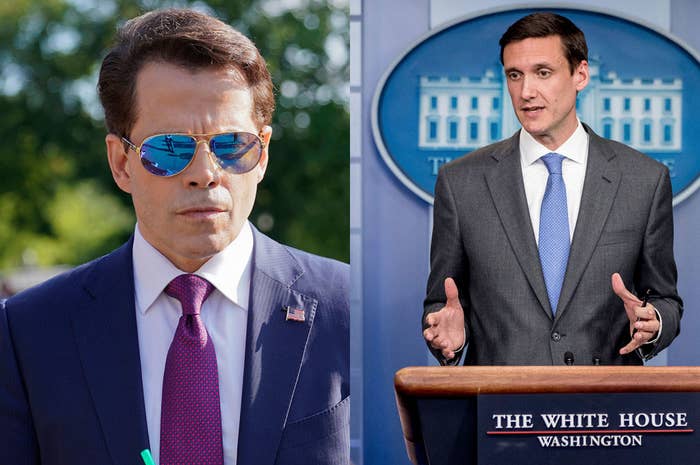 A British "email prankster" posing as members of the Trump administration and family tricked White House officials into replying to his emails, according to a CNN report published on Monday.
Using fake email addresses like reince.priebus@mail.com, the prankster contacted several high-level officials — including Homeland Security Adviser Tom Bossert, then-White House communications director Anthony Scaramucci, and Trump's pick for ambassador to Russia, Jon Huntsman — as well as the president's son, Eric Trump.
The White House did not immediately respond to a request for comment. In a statement to CNN, press secretary Sarah Huckabee Sanders confirmed the pranks happened.

"We take all cyber related issues very seriously and are looking into these incidents further," she said.
The prankster, who tweets as @Sinon_Reborn and describes himself as a "lazy anarchist," also did not immediately respond to BuzzFeed News' request for comment.
The Trump officials seem to have fallen easily for the prank, according to emails obtained by CNN and tweeted by @Sinon_Reborn.
Huntsman, for example, responded pleasantly to a congratulatory note from the prankster posing as Eric Trump. "Thanks for the thoughtful note," Huntsman wrote. "Russia will be a challenging but no doubt rewarding assignment."

"Maybe we could have Dad sat on a horse, top off, giving the full Putin! He's in better shape than his suits suggest," the fake Eric Trump replied, according to CNN.

Even Bossert, a cybersecurity expert, was duped, enthusiastically accepting an invitation to "a bit of a soiree" from a fake Jared Kushner, and giving out his personal email address unprompted.
It's the kind of personal detail that can be valuable in spear-phishing campaigns, in which would-be hackers pose as a trusted source to trick people into giving out sensitive data. Indeed, it was a similar spear-phishing trap that allowed Russian hackers to access, and release, emails from Hillary Clinton's campaign manager, John Podesta, during the 2016 campaign.
In this case, the fake emails sent to Trump's advisers appear to have been a prank, rather than a malicious attack. But the ease with which @Sinon_Reborn was able to draw the president's advisers and relatives into email conversations raises concerns about the White House's vulnerability to other potential cyberthreats.
The prankster did weigh into some of the White House's personal drama, drawing Scaramucci into a fight with a fake version of Reince Priebus, Trump's outgoing chief of staff.
"General Kelly will do a fine job. I'll even admit he will do a better job than me," the prankster wrote, posing as Priebus. "But the way in which that transition has come about has been diabolical. And hurtful."
"You know what you did," the real Scaramucci replied, per CNN. "We all do. Even today. But rest assured we were prepared. A Man would apologize."

In another angry reply to the fake Priebus, Scaramucci wrote, "Read Shakespeare. Particularly Othello. You are right there. My family is fine by the way and will thrive. I know what you did."
Only Eric Trump seems to have recognized the hoax, after briefly being taken in by the prankster emailing as his older brother, Donald Trump Jr.
In what @Sinon_Reborn claims is an image of the exchange, Eric Trump seems immediately suspicious, replying to seek confirmation that the email — which included a link to a hunting rifle, alongside the line "Hunting the witch-hunters, ha!" — was legitimate.
Initially, though, Eric Trump seemed to accept the fake Donald Trump Jr.'s assurances, telling him the email "came at a perfect time as we have that meeting tonight."
But shortly afterward he caught on, replying: "I have sent this to law enforcement who will handle from here."
After the tweets began to attract attention, @Sinon_Reborn said he would stop pranking White House staff and Trump's family members.