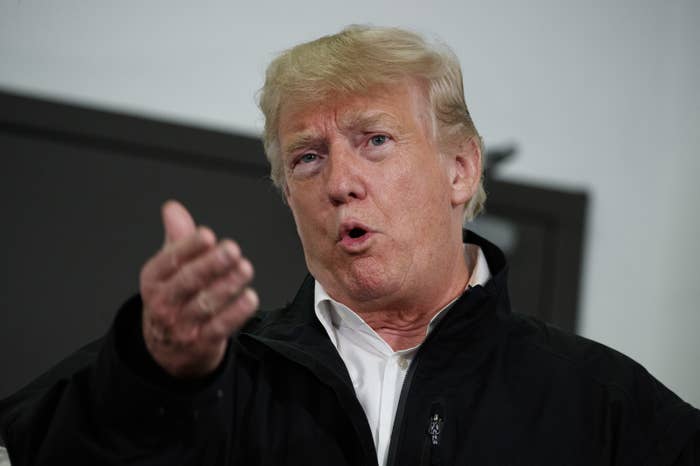 Sen. Elizabeth Warren on Monday responded to President Trump's mockery of her claims to Native American ancestry, releasing the results of a genetic test to try to shut down his critiques scientifically.
The president was not convinced.
"How much? 1/1000th?" Trump retorted when asked about the test's findings that Warren likely has Native American roots.
On the campaign trail, Trump has frequently mocked Warren, calling her "Pocahontas." Warren, a former law professor, is not a member of any tribe, but had listed herself as Native American on some university documents.

Warren has described it as a tribute to the women in her family, who had passed down stories of a Native American ancestor. According to the genetic test, there's "strong evidence" that someone between six and 10 generations back in Warren's family tree was Native American.
"When you have the percentage, tell me what the percentage is," Trump told reporters Monday after a briefing on hurricane damage in Macon, Georgia. (If the genetic test is accurate, Warren would be between 1/64th and 1/1,024th Native American, according to a Boston Globe calculation.)
The president also scoffed at his former promise to donate $1 million to charity if Warren could prove she was Native American.
"I will give you a million dollars to your favorite charity, paid for by Trump, if you take the test and it shows you're an Indian," he said at a Montana campaign rally in July.

On Monday, the president said he only intended to make the donation if Warren secured the Democratic nomination and ran against him. And Trump, who famously believed that former president Obama wasn't born in the US, wasn't swayed by Warren's DNA test.
"I'll only [donate] if I can test her personally," Trump said. "That will not be something I enjoy doing either."
Warren described Trump's comment as a "creepy physical threat."
"He's scared," Warren tweeted. "He's trying to do what he always does to women who scare him: call us names, attack us personally, shrink us down to feel better about himself. It may soothe his ego — but it won't work."
Warren also called Trump out for running on his success as a businessperson — without releasing his tax returns or telling the full picture of his finances.
She added she took the DNA test in response to Trump's "racism" regarding her family history, and she was not trying to claim tribal citizenship.
"I respect the distinction, & don't list myself as Native in the Senate."