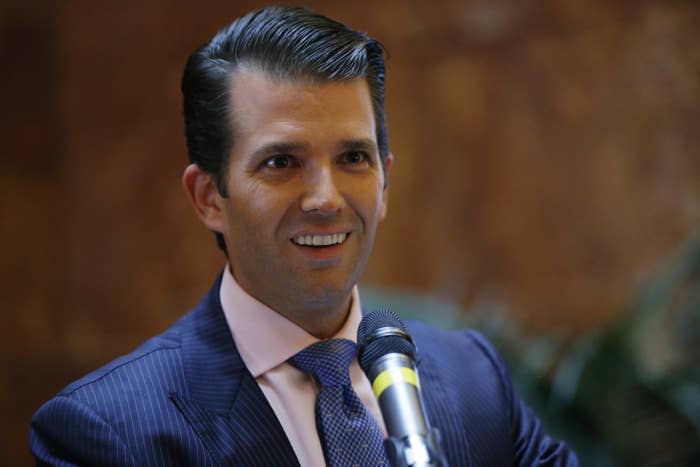 Donald Trump Jr. said Tuesday night he was simply trying to gather information when he agreed last summer to meet with a Russian lawyer who promised dirt on Hillary Clinton.
And while he acknowledged that he would have done things "a little differently," Trump Jr. defended himself as innocent of collusion because the encounter didn't yield any information relevant to the campaign.
"Yeah, I want to hear the information. I mean, that's what we do in business; if there's information out there, you want it, and then you make what you do with it," he said. "If there was something that came from it that was shady – if it was a danger to national security, I would obviously bring it right to someone."
Trump Jr. made the comments to Fox News' Sean Hannity, in his first interview since the New York Times reported he had sought damaging information about Clinton from a source who claimed the Russian government wanted to help his father's campaign for president. The report sparked questions and outrage from Democrats, as well as some Republicans, coming amid ongoing investigations into whether the Trump campaign colluded with Russia.
"In retrospect, I probably would have done things a little differently," Trump Jr. told Hannity. "Again, this is before the Russia mania — this is before they were building this up in the press."
"For me, this was opposition research," he added. "They had something, you know, maybe concrete evidence, to all the stories I'd been hearing about, probably underreported for years not just during the campaign. So I think I wanted to hear it out. But really it went nowhere and it was apparent that wasn't what the meeting was about."
Earlier on Tuesday, Trump released an email chain showing how the June 9 with Russian lawyer Natalia Veselnitskaya was organized, including emails to Jared Kushner and then-Trump campaign manager Paul Manafort, both of whom attended the meeting.
"This is part of Russia and its government's support for Mr. Trump," Rob Goldstone, a music publicist who set up the meeting, wrote.

Trump Jr. replied, "[I]f that's what you say I love it."
On Tuesday, Trump Jr. said that nothing came out of the meeting, and insisted again that he didn't talk about it to his father.
"It was just a nothing. There was nothing to tell," he told Hannity. "I mean, I wouldn't have even remembered it until you started scouring through this stuff. It was literally just a wasted 20 minutes, which was a shame."
Trump Jr. said he has"probably met with other people from Russia," but not in a formal setting. He added that he remained committed to cooperating with any investigation into the campaign's ties to Russia.
Asked by Hannity what he would have done if the meeting resulted in information that was illegal or collusion, Trump Jr. replied: "I said it earlier, 100 percent I would bring it to the proper authorities. There's nothing that I would do to ever endanger this country."