Tipster Recalls Following Charleston Shooting Suspect On Highway Until Police Arrived
Debbie Dills, a florist, was driving to work when she saw Dylann Roof driving a black Hyundai near Kings Mountain, North Carolina. She trailed him while her boss called the cops, who made the arrest minutes later.
A North Carolina woman said it was divine intervention that she spotted the suspect in the Charleston church shootings, a sighting that led to his arrest.
Debbie Dills was driving to work at Frady's Florist in Kings Mountain, North Carolina, when she noticed the black Hyundai on Highway 74, the Shelby Star reported.
She had been watching news coverage of the shooting at the Mother Emanuel African Methodist Episcopal Church in Charleston, South Carolina, and noticed that the car and its driver's bowl haircut matched the description of the suspect.
Dills told Fox 46 that she at first couldn't believe the car belonged to Roof, who was more than 200 miles away from Charleston, where authorities said he fatally shot nine people during a prayer meeting. But something told her to get back on the highway, so she did and caught up to the car.
She called her boss, Todd Frady, WCNC reported, who then called local police in Kings Mountain.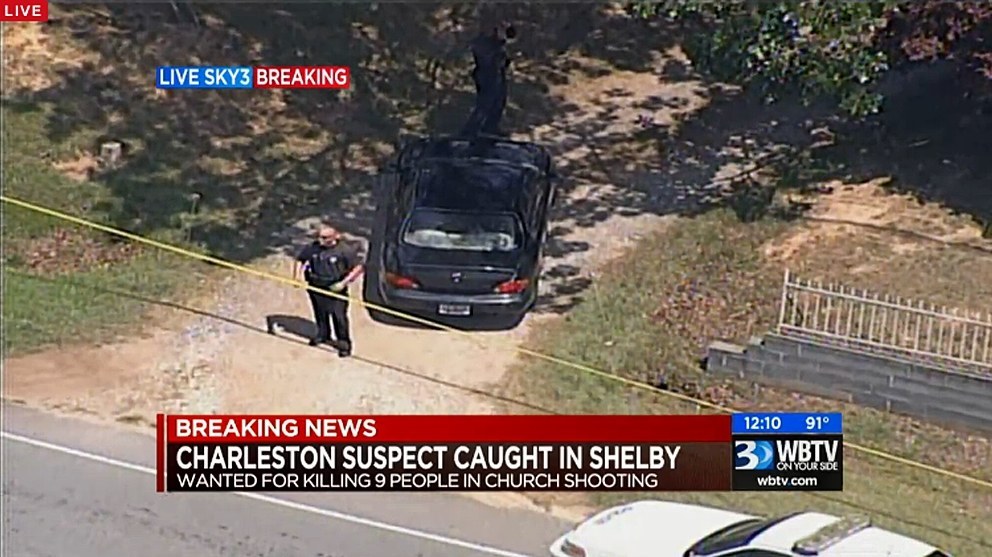 Dills told the Star she followed Roof's car until police arrived, a journey that covered some 35 miles. She had herself been at church Wednesday night, she said, and she began praying for the families of the victims as soon as she heard about what happened.
"Those people were in their church just trying to learn the word of God and trying to serve," she told the Star. "When I saw a picture of that pastor this morning, my heart just sank."
About 10 minutes after Dills called her boss, the Shelby Police Department was on its way to stop the black Hyundai and take Roof into custody.
"Through the cooperation of law enforcement, the community and the media, this suspect was apprehended," the department said in a statement.