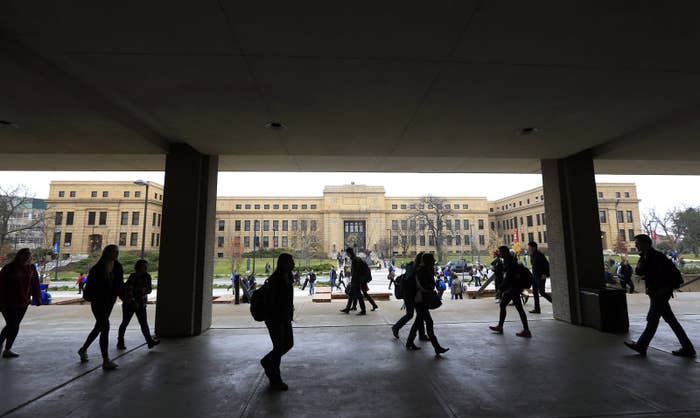 A 30-year-old man is accused of holding a Kansas college student captive and beating her over the course of a week after meeting on Tinder.
Shane Steven Allen was arrested by police in Lawrence, Kansas, on April 22, the Lawrence Journal-World reported, and was charged with kidnapping and battery. But court records that were only recently made public detail the abuse the sorority girl allegedly endured.

The 20-year-old student said she met Allen through Tinder and had hung out with him once without any incident, according to a police affidavit. On April 12, he picked her up from her sorority in Lawrence and drove her to his trailer. Two male friends showed up and they smoked marijuana together; after they left, Allen accused the young woman of flirting with them.
Over the course of several interviews, she told police he struck her face and body and kicked her. He then refused to take her home or allow her to call a cab, saying her injuries had to heal first, according to the affidavit.
She was returned to her sorority on April 18 and went to a hospital emergency room to treat injuries that included black eyes and significant bruising.
Several times over the week, Allen choked her — once to the point of unconsciousness, she told police. Before she met up with him on April 12, she told investigators that she accidentally got her phone wet, so it was not working.
"[She] stated she felt she could not escape due to Allen being next to her the entire time, her cell phone not working, she did not know where she was, and because she was too 'high, stunned, and exhausted,'" the police affidavit stated.
Though he took her out of the home several times, she told police he never left her alone. To keep her friends from becoming suspicious, she said Allen insisted she contact them through Facebook to let them know she was OK.

"She was afraid of trying to leave and him catching her," police stated in the affidavit. "[She] stated she thought Allen would eventually kill her."
Over the week, he accused her multiple times of cheating on him and lying to him, she said. Allen allegedly beat her more and threatened to kill himself.
After days of pleading with him to take her home, and promising she would not go to police, she said he agreed, which shocked her.
Allen is scheduled to appear in court Wednesday, the Journal-World reported. He remains in custody in the Douglas County Jail.