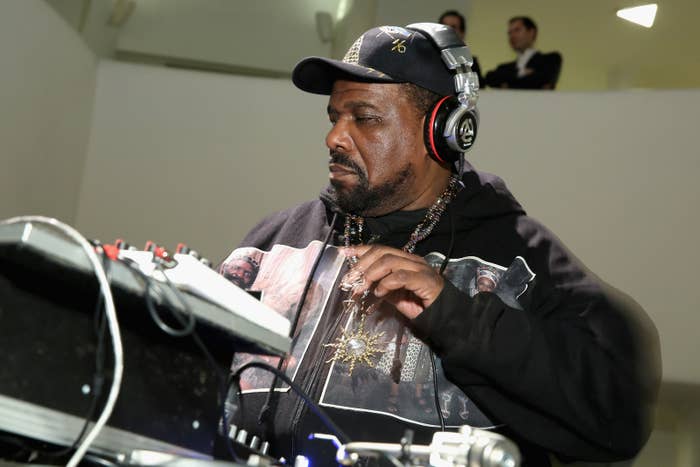 Hip-hop legend Afrika Bambaataa has been accused of sexually abusing several teenagers and boys during the height of his popularity, two alleged victims and one witness told BuzzFeed News.
The three men said the incidents occurred between the late 1970s and early 1990s. At least two additional people told the New York Daily News and a radio and YouTube host they were also victimized; one has spoke using his full name. Bambaataa has denied all accusations in two interviews and declined to comment to BuzzFeed News through his lawyer. The New York Police Department said it has no public record of any charges filed against Kevin Donovan — Bambaataa's legal name — under his date of birth.
One of the men who spoke to BuzzFeed News said Bambaataa forced him to engage in oral sex when he was 12 years old. Another, Ronald Savage, a 50-year-old Bronx man and the first to speak out, said he finally felt ready to speak publicly after decades of internal torment.
"When I came forward, they probably figured it was just going to be me," said Savage, who told BuzzFeed News he was victimized by Bambaataa when he was 15 years old. "I'm glad that the other people are finally speaking up," he said.
The Funk & Soul Weekender, a music festival to be held in the United Kingdom in May, said last week that Bambaataa was no longer part of its lineup. Organizers didn't immediately respond to BuzzFeed News when asked if the change was related to the accusations.
Cornell University is being petitioned by former shock jock and YouTube show host Star to sever ties with Bambaataa until the allegations are resolved. Star, whose legal name is Troi Torain, first brought the allegations to light on his show the Star Chamber. Cornell, which in 2013 acquired Bambaataa's record archive and has hosted him as a speaker, says Bambaataa's contributions to hip-hop are indisputable, and the university will continue its work.
Bambaataa told radio host Ed Lover last week that he did not know Savage, denied any allegations, and pointed to his record of working in the hip-hop community — he organized one-time street gang members into what would start the Universal Zulu Nation, which promotes hip-hop music, dance, and art as an alternative to violence.
"You need to ask the question, 'Why now, and what is the hidden agenda behind this?'" Bambaataa said. "Is it because I'm still being relevant today, trying do things that help people all across the world, trying to start a hip-hop museum, fighting in Colombia to bring people back safely in the streets, stopping the crime of killing each other, they're hating each other, trying to stop all violence in hip-hop?"
Savage, now a father of three, said that in 1980 he was one of the many kids and teens who hung around Bambaataa, who had already made a name for himself by this point.

Savage was in the ninth grade when he cut class one day — he doesn't remember the month — and headed to Bambaataa's Baychester, Bronx, home, where Bambaataa and another man were hanging out. He went into a bedroom to watch TV. A few minutes later, Bambaataa followed, allegedly unzipped his pants, and took out his penis, Savage said.
Ronald Savage today and at age 15.
"I got scared for a second," Savage said. "He told me that it was OK. He told me to take mine out and jerk it."
Savage was confused and upset. The encounters — Savage said there were at least five — continued in a car, at another home, and with Bambaataa coming to his house, he said.
"I honestly don't know how I got into this situation," Savage said. "I really started hating myself."
Finally, he said he stopped answering the door when Bambaataa would come by. He said he kept it secret because he was ashamed. "I didn't know who to tell," he said. "I didn't know who else was doing it. I didn't know who to trust."
"I didn't know who to trust."
Savage said he had difficulty with affection and physical intimacy later in life. He got divorced and other relationships ended. After a breakup this year, he began to reflect: "If this didn't happen to me, where would I be?"
He started tweeting and contacting Torain, who told BuzzFeed News he'd heard similar stories. After talking to Savage and others in the Zulu Nation, Torain shared Savage's story. "This guy was hurting," Torain said. "He's traumatized still."
Another victim, who is using his initials, T.K., to protect his wife and children, told BuzzFeed News he was a small, shy kid when he first met Bambaataa in the Bronx River Houses. Bambaataa held parties in the public complex, with music and breakdancing.
"He was like a big brother to the kids," said T.K. His family felt he "was safe, we were safe around him."
Though Bambaataa moved to the Baychester neighborhood, about 4 miles away, T.K. made a point of looking him up when he was nearby. He was 12.
During one visit to Bambaataa's apartment around 1976, T.K. said Bambaataa showed him a book of Polaroids of penises. Then, T.K. said, Bambaataa coaxed the boy into putting his penis in Bambaataa's mouth. "What in the hell possessed me to do that?" T.K., now 51, said.
Though he said he left and didn't go back, the experience stuck with him. T.K. said he was angry, especially toward men who had sex with men, his feelings colored by his interaction with Bambaataa. Before this month, he never spoke publicly because he thought people were "not going to listen to me," he said. "I'm nobody."
When Savage came forward, T.K. said he recognized him from long ago. He wants Bambaataa to step down from his association with the Zulu Nation. "There's a lot of people covering for him," T.K. said. "They're not helping him."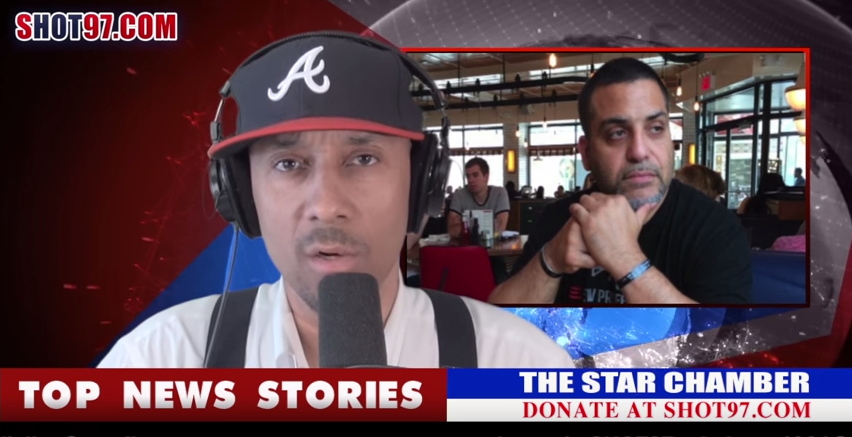 A former Zulu Nation chapter leader, Brother T — he asked BuzzFeed News to not use his legal name — said he was instructed to keep quiet when he allegedly witnessed Bambaataa fondling a teenage boy at his apartment in the summer of 1994. Brother T looked out for the "baby Zulus," making sure the youngest members of the organization kept up their grades.
Brother T was 19 or 20 when he went to Bambaataa's bedroom one day — it was where everyone watched movies, he said. He, Bambaataa, and a teenager were watching a film when he looked over and saw Bambaataa touching the teen's penis. Bambaataa then tried to touch Brother T's penis and told him it was "all cool," Brother T said.
Brother T said he began punching Bambaataa, and others had to break up the altercation. He said other Zulu Nation members told him to keep quiet. He walked out, and he never went back.
Decades later, he said he believes the men who have come forward. He said Bambaataa also showed him a photo album of naked men and women. After hearing Savage's story, he became afraid for the baby Zulus he had been responsible for.
"At the end of the day, how many, and how many are still going on?" he asked.
"These allegations are baseless and are a cowardly attempt to tarnish my reputation."
A spokesman for the Zulu Nation also declined to comment and pointed to a statement from Bambaataa to Rolling Stone. "These allegations are baseless and are a cowardly attempt to tarnish my reputation and legacy in hip-hop at this time," Bambaataa said. "This negligent attack on my character will not stop me from continuing my battle and standing up against violence in our communities, the violence in the nation and the violence worldwide."
The Universal Zulu Nation World Department of Community Affairs suggested in a statement that Bambaataa is the victim of a government conspiracy.
"We have no doubt that a combination of our ever growing international UZN Chapters throughout Europe, Asia, Africa, Australia, South America, North America and; Our ongoing diplomatic relationships with the anti-imperialist peoples governments of Cuba, Venezuela and Tanzania have all no doubt made us a COINTELPRO target by the U.S. government, mainstream media and the global 1% capitalist powers that be," the statement said.
Savage said he hopes other potential victims continue to come forward. In New York, child victims of sexual abuse have until the age of 23 to file a civil lawsuit. "What I really hope," he said, "is someone who has not reached the statute of limitations finally comes forward."