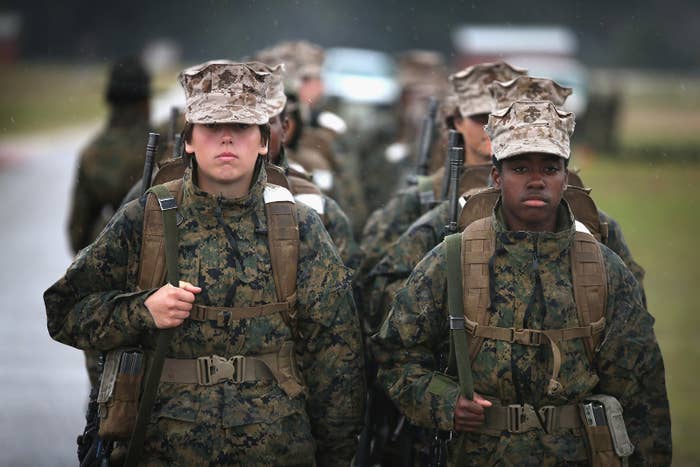 Almost five months before the military contacted Facebook about a group sharing nude photos of women Marines without their consent, one Marine reported the same thing.
In September 2016, Marine veteran John Albert was added to Marines United, a closed Facebook group of thousands of veterans and active-duty Marines, by a friend. When he opened the group page, the top post was a woman's naked selfie. The man who posted it said it was his ex-girlfriend, and other men commented with explicit detail of what they'd like to do to her.

The group also included memes and general talk of Marine life. But as Albert scrolled past the revenge porn photo, the feed showed another like it, another, and another.
"I was really insulted," Albert told BuzzFeed News. "I thought it had no place inside a group of people with the label of the Marines."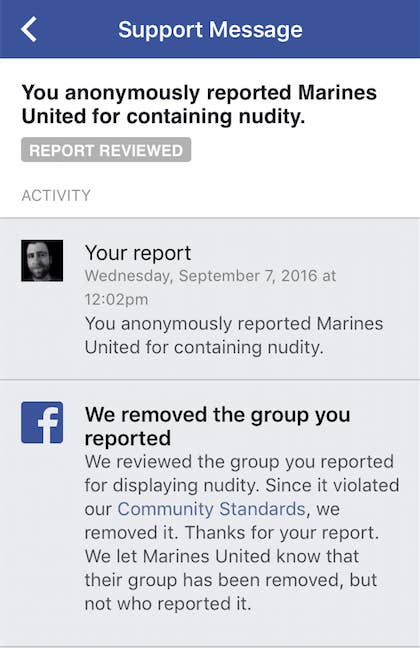 He reported Marines United to Facebook on Sept. 7. Not long after, he received a message that Facebook had removed the group. He thought that would be the end of it, and he started a thread on Reddit to explain to his fellow Marines what he'd done and try to start a conversation about revenge porn and harassment.
"It basically just dishonors all our friends who died," said Albert, who said he retired in 2014 after being injured. "It dishonors everything we did."
But this year Marines United was back and drawing the attention of another Marine veteran. Thomas Brennan, now a journalist and founder of The War Horse, published an investigation that revealed the existence of the group publicly.
It's not clear if the Marines United Brennan reported on is the same group that Albert tried to stop, or a new one using the old name. Facebook refused to answer questions about the group.
As of January, nude photos were being shared among 30,000 Marines United members via a Google Drive link posted to Facebook. Brennan contacted the Marine Corps, and leaders then contacted Facebook. Accounts behind the photo sharing were deleted, Brennan reported.
But the Marine United group remained active. One woman who had been identified in the group was followed around Camp Lejeune, North Carolina, by a fellow Marine, who then posted in February about it, drawing more obscene comments.
Brennan's story was published March 4, and Marines United has since been removed. New versions of the group have sprung up, though some have also been deleted. Photos have also been uploaded to new file sharing services, and some former Marines United members have reportedly started uploading them to porn sites.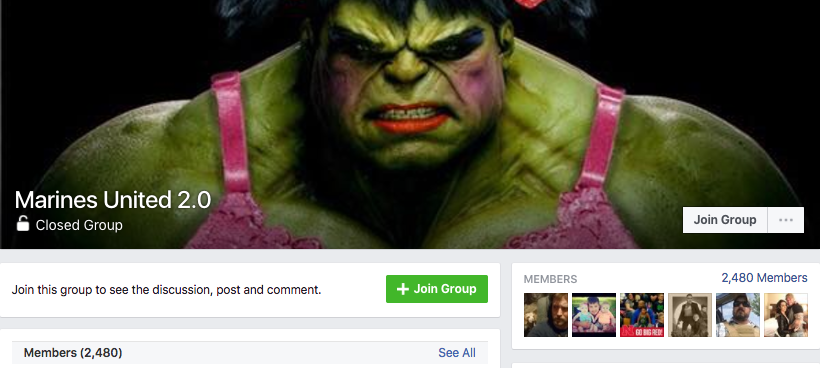 The scope of the problem has also grown. The image board Anon-IB has a dedicated military section, where posters share photos of women from the Navy, Army, and Air Force, as well as request photos of specific women. Other sites are also under the military's investigation, which officials suspect will only grow as more victims come forward.
In a statement to BuzzFeed News, a Facebook spokesman encouraged users to report content that should not be on the site, and to consider taking matters to police if appropriate.
"We want to have an open and safe environment on Facebook," the statement said. "We do not allow harassment and remove content that appears to purposefully target private individuals with the intention of degrading or shaming them. We also remove content that threatens or promotes sexual violence or exploitation."
It's a scandal that Albert fears will do long-lasting damage to the military he loves.
"I don't want to see the Marine Corps hurt," he said. "I don't want to see the Marine Corps destroyed. This is something that needs to be fixed."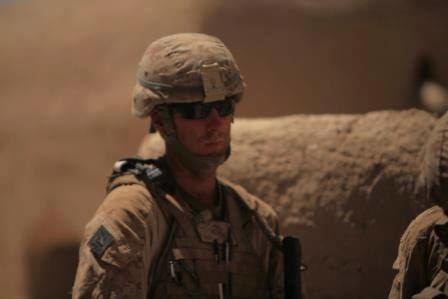 Since speaking publicly, he said he's become involved in arguments with Marines, including friends. He said he's sick of the excuses: that women shouldn't be in the military, that it's wrong to criticize the behavior of men who have fought for their country, that anyone taking nude photos is asking for it. "That's bullshit," he said.
Then there are the thousands of Marines who scrolled past the photos and didn't say anything. Going against the crowd is not popular in the corps, Albert said, likening it to a football team or fraternity. But not speaking up is simply cowardice, he said.
"People just need to start taking a stand, start picking a side," he said. "Because there's a lot of people in the middle not doing anything."
Albert added he believes Marine leadership is taking the issue seriously, but said that change will only come with support at the unit level.
"Until you get that majority of the Marine Corps, of the lower ranks to care and actually do something, it's not going to happen."