A Missouri man and Marine veteran who served in Iraq was killed by police on Sunday after he fatally shot three officers and injured three others. In his vast online presence, he described himself as someone upset with the police killing black men, a life guru, and a person concerned with government surveillance.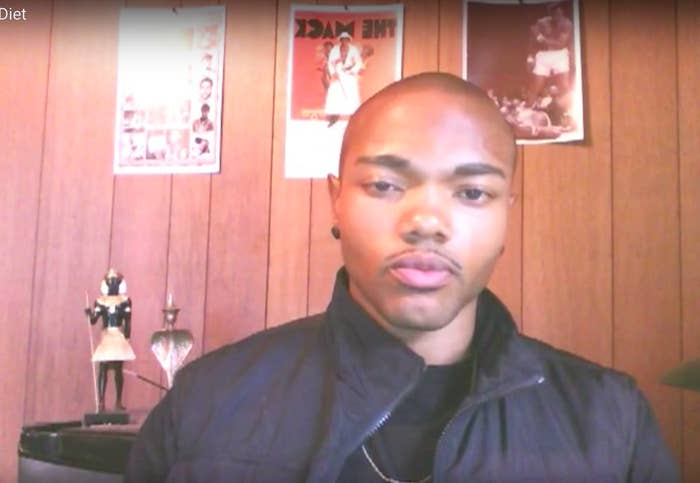 The shooter was identified as Gavin Long, and Sunday, the day of the attack, was his 29th birthday.
Long was from Kansas City, Missouri, and it wasn't immediately clear when he traveled to Baton Rouge.
Though state police believe that Long was in Baton Rouge for at least 3-4 days prior to the shootout on Sunday.
Long served in the U.S. Marine Corps from 2005–10, including a deployment to Iraq, officials said.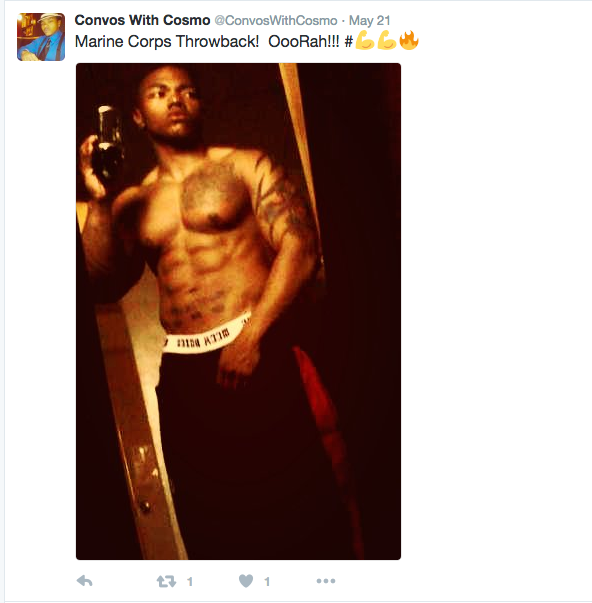 On social media, Long went by Cosmo and described himself as a life coach, nutritionist, and personal trainer.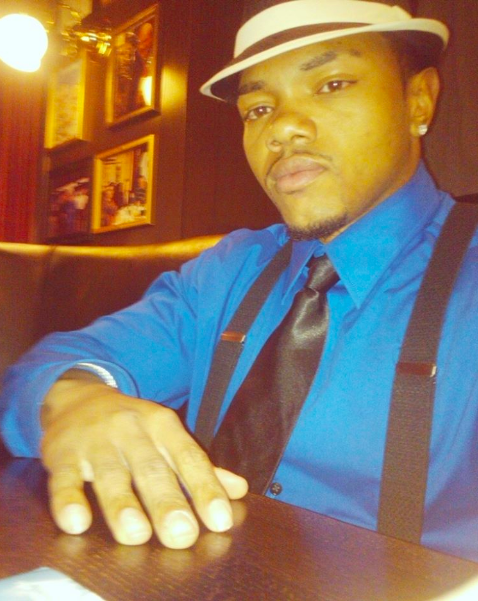 He petitioned to legally change his name to Cosmo Ausar Setepenra and once identified himself as a national of the United Washitaw De Dugdahmoundyah Mu'ur Nation.
The document was published by the Kansas City Star and dated May 19, 2015.
The Washitaw Nation is a group of black Americans who call themselves citizens of a sovereign nation within the U.S. The group ties the ancestry to indigenous Americans and claims historical ownership over land in Louisiana. Four Washitaw Nation members in New Orleans were arrested earlier this year on suspicion of trespassing after neighbors said they were squatting in a house they did not own.
Sahib Taylor, a 22-year-old who told BuzzFeed News he is Long's nephew, said that he hopes his uncle's actions don't inspire others to "hate more, to fight more."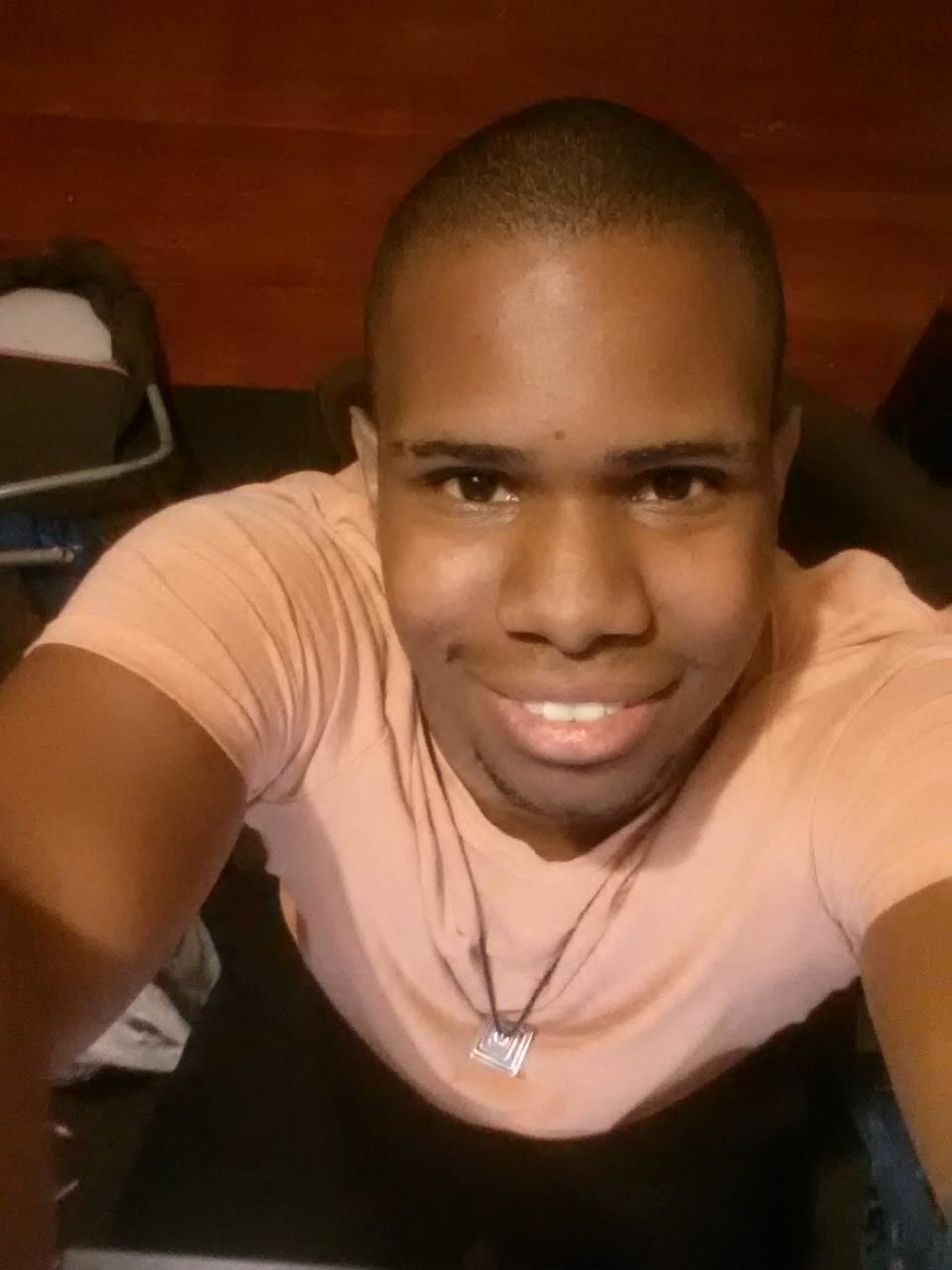 In two tweets in April, Long posted a video that appeared to show him being pulled over by a police officer in Los Angeles. He is heard saying, "Here it is. Getting pulled over again. Her excuse was I stopped beyond the line or something, I don't know. I stopped beyond a line. I don't know what that means, but yeah, getting harassed again in LA."
The officer appeared to have let him off with a warning, saying, "It'll probably be in your best interest not to have an attitude with a police officer." Long responded: "Ok, I'm a black man and somebody pull me over saying that I stopped beyond the line or something. That's a reason to cop an attitude as a black man because you get harassed multiple times for little small infractions that you guys are saying are laws. I stopped, I looked, it was safe, I went. I mean I have a brain and I'm gonna use it."
Long described himself as a vegetarian, and in videos discussed healthy eating.
In many posts he expressed anger over the police shootings of black men.
He also praised Micah Johnson, who fatally shot five police officers in Dallas.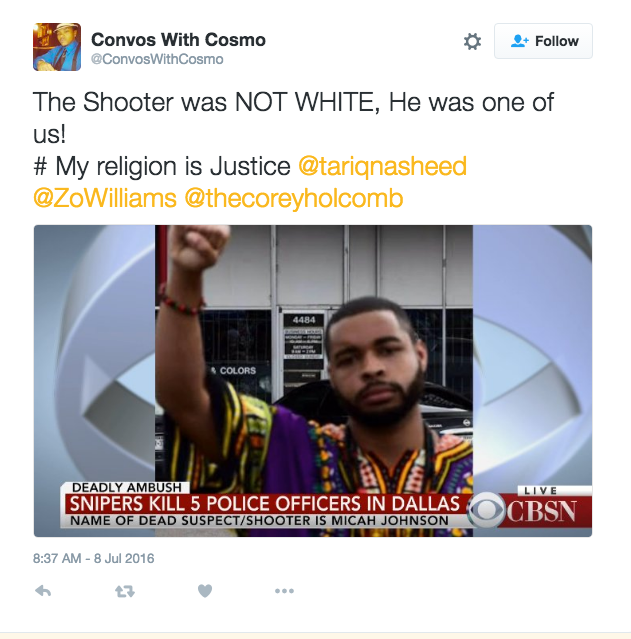 In his final tweet, posted hours before the shooting, Long hinted that he wasn't afraid of death.
One video was recently filmed in Dallas, he said. The footage captures him talking wildly as men in a barbershop look on.
On Monday, Long sent an email to contacts expressing his thoughts about the Baton Rouge police shooting of Alton Sterling.
Peace Family,

The spirit brought me something today that I haven't heard one person ask yet.

And that is to demand to see the bodycam video from Alton Sterlin's shooting. Yes they said the body cam fell off (and so allegedly thats why we couldnt see the shooting), but we (the people) still have a right to see the video no matter what happened. Let us see what was recorded anyway! We cant just take their word! If 2 body camera's fell off then Let us see the videos with the body Cameras falling off (IF THATS WHAT REALLY HAPPENED).

This is why they treat us like shit, because (1) they can tell us anything and we will accept it without questioning it, and (2) we dont stand on our rights. We must STOP being (quote un quote) Adults, Meaning, we must get back to our childlike curiosity.

Think about it, never can you satisfy a normal child with just one answer to his question. The child continues to ask more questions once he receives an answer. However we as adults just take one answer and walk away with whatever answer someone gives us. Hell No! We have to quit this immediately! You continue asking questions until you get to the bottom of it! Question their answers.

Get out of that 'adult mindset' and get back into your 'childlike mindset' where you are still curious. Still searching. Still seeking. Thats how we are suppose to be forever. So remember this principle for the next incident or the next time they wanna give their half-ass answers.

Question Everything...EVEN THE ANSWER THEY GIVE YOU!

Cosmo Setepenra
"Stand Tall. Stand Wild. Stand Free."
Long was never a speaker for a "holistic cruise" that he promoted on his website, a cruise producer told BuzzFeed News.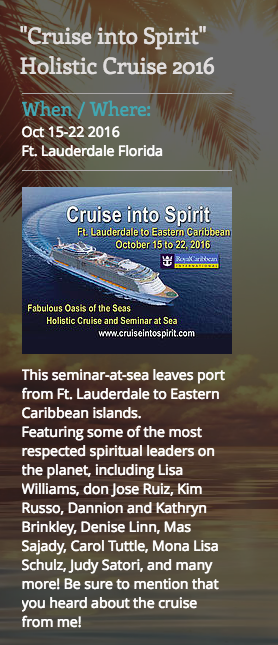 Long recently discussed his book A W(H)olistic Guide for the Total Transformation of Melanated People Vol. 1 The Detox on Lance Scurv's YouTube show.