This Is What International Money Laundering Looks Like, Feds Say
A maternity store in Sinaloa, Mexico, a mansion in Pasadena, Calif., and a bank account in Taiwan were connected in a scheme to funnel cash to a Mexican drug cartel, federal prosecutors said.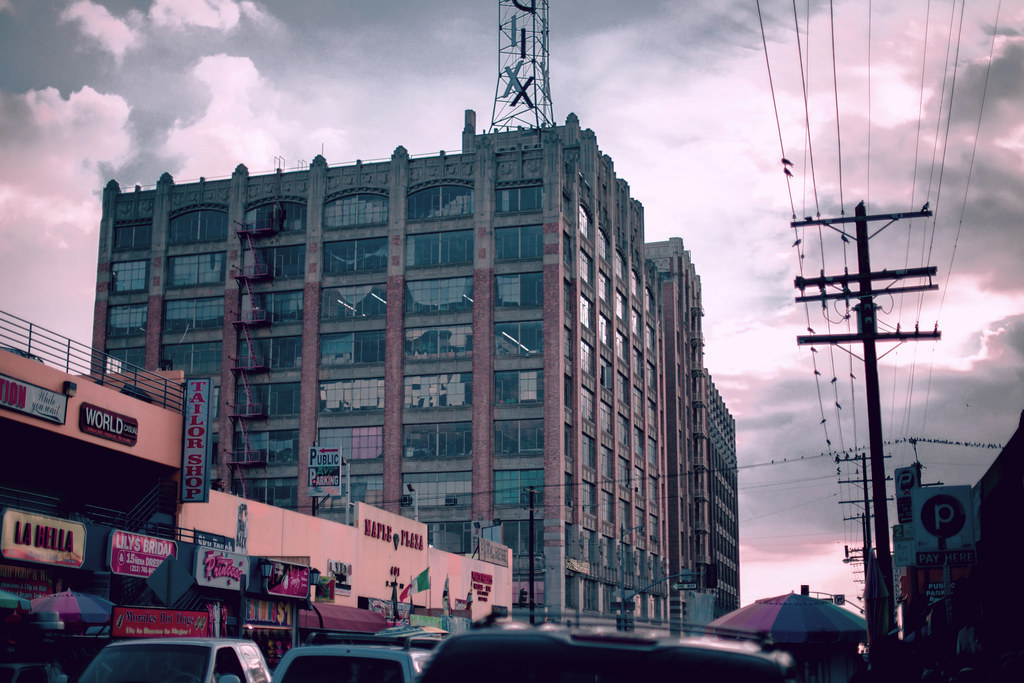 Amid the bright fabrics and silk flowers of the Los Angeles Fashion District, couriers for a Mexican drug cartel dropped off duffel bags of dollars to be surreptitiously converted into pesos, federal authorities said.
The 100 blocks of wholesale shops and warehouses in downtown L.A. has become the epicenter of a money laundering operation bringing millions of dollars from the U.S. to a Mexican drug cartel.
Operation Fashion Police, which involved Immigrations and Customs Enforcement, the IRS and a number of local police departments, has so far resulted in nine arrests with the possibility of more, federal prosecutors said.
Already, the ill-gotten gains of the enterprise led authorities from the bustling commercial area to a maternity store in Sinaloa, Mexico, a Pasadena mansion, and a bank in Taiwan.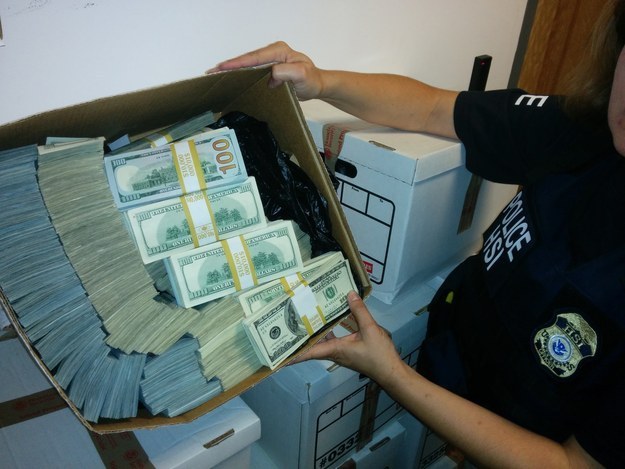 Here's how they followed the money, which stands at $100 million and counting:
It starts with dollars, the proceeds of drug sales in the U.S. and sometimes ransom money. But smuggling stacks of currency across the border can be risky. So can wiring large amounts of money to Mexico, which can be detected by financial institutions.
Instead, cartels look to trade under the guidance of a "peso broker," authorities said. Dirty dollars can be used to buy goods from business owners who look the other way. The goods are shipped to Mexico and sold for pesos, and the proceeds go to the cartels.
Investigations are pending, but officials have so far unsealed money laundering cases involving Los Angeles businesses.
"Because Los Angeles is at the forefront of this money laundering activity, law enforcement in Los Angeles is now at the forefront of combatting this issue," Assistant U.S. Attorney Robert E. Dugdale said.
In one case, two maternity clothing sellers laundered $140,000 of ransom money to the Sinaloa Drug Cartel, prosecutors said.
The cartel had kidnapped a U.S. citizen after he lost more than 100 kilograms of cocaine to authorities, prosecutors said. He was taken to a ranch in Mexico, where he was tortured. Family members agreed to pay his ransom, and the transaction was organized by a Mexican business, authorities said.
Maria Ferre, a company that operates several maternity and plus-size shops in Mexico, directed wholesale QT Fashion in Los Angeles to accept the ransom dollars. The money was then laundered through 17 other Fashion District businesses back to Maria Ferre. The cartel received the ransom in pesos, and the man is back in the U.S., authorities said.
Three people connected to QT Fashion, Andrew Jong Hack Park, 56, Sang Jun Park, 36, and Jose Isabel Gomez Arreoloa, 49, have been arrested, officials said. Three additional people connected to Maria Ferre in Mexico are wanted by authorities.
In another case, the owners of Gayima Underwear, Yili Underwear and other Fashion District businesses are accused of working on a similar Black Market Peso Exchange scheme as well as other offenses.
Xilin Chen, 55, worked with his son Chuang Feng "Tom" Chen, 24, and daughter Aixia Chen, 28, to launder money to drug organizations outside the U.S., prosecutors said. The family structured their deposits to avoid hitting limits that would trigger law enforcement scrutiny, prosecutors said. If convicted, Xilin Chen could be sentenced to up to 100 years in federal prison, and his children could also face lengthy terms.
In a third case, a Beverly Hills family is accused of accepting $370,000 from an undercover officer, prosecutors said. Pacific Eurotex accepted cash on four occasions, and some of it appeared to be spattered by blood, prosecutors said.
Even with knowledge the money likely came from illegal activity, the company laundered it, again avoiding requirements to report cash transactions of $10,000 or more, officials said.
Hersel Neman, 55, his brother Morad Neman, 54, their brother-in-law Mehran Khalili, 45, and Alma Villalobos, 52, were arrested.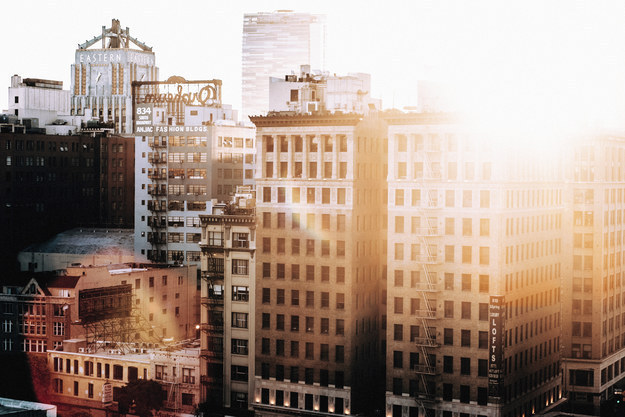 Besides those cases, law enforcement officials said there will be closer scrutiny of Fashion District transactions going forward. Since the raid last week involving 1,000 law enforcement officers, authorities have seized $60 million in cash and $19 million from U.S. bank accounts related to illegal dealings, officials said.
Already, more assets related to cartel money laundering have come to light.
The 4-bedroom, 6-bath home at 1500 Lombardy Road in Pasadena was bought last year for $7.8 million, according to real estate website Zillow. Since then, its mortgage has been paid off, authorities said, the result of money laundering profits.
Homeland Security Investigations officers on Friday posted a notice of seizure on the mansion's door, along with two smaller homes in Pasadena and Alhambra. Details of the criminal investigation were under seal.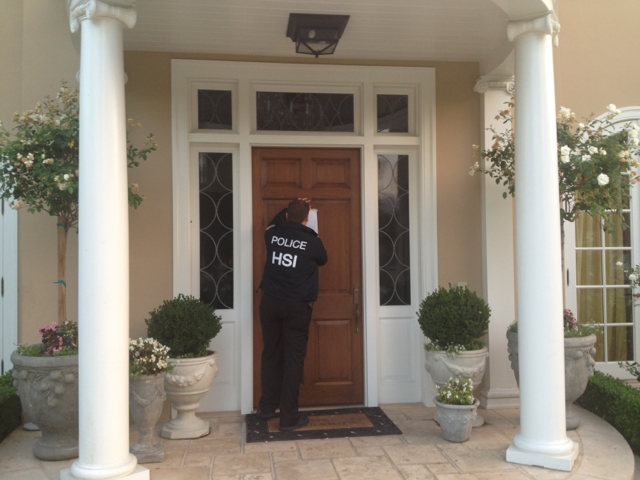 The criminal investigation also led authorities again outside the U.S., this time to Taiwan. With the Taiwanese Ministry of Justice's assistance, a bank account containing $15.6 million related to cartel money laundering was frozen.
HSI officials stress the probe is ongoing and more enforcement activity is anticipated.