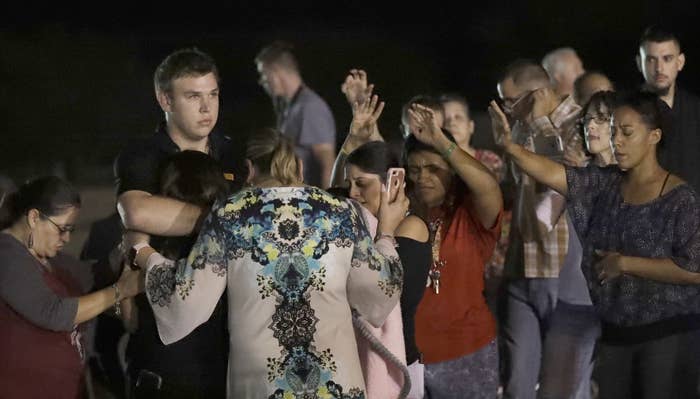 SUTHERLAND SPRINGS, Texas — A day after a gunman turned a Sunday service into a bloodbath, this small Texas town went back to church.

Around 200 people, ducking past police tape, gathered Monday night at a field blocks away from the First Baptist Church for what was billed as a memorial for the 26 people killed and 20 others wounded in the worst mass shooting in Texas history. But really, it was a return to Sunday's worship as a band led the crowd in praise music, area pastors offered up prayers, and friends and family embraced.
From children to the elderly, those gathered raised their hands as they sang, "I exalt thee, oh Lord." For reporters and media at the scene, Cornerstone Church's Mike Gonzales, one of the organizers of the event, had a message: "You report — you report that God is alive in this place."
Among those joining in prayer was Sutherland Springs resident Helen Biesenbach, who has attended First Baptist for nearly 30 years.
"It makes me feel so proud that people that believe in God come together, [it's] a supportive community that are firm believers in God," she said. "It's an awesome feeling seeing people coming together, people wanting to help, people wanting to rebuild the church."
Seeing the lives of so many dedicated members of the church lost, and other longtime friends in the hospital has left her numb.
"This church family was my everything," she said.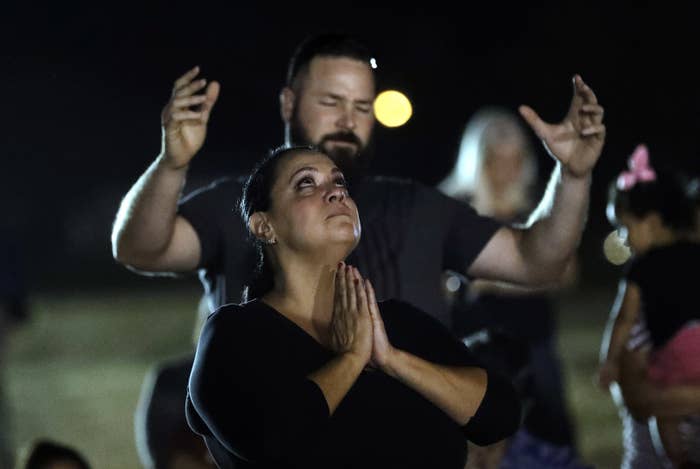 Biesenbach had stayed home from Sunday's services; she was babysitting her 2-year-old grandson for the weekend, and he came down with a fever.

"I believe God has a message for me," she said. "Maybe he thinks I needed to be here for my grandbaby."
Biesenbach said she fears for the future children like her grandson will face if the country continues in the direction it's going. The world would be better if more people kept God in their life, she said, and raised their children to know right from wrong.
With First Baptist shuttered for now, that's a little bit harder to do.
"I know the First Baptist church was an outlet for these kids," she said. "They needed a place to come and share their feelings with friends and be a part of something."
Seeking solace in community is what brought Mark Escovedo to the event. Now a hog farmer, he worked for many years as a locksmith and in the course of that work met Bryan Holcombe, who was leading First Baptist's service on Sunday and also ran an upholstery shop.
"Any time you could go in and chat with the man, he was salt of the earth, [he] would make you laugh," Escovedo said. "If you were having a bad day, he'd joke around until you felt good leaving. It was good for the soul."
Holcombe was killed along with seven members of his family — a magnitude of grief that Escovedo is still struggling to comprehend.
"What do you say to people who have lost half their family?" Escovedo said. "You cry all day at home, then you want to cry with somebody else, I guess."
The attack on the church has also left Escovedo feeling deeply that mass violence can happen anywhere in America. More talk needs to be focused on preventing the next tragedy, he said.
"We're country people and we don't like to give up our guns," he said. "But we're going to have to realize, it's time to change. Everything's changing."
Violence is an unfortunate but inevitable part of the world, Noemi Munoz said. Munoz, whose children have classmates who attend First Baptist, led a prayer on Monday calling for those in the community to find strength in God and each other.
"We all wish there'd be peace, but it's kind of impossible," she said. "If we all put our little grain of salt, we can at least make a difference in our community and make our community safer."
She said she felt called to do Christ's work on Monday, offering what support she could to Sutherland Springs residents. She said she hoped her words brought hope.
"There's hope for tomorrow, and even in these hard times they can see that they're not alone."