ICYMI, residents of Greenville, South Carolina, have been on edge after several people reported seeing clowns trying to lure children into the woods.
On Monday, a photo began to be passed around by residents. One woman shared it with BuzzFeed News, saying she had gotten it from a friend who got it from a friend. Though she didn't take the photo, the redheaded clown looked familiar, she said.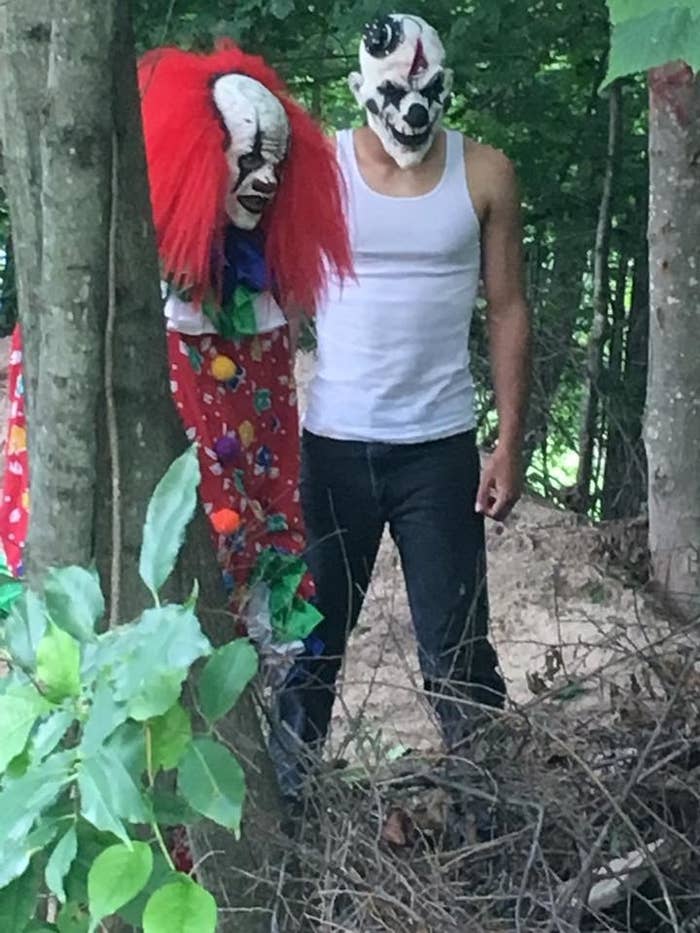 The photo was also given to the Greenville County Sheriff's Office and other media outlets.
It turns out the creepy clowns in the photo have never even been to South Carolina. They're a performance art group in New Hampshire called the Plymouth Clowns.
The duo behind the Plymouth Clowns told BuzzFeed News they were upset to see their photo paired with a story about potential criminal activity. "We do not chase, jump, or follow people, and do not interact with people unless they approach us first," clown Mistress Manic said.
In fact, the Plymouth Clowns take pride in being responsible creepy clowns. Police are aware of their group, Mistress Manic said, and a recent Facebook post stated that they were taking a break from nighttime clowning to avoid the crowds and drinking that came with the start of the college semester.
When the clowns are not standing solemnly in the woods, their photos show them posing with smiling fans. Mistress Manic said they've been met with positivity from their community.
As for the masks, Mistress Manic said it's unlikely a resident in South Carolina saw the same ones. They were purchased from an Etsy shop that specializes in latex masks fitted to buyers' faces.
In spite of receiving some negative attention this week, the clowns said they've also been introduced to new fans. "As a small town couple doing what we love it's been amazing to receive so much support and recognition," Mistress Manic wrote. "We can't wait to get back out and start seeing y'all more."