Theater Shooting Trial Nears Close With Testimony From Schizophrenia Expert
Dr. Raquel Gur, the defense's star expert, said with certainty that James Holmes was insane when he killed 12 people in an Aurora, Colorado, movie theater in 2012.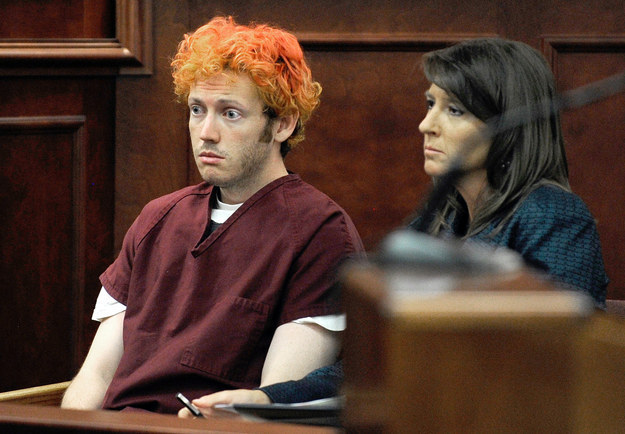 After almost two months of testimony by more than 200 witnesses, lawyers in the trial of James Holmes will make their final arguments Tuesday for whether or not the 27-year-old should be held responsible for the murder of 12 people and attempted murder of 70 others.

Holmes has pleaded not guilty by reason of insanity, and his lawyers have spent the last two weeks painting a picture of a young man who grew increasingly consumed by psychosis in the days leading up to the 2012 shooting massacre in Aurora, Colorado.
In the course of their case, prosecutors brought forward the story of every victim who was present in Theater 9 for the midnight showing of The Dark Knight Rises. Holmes' lawyers do not dispute that he caused the ensuing violence and chaos; rather, they've argued that he was so influenced by delusions that he did not know what he was doing was wrong.
Among the final defense witnesses was Dr. Raquel Gur, a neuropsychiatrist who specializes in schizophrenia. Based on her review of evidence as well as interviews with Holmes after the shooting, she said she believed he had schizophrenia and, as the symptoms of the disease became more prominent in the spring of 2012, he became psychotic.
"The severity and intensity of his psychosis, psychotic process, at that time was so high, was so severe to render him incapable of distinguishing between right and wrong," she said.

At the time of the crime, Holmes was insane, she said.

"He was not capable of understanding that the people that he was going to kill wanted to live," she said. "He was not capable to consider that people are different from him."
Other mental health professionals have testified that though Holmes was severely mentally ill, he was sane at the time of the crimes. Still others have said they did not have enough information to determine his sanity at the time of the shooting.
According to Gur, Holmes became controlled by delusions that he must kill others to increase his self-worth. He felt that he must act to carry out his "mission" to kill; outside of those thoughts he may have appeared relatively normal, she said.
"[A delusion] becomes a prominent feature in brain function that directs behavior that is pertinent to the delusion," she said. "Not other behaviors necessarily."

Her testimony included aggressive cross-examination by District Attorney George Brauchler, who questioned, among other things, the quality of Gur's notes and the depth of her interviews with Holmes.
"Do you feel like a lot of these questions would have been easier to answer if this thing was video taped?" Brauchler asked.
Gur responded that her review was consistent with her longstanding practices; more extensive note-taking or video can make a subject more guarded and distracted, she said.
Brauchler also questioned how Holmes could create such a detailed plan for killing others — which he methodically documented in a notebook — if he was in fact insane.
"It was within a distorted perception of reality, within his delusions," Gur said. "He had the capacity to pursue and follow his delusions."