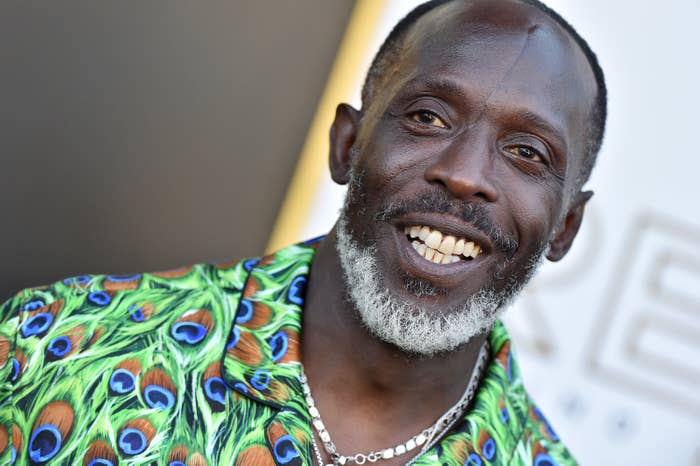 Actor Michael K. Williams, celebrated for his portrayal of Omar Little on The Wire, was found dead Monday at age 54.
Williams was found in his Brooklyn apartment Monday afternoon, the NYPD told BuzzFeed News. He was found by a family member, the New York Post reported.
Williams most recently appeared in Lovecraft Country and also provided a voice for Netflix's animated series F Is for Family. He also announced just days ago that he would be joining the upcoming George Foreman biopic as the boxer's trainer, Doc Broadus.
Though he acted in a variety of projects, Williams' work as Omar turned him into a household face and name. The character is often listed as one of the best in TV history; even former president Barack Obama agreed.
Williams was intentional about the roles he took, he told Essence earlier this year.
"I made a decision very early on in my career that the two things I will go for when I'm asked to do a role is I will look for the truth and I will tell that truth with as much compassion and as much empathy as I can," Williams said.

He was nominated multiple times for an Emmy, including for his work in When They See Us, the Netflix miniseries that told the story of the Central Park Five. He is currently up for the Outstanding Supporting Actor in a Drama Series Emmy, which will be awarded later this month.
In a statement to the Hollywood Reporter, his family asked for privacy.
"It is with deep sorrow that the family announces the passing of Emmy-nominated actor Michael Kenneth Williams. They ask for your privacy while grieving this insurmountable loss," his publicist, Marianna Shafran, told THR.
Born and raised in Brooklyn, Williams was a dancer before he turned to acting, appearing in music videos as well as touring with Madonna and George Michael.
Though a crime series brought him fame, in real life Williams worked to make his community safer without overpolicing. He cofounded We Build the Block, a New York–based group that works on organizing community voices about public safety issues and encourages people to vote.
Williams also spoke regularly about his experience with addiction, telling NJ.com in 2019 that he hoped his openness would reach others trying to get clean. He particularly struggled with drug use while filming The Wire, he said, saying that at times, the lines became blurred between himself and the character he portrayed.
"Omar is this dark-skinned outspoken man in the hood who didn't care what anyone thought of him," Williams told the New York Times in 2017. "He is everything I wished I could be."