White House press secretary Sarah Huckabee Sanders said Friday the administration has been clear that all of the women who accused President Trump of sexual harassment are lying.
Sanders was responding to a question from CBS News reporter Jacqueline Alemany.
"Obviously sexually harassment has been in the news. At least 16 women accused the president of sexually harassing them throughout the course of the campaign," Alemany said. "Last week during a press conference in the Rose Garden, the president called these accusations 'fake news.' Is the official White House position that all of these women are lying?"
"Yes. We've been clear on that from the beginning, and the president has spoken on it," Sanders replied.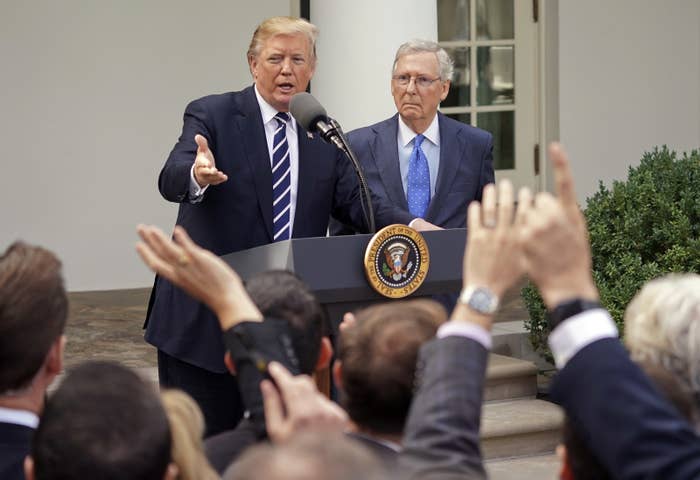 On Oct. 16, Trump was speaking at a press conference with Senate Majority Leader Mitch McConnell when he was asked about the sexual harassment accusations. One woman, who is involved in a lawsuit related to accusations that Trump groped her, had the day before subpoenaed his campaign for all documents relating to "any woman alleging that Donald J. Trump touched her inappropriately."
At the press conference, a reporter asked for the president's response to the subpoena related to sexual harassment allegations.
"Mr. President, in the wake of an avalanche of allegations made against Harvey Weinstein, your campaign is being subpoenaed for any documents relating to sexual harassment allegations made against you. Do you have a response to that?"
"All I can say is it's totally fake news. It's just fake. It's fake," Trump said. "It's made-up stuff, and it's disgraceful what happens. But that's what happens in the world of politics."
Last year, the president also addressed the allegations in a tweet: "Nothing ever happened with any of these women. Totally made up nonsense to steal the election. Nobody has more respect for women than me!"