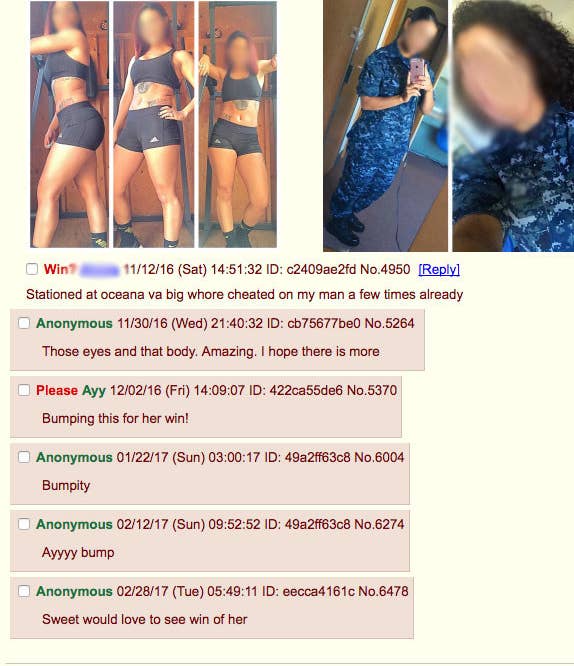 Alongside the porn stars, "college bitches," and nude celebrities on an anonymous image-sharing website, a user last month uploaded photos of a woman in workout shorts and a sports bra, followed by selfies of her posing in blueberry US Navy camouflage.
"Win?" the poster wrote. "Stationed at oceana va big whore cheated on my man a few times already."
The message was a request: "Wins" are nude photos users obtained from women or disgruntled exes, social media, or similar boards that they could share with the group. On the military page of Anon-IB, users bragged about and shared photos dating back to at least 2015. Some users requested nude photos of a specific woman, often identified by name and where they were stationed.
The Anon-IB page — first reported Thursday by Business Insider — widens the scope of a developing scandal in the military where a subculture of service members apparently shared nude photos of their female colleagues without their permission or knowledge. Women veterans say it's the latest manifestation of a culture of toxic masculinity, where women are objectified, harassed, or even assaulted by their male colleagues — and now, there are the online posts to prove it.
Secret message boards, shared folders, and Facebook rooms created for allegedly illegally obtained photos most recently shot into the news after a journalist and Marine veteran published an investigation on Saturday about Marines United — a 30,000-member Facebook group where Marines passed around hundreds of photos alongside degrading commentary about their sisters-in-arms.

The existence of images posted on Anon-IB seemed to widen the issue to other branches of the service — the photos on the message board claim to show women across the Army, Navy, Air Force, and Marines who were the posters' military colleagues.

On Friday, Marine Commandant Gen. Bob Neller spoke with seeming despair that he did not better know of this threat to women Marines and ultimately to all active, reserve, and veteran Marines' values and mission.
"Why wasn't I talking about this?" he said "I don't have a Facebook page. I don't do social media, and that's maybe my mistake."
He added that men and women Marines have been fighting together for 15 years, and women have held their own.
"What do you gotta do to get in?" he asked. "I mean, come on, guys. They just want to do their job. Let them do their job. And you do yours."
When asked about the developing scandal in other branches of the military, Neller said, "All the service chiefs and the chairman [of the Joint Chiefs of Staff], they all know what's going on."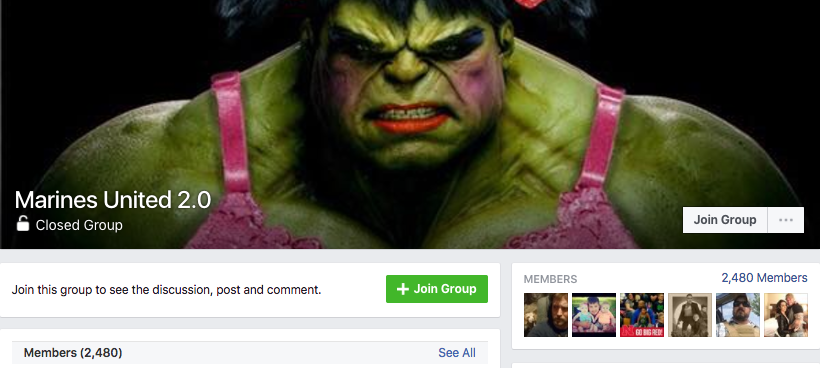 A Marine veteran, John Albert, said he first reported the Marines United group to Facebook in September when he saw the majority of posts were revenge porn, comments about rape, or photos of women taken without their knowledge. Facebook suspended the group, but by January it was back in force.
"I do not know why no one took a stand before this. Marines United was allowed to exist because of the cowardice of the Marines involved," Albert wrote on his Facebook page on Thursday.
Albert has received backlash for reporting the group, he said, and been called a "blue falcon" — a "buddy fuck" or Marine who betrays his or her comrades.
"I'm no blue falcon- the real blue falcons here are the Marines and veterans that posted illicit pictures without permission, stalked and took pictures of unsuspecting women Marines and openly discussed sexually assaulting said females," Albert wrote. "That's messed up."
After the group was again suspended in January, a "Marines United 2.0" group quickly sprang up. At least half a dozen other sites are also now part of a Defense Department investigation into the images, CBS reported, and purported copies of the photos continue to be reposted and shared elsewhere.

At least 10 women have come forward to say photos they believed were private had been posted online without their permission, and Neller encouraged others to go to their chain of command if they were involved. He vowed consequences, but also acknowledged the legal difficulties of proving the photos were posted without consent.
"I can't fix this," he said. "The only way there's going to be accountability in this is if someone comes forward and tells us what happened to them."
The Marine veteran who maintained a cache of photos shared online with members of the Marines United group was fired from his current job as a government contractor, and an investigation into the photos by the Naval Criminal Investigative Service could lead to additional administrative discipline or criminal charges. Members of Congress have also called for accountability and answers, and on Friday, Neller said the Marines were launching a task force to determine what changes could be made to prevent it from happening again.
Even as military leaders respond, it's likely the scandal will get worse as additional whistleblowers bring other sites and groups to light.
"We fully expect that the discovery of Marines United will motivate Marines to come forward to notify their chain of command of pages like it. Things may seem to get worse before they get better; Marines will attack this problem head-on and continue to get better," Marine Capt. Ryan E. Alvis said in a statement Thursday to the Military Times.
Sexual harassment — whether in person or online — is not a surprise to military women, but the newly revealed scale of the photo sharing is.
Kate Thomas, a board member with Service Women's Action Network and a Marine Corps veteran, told BuzzFeed News that she had experienced sexual harassment and seen inappropriate Facebook groups before, but she did not expect to see stalking and revenge porn — blatant criminal acts.
"I'm an optimist at heart and I want to believe that this was a minority of Marines and we don't have these pervasive cultural problems," she said. "Thirty thousand is a really large number, and I think that really pokes some holes in the hope I had."
During her service in Iraq, Thomas said she would carry a can of black spray paint to cross out crude comments about her written on the walls of portable restrooms. Technology has brought new challenges of scale, she said, but it also offers a chance to hold people accountable.
"How would anyone catch those guys writing those things back then?" she asked. "And now it's maybe a higher volume, but it's easier to track the people down."
Within the Marine Corps, Thomas said having male and female recruits — who are trained separately at boot camp — work together from their first day of training is necessary.
"The reason you see this in the Marines more than other branches is because of segregation and isolation of genders," Thomas said.
Kyleanne Hunter, a former Cobra helicopter pilot for the Marines who is now finishing her PhD, agreed that male and female Marines should work together from day one.
"If you work, live, and breathe with someone, they become your brother and sister," she said. "They become human to you."
Hunter added that the online activities of some Marines presented a larger problem for Marine culture — and ultimately national security.
"It destroys unit cohesion," she said. "These women have volunteered to risk their lives for our country... Our country is only as safe as our military is effective."
On Wednesday, Rep. Jackie Speier took to the House floor to condemn the harassment, threats, and photos posted without consent by service members and veterans. Speier had in 2013 raised concerns about inappropriate posts about women in another Marine Facebook group. Matters have only gotten worse, she said, a sign of a cultural and leadership problem.
"This is not about sex, or fun, or boys will be boys," Speier said. "This is about the Marines deliberately trying to degrade, humiliate, and threaten fellow Marines."
Speier said military leaders should drum bad Marines out of the corps. That can only happen if online activities are treated as the crimes they are, Thomas said.
"I think organizationally, services will have to commit some resources to looking at social media," she said. "The Marine Corps does not want this press coverage. They don't want every woman considering joining the branch to read this. We need some cyberpolicing. Just like cyberwarfare, we need to allocate resources to policing and leadership digitally as well."