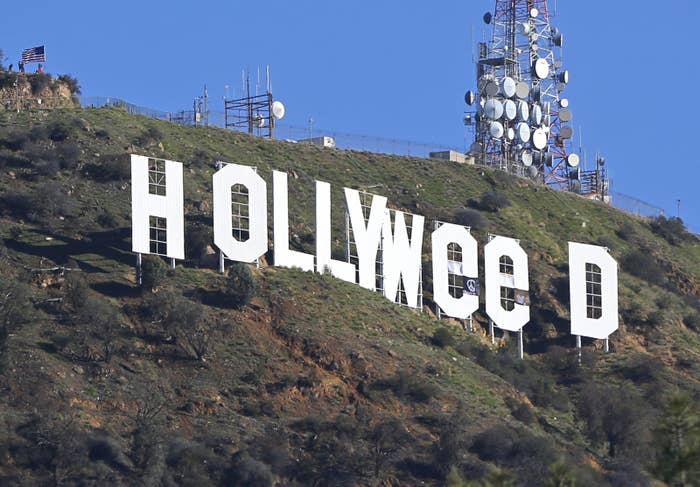 The man who transformed the Hollywood sign to read "Hollyweed" on New Year's Day has turned himself in to Los Angeles police.
Artist Zach Fernandez, who goes by "JesusHands" on social media, surrendered to police with his attorney on Monday. Fernandez in the early hours of Jan. 1 broke into the fenced-off area surrounding the iconic sign and wrapped letters with tarps to transform its message.
"I just hope the conversation continues on," the Pomona, California, resident told BuzzFeed News. "A bit of light remains in the world."
Los Angeles police said Fernandez was arrested and booked on suspicion of trespassing, a misdemeanor. He would be released pending a Feb. 15 court appearance, police said.
On Monday, Fernandez said he had felt pressure to turn himself in. He also said he felt he had bent the rules and stayed within the spirit of the law.
"If I did break the law in trespassing, I'm not going to run from the law," Fernandez said.
The 30-year-old artist previously told BuzzFeed News he pulled off the transformation with help from his former wife, and that it took about three hours and $35 in materials. The prank was inspired by a previous local artist; in 1976, Daniel Finegood first wrapped the sign to say "Hollyweed" as an art project while he was a student at the University of California, Northridge.
"It was all in the name of art. It really was to challenge myself and just to pay tribute to Mr. Finegood," Fernandez said. "I think sometimes history has to repeat itself to learn something new."
Police previously said the sign was undamaged, so the transformation would not be considered vandalism. Even so, city councilman David Ryu said he had encouraged the city attorney and the LAPD to pursue a case against Fernandez.
"While the Hollywood Sign is an internationally recognized icon, it is located in a large urban wilderness park next to thousands of residential homes," he said in a statement. "My office takes the safety of residents and visitors very seriously, and we will continue to coordinate and advocate for traffic control measures and safety efforts throughout the areas next to the sign."
Since the Hollyweed sign turned heads on New Year's Day, Fernandez has received gifts of marijuana from fans in California and beyond. Though he admitted his actions were risky, he said it was worth it for the adrenaline rush and personal growth.
"Myself, I wouldn't call it a prank," he said. "I would say it's an art installation. It's sacred to me in a way."