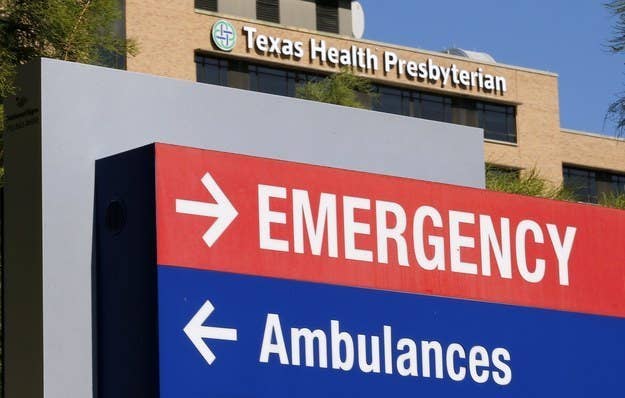 A top official at the Dallas, Texas, hospital that mistakenly sent the United States' first Ebola patient home before admitting him plans to apologize to lawmakers for the error Thursday.
Dr. Daniel Varga, the chief clinical officer at Texas Health Resources, apologized in prepared remarks to a House of Representatives subcommittee, according to the transcript posted online ahead of Thursday's scheduled testimony.
"Despite our best intentions and a highly skilled medical team, we made mistakes," he said. "We did not correctly diagnose his symptoms as those of Ebola. We are deeply sorry."
Hospital officials previously said that a flaw in the hospital's record-keeping system meant doctors may not have known Thomas Eric Duncan had recently been in Liberia. A nurses union later said the hospital was not equipped to handle Ebola.
"No one knew what the protocols were or were able to verify what kind of personal protective equipment should be worn and there was no training," the union said in a statement.
Duncan, the first person to be diagnosed with Ebola in the U.S., died Oct. 8. He had been exposed to the virus in Liberia, and first sought medical care in the U.S. on Sept. 25 after developing symptoms.
When he arrived at the Dallas emergency room, he had a fever of 100.1°F, abdominal pain, dizziness, nausea, and headache, Varga said, "symptoms that could be associated with many other illnesses." He underwent four hours of tests, during which time his fever spiked at 103°F. The threshold for a fever to be considered a symptom of Ebola is 100.4°F.
He was discharged, and returned to the hospital by ambulance on Sept. 28 much sicker. In spite of receiving an experimental Ebola drug and other care, Duncan died.
About 75 hospital staff members were reported to have been involved in his treatment, and so far, two have been diagnosed with Ebola. Varga said the hospital followed safety guidelines, and officials are unsure how the two nurses were exposed.
"Today, every person at Texas Health Dallas who has had contact with a known Ebola patient is under active monitoring for 21 days after their last contact with the patient," he said. "This includes taking a temperature and assessing symptoms twice a day."
Those with a high risk of exposure must remain in the county and are on furlough, he said. Anyone with a low risk may work normally.
Since the misdiagnosis of the first patient, Varga said the hospital has changed its procedures to put more emphasis in getting travel histories. The electronic health record system has also been modified, and more staff training has started.
"The education included screening of suspected patients, documenting response to travel questions in the Electronic Health Record and proper donning and doffing of [personal protective equipment]," he said.
The first nurse to become ill with the virus, Nina Pham, is in good condition at the hospital. The second nurse, Amber Joy Vinson, has been transferred to Emory University Hospital in Atlanta, which has already treated three other patients with Ebola.
Building confidence, working with outside agencies and informing the community is also key to limiting the spread of the virus, he said.
"In our effort to communicate to the public quickly and transparently, we inadvertently provided some information that was inaccurate and had to be corrected," Varga said. "No doubt that was unsettling to a community that was already concerned and confused, and we have learned from that experience as well."