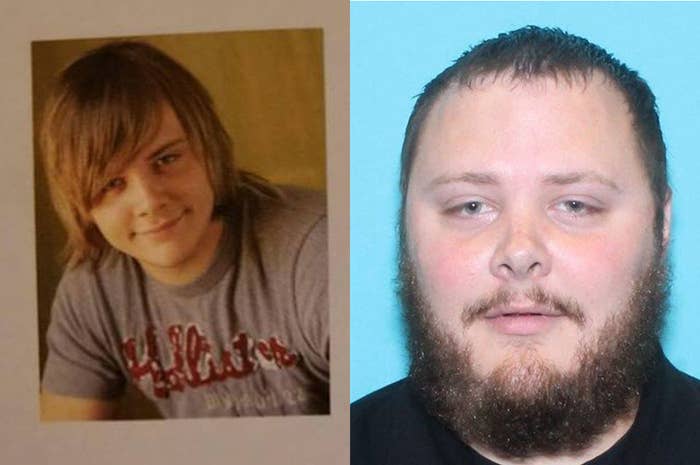 SUTHERLAND SPRINGS, Texas — In the years before he opened fire inside a rural Texas church, taking the lives of 26 people, Devin Kelley threatened the people around him.
In high school, Kelley made "impulsive verbal threats" when he got angry, though no one ever thought he'd actually act on them, one classmate recalled. That behavior later escalated into a brutal attack on his then-wife and young stepson. Allegations of violence and threatening behavior continued over the years, most recently in threatening text messages to his second wife's mother.
Law enforcement and military records documented Kelley's patterns of behavior over the last six years. But that paper trail didn't reach the federal background check system — leaving Kelley free to purchase four firearms and act against the latest target of his anger: his wife's family and their church.
Another former classmate said that Kelley was once a typical, happy kid. That changed over the years, she said.
"To be completely honest, I'm really not surprised this happened, and I don't think anyone who knew him is very surprised either," Courtney Kleiber said on Facebook. "My heart goes out to all of the victims that should've never been."
Kelley joined the Air Force after graduating from high school in 2009. Two years later he got married.
An Air Force plea agreement shows that, two weeks after the wedding, he beat his toddler stepson with force "likely to produce death or great bodily harm." The attack fractured the boy's skull, a former Air Force prosecutor told the New York Times.
Kelley was charged with the assault as well as with beating, kicking, and choking his wife Tessa Kelley in 2012. In exchange for his guilty plea, other charges — including pointing a loaded firearm at his wife — were dropped.
The conviction on two charges of domestic assault landed Kelley in a naval brig for 12 months, during which time his wife filed for divorce, and earned him a bad-conduct discharge from the military. It should also have prevented him from ever owning a firearm again, but the Air Force failed to enter his criminal record into the National Criminal Information Center database.
Kelley underwent five background checks in the following years, four of which related to gun purchases and one related to employment as a security guard, Texas officials said. Because the Air Force failed to follow record-keeping procedure, they all came back clean.
His case is now under review by the Air Force Office of Inspector General, spokeswoman Ann Stefanek said Monday.
"The Service will also conduct a comprehensive review of Air Force databases to ensure records in other cases have been reported correctly. The Air Force has also requested that the Department of Defense Inspector General review records and procedures across the Department of Defense."
In June 2012, as he was awaiting the outcome of his Air Force court martial, Kelley was admitted to Peak Behavioral Health Services, a mental hospital about an hour and a half from Holloman Air Force Base, New Mexico.
According to police records first obtained by television station KPRC 2, Kelley escaped the facility and fled to a bus station. The person who called police told officers that Kelley was a danger to himself and others. He had already threatened to kill his superior officers in the Air Force, the person told police, and he had been caught sneaking firearms onto the base.
Kelley was found by police and returned to the facility.
The following year, Kelley was released from military confinement and living in a barn turned apartment at his family's rural home in New Braunfels, Texas.
On June 17, 2013, he was accused of rape.
While the details of the accusation have not been released, what is known is that the crime was reported by Kelley's ex-wife, listed in the report as a separate person from the victim. Officers conducted at least one interview on tape as part of the investigation.
"The alleged sexual assault investigation stalled sometime in October 2013 for reasons yet to be determined," the Comal County Sheriff's Office said in a statement on Tuesday. The case remains open, and officials are currently reviewing how the investigation into Kelley was handled, a sheriff's office spokesperson told BuzzFeed News.
In 2014, Kelley was again accused of abuse. A person called 911 reporting they'd received a text message from Kelley's girlfriend, Danielle Shields, saying that he was abusing her. Her arms were red, and Kelley had told her to pack a bag, according to sheriff's office records of the 911 call.
Half an hour later, the call log noted it was a "misunderstanding and teenage drama." Deputies left Kelley's home.
At the time, Shields was 18 and Kelley was 23. The couple would go on to get married.
Three years later, what the FBI has called a "domestic situation" between Kelley and the Shields family prompted the deadliest mass shooting in Texas history. Kelley massacred 26 people, including his wife's grandmother, at First Baptist Church in Sutherland Springs. Her parents attended regularly, though they weren't there at the time of the shooting.
That one man's anger could lead to the brutal deaths of more than two dozen people has been difficult for many in Sutherland Springs to understand.

"I just cannot fathom why someone would do this," First Baptist Church member Helen Biesenbach said. "He killed all these innocent people and their little children, all for nothing. A madman."