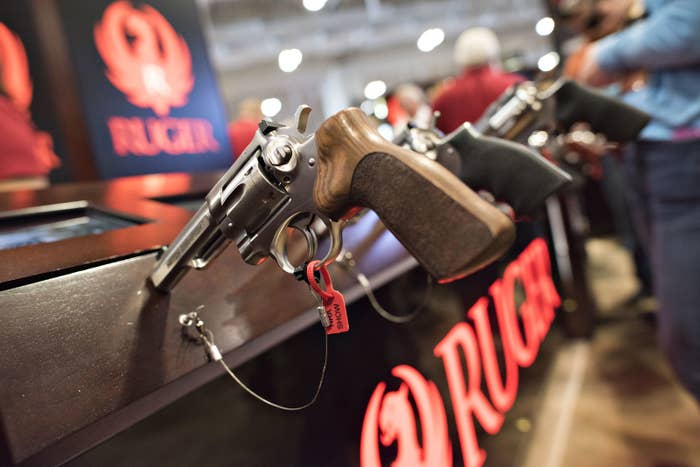 Sturm Ruger & Co. investors called for the gun manufacturer to do more to prevent gun violence on Wednesday, with a majority voting in favor of a resolution presented by a group of religious activists.
The company in March announced its opposition to the shareholder resolution, pointing to existing safety policies. Any violent or criminal use of its guns was a matter for law enforcement, the company said.
But shareholders disagreed, siding with a group of investors including Catholic Health Initiatives, a health care system with more than 100 hospitals in 18 states, as well as several orders of Catholic sisters. The resolution, which was filed after Sturm Ruger leaders declined to meet with the shareholder activists, asked for the company to monitor violent events involving its firearms, research how technology could make guns safer, and assess whether gun violence presented a reputational and financial corporate risk.
"The responsibility to market safe guns to the public appropriately lies with gun manufacturers and distributors," said Catholic Health Initiative's Colleen Scanlon, who presented the shareholder resolution. "If new product development is the lifeblood of Sturm Ruger … safer guns need to be on that development agenda."
On Wednesday, Ruger CEO Christopher Killoy said the company will comply with the shareholders' demands but emphasized that the resolution only required the company to publish a report on the issue.
"That's it — a report," he said. "What the proposal does not and cannot do is force us to change our business, which is lawful and constitutionally protected."
A similar resolution was filed with American Outdoor Brands, the parent company of Smith & Wesson, and shareholders are expected to consider it in September.
The activist nuns, who are part of the Interfaith Center on Corporate Responsibility, purchased a nominal amount of shares in Sturm Ruger more than a year ago, which granted them the right to file the resolution as minority owners of the company. In February, after the shootings at Marjory Stoneman Douglas High School in Parkland, Florida, they found themselves amid a new wave of gun control activism.
Following the Parkland shootings, Dick's Sporting Goods agreed to several measures previously requested by investor nuns, including ending sales of military-style semiautomatic rifles and taking an active lobbying role for gun safety measures.
The nuns also found a powerful ally in investment firm BlackRock, the largest shareholder in Sturm Ruger. The firm sent a letter to gun manufacturers following the Parkland shootings, asking for similar measures as the nuns had outlined in their shareholder resolution. ISS and Glass Lewis, firms that provide recommendations on shareholder resolutions, also told its clients to back the gun safety proposal.
"This type of gun violence happens every day in our cities."
The last time a gun safety resolution was filed with Sturm Ruger, in 2002, just 4% of shareholders supported it. The percent of votes received by the resolution on Wednesday was not immediately available, but the company announced it passed 50%.
The result was met with excitement and surprise among the religious shareholders who first started campaigning for the resolution.
"I like this quote of [poet] Mary Oliver that says, 'Keep some room in your heart for the unimaginable,'" Sister Judy Byron, one of the filers of the resolution, told BuzzFeed News. "Really just everything came together to make it happen."
Several activist shareholders spoke at the meeting, asking Killoy to commit to sitting down with them to discuss further safety measures. Killoy declined, adding it is company policy to not meet with any individual shareholders to avoid breaking federal regulations.
He added that though activists' requests were well-intentioned, they went against the business interests of his company.
"We don't see that people who ask us to stop manufacturing firearms that are perfectly legal and sold throughout the country is in the best interest of our shareholders," he said.
Activists stressed they were not asking for Sturm Ruger to stop making guns. Instead, they said they wanted the company to do what was in its power to make a difference against gun violence, a complicated problem without one single solution.
Terrell Williams, a retired Marine and community activist from Baltimore, also addressed the company's board on Wednesday, describing his own experience with gun violence: getting shot on US soil while going to visit his father.
"This type of gun violence happens every day in our cities," he said, adding he was one of two black men in the room. "Maybe you've never had your skin pierced by a bullet, someone you love, someone who looks like you. Certainly, those who look like me suffer from this every day."