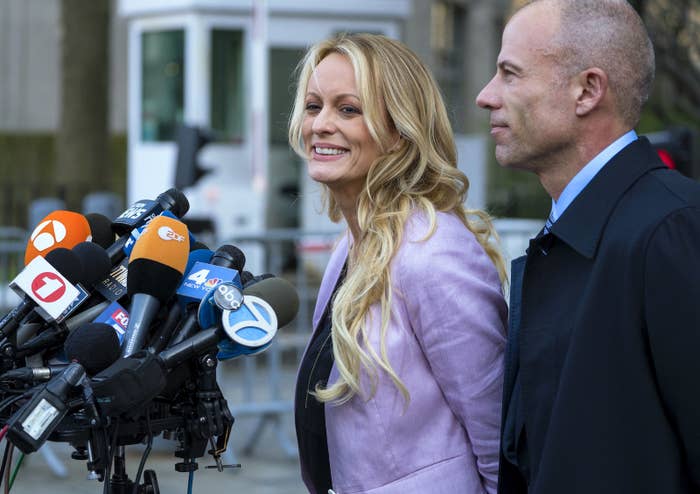 Stormy Daniels' defamation lawsuit against President Trump was filed against her wishes, according to a new statement, and she is questioning her lawyer Michael Avenatti's fundraising for her legal defense.
The Daily Beast first reported that Daniels is unhappy with statements and actions Avenatti has made without her permission.
In a statement provided to the Daily Beast, Daniels said she's unsure if Avenatti, who has become a prominent critic of the president since taking her case, will continue to represent her.
"I'm tremendously grateful to him for aggressively representing me in my fight to regain my voice," the adult film star said in the statement. "But in other ways Michael has not treated me with the respect and deference an attorney should show to a client. He has spoken on my behalf without my approval. He filed a defamation case against Donald Trump against my wishes. He repeatedly refused to tell me how my legal defense fund was being spent. Now he has launched a new crowdfunding campaign using my face and name without my permission and attributing words to me that I never wrote or said."
In response, Avenatti said in a statement to BuzzFeed News that Daniels paid $100 to retain him, and they agreed any money raised in the legal defense fund would go toward his costs. Most of the money has gone toward Daniels' security and other expenses, Avenatti said, without giving more details about the money or Daniels' assertion that he was acting without her consent.
"I am and have always been Stormy's biggest champion," he said in his statement. "I have personally sacrificed an enormous amount of money, time and energy toward assisting her because I believe in her. I have always been an open book with Stormy as to all aspects of her cases and she knows that."
Daniels, already famous for acting in and directing adult films, became even more of a household name earlier this year after revelations that she signed a nondisclosure agreement and was paid $130,000 to keep quiet about an alleged 2006 affair with Donald Trump. The payment was made during Trump's campaign for president, and Daniels said she was also threatened to stay silent.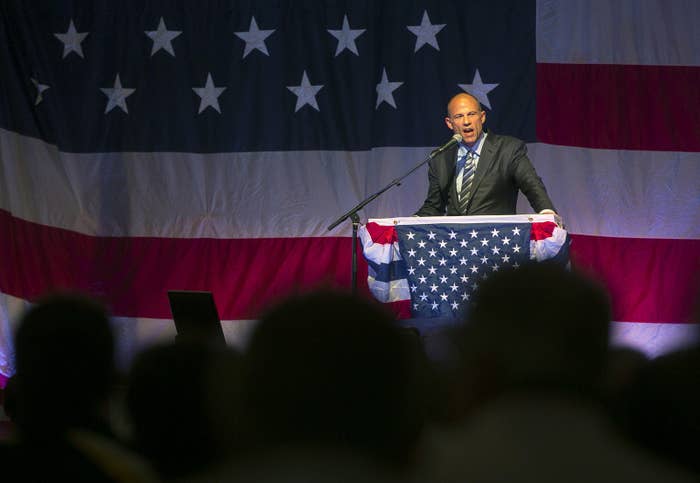 She then retained Avenatti, who filed a federal suit arguing the NDA wasn't valid because Trump hadn't signed it. Avenatti became a fixture of political Twitter and cable news, taking on Trump on a variety of issues and ultimately floating his own bid for office in 2020.
In April, the president tweeted that Daniels' story of being threatened was a "con job," and Avenatti filed another lawsuit on her behalf accusing Trump of defamation. That case was dismissed in October, and a judge ordered Daniels to pay Trump's legal fees — almost $350,000, though her defense is seeking to lower that amount.
A crowdfunding campaign has raised more than $580,000 for her legal defense, and this week, a second campaign appeared. As of Wednesday, less than $5,000 had been raised, and Daniels said she only learned about the new fundraising push via Twitter.
"I'm deeply grateful to my supporters and they deserve to know their money is being spent responsibly. I don't want to hurt Michael, but it's time to set the record straight," she said in the statement to the Daily Beast. "The truth has always been my greatest ally."
Daniels' words came after Avenatti was arrested on suspicion of domestic violence earlier this month. Prosecutors in Los Angeles declined to charge him with a felony, and Avenatti denied ever acting abusively to any woman. After those allegations, Daniels said she did not condone violence against women and would end her working relationship with Avenatti if they were found to be true.
In Wednesday's statement, she added that outside of any issues with her attorney, she remained committed to standing up for herself and would not be intimidated by Trump.
"My goal is the same as it has always been — to stand up for myself and take back my voice after being bullied and intimidated by President Trump and his minions," she said. "One way or another I'm going to continue in that fight, and I want everyone who has stood by me to know how profoundly grateful I am for their support."